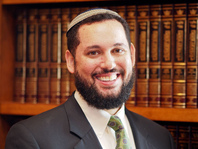 Don't forget the Omer!
Dear Friends,
There is a Chassidic tradition to gather for one last meal in the waning hours of the holiday of Pesach, lingering in the hope that Eliyahu HaNavi will indeed appear to herald the redemptive age. This meal, originally known as the Baal Shem Tov Seudah, is often celebrated with matza and wine (and in our shul's case - everyone's leftover unopened Pesach food), and shared teachings about Mashiach.
This year, I shared a Torah from Rabbi Menashe Klein z"l, known as the Ungvarer Rav, a Chassidishe rebbe and posek who passed away in 2011. In his well known responsa entitled Mishneh Halachot (chapter 67), he writes about the symbolism of the four cups of wine at the Pesach Seder, and the fifth cup of Eliyahu. Referencing a rabbinic teaching that four-fifths of the Israelites died in Egypt during the plague of darkness, he writes: "We established four cups of wine, as a symbol of the mourning and the comfort over the four-fifths from the children of Avraham, Yitzchak and Yaakov that died in Egypt… And it would seem that the Cup of Eliyahu, for the Fifth Cup, is dedicated to those who were left alive. And we don't drink it. Rather, we leave it on the table. And we open the door that he will come and we will be redeemed speedily in our days… For everyone will get up at that time for the resurrection, even those that died in those nights of darkness. And therefore, we are invited to take the Cup of Eliyahu that it should be revealed to us quickly, the fulfillment and coming of the righteous Mashiach."
In this teaching, Rabbi Klein imagines that a future redemptive age will feature the reunification of the entire Jewish people - all five-fifths. He stresses that the fifth cup, which represents those that did go out, cannot be drunk until the rest of the nation (the other four cups) is there to stand together in shared glory.
One can hear whispers in this teaching to the dreams of a rebbe who witnessed unspeakable horrors as a survivor of Auschwitz himself. His words convey a longing to see beyond differences, and a hope for the wholeness of Am Yisrael to be realized soon again.

As we welcome Shabbat on the near eve of Yom Hashoah U'Gevurah, we pray that the Ungvarer Rav's hopes for the fifth cup come true, in one form or another. Let us work to bring about a redemptive age, where we embrace the wholeness of our Jewish, and human family in our hands.
Shabbat Shalom,
Rabbi Uri
YOUTH PROGRAM UPDATE:
Regular Shabbat Children's Programs
9:15AM

-
5/6th grade+ meets in cafeteria.
9:30AM

-
Tot room opens for supervised play
10:15AM

-
Groups begin for Tots, K-2nd grade, and 3rd-4th grade.
10:20AM

- Gym time for 5th graders and up
11:00AM

- Gym time for K-4th grade
All children return to the main sanctuary to help lead tefilot at the end of Musaf.
You can reach Carmiya, our Youth Director, at ckasse@yahoo.com
Your feedback is appreciated! RSVP to this email.