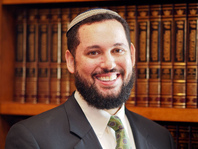 Dear Friends,
The Washington Post recently featured a story about a new exhibition at the Israel Museum inspired by Yuval Noah Harari's bestseller Sapiens: A Brief History of Humankind. The exhibit is essentially an invitation to consider how to share the human narrative from our archaeological and historical collections. If you had to pick the top fourteen items to tell our story, as the museum does, what would you choose?
The first evidence of human fire or an agricultural tool?
The oldest known examples of burial rituals?
The earliest coins or contracts?
An ancient flute or cave paintings?
The cotton gin or the printing press?
A microchip or Einstein's E=mc2 manuscript?
The exhibition pivots around three major chapters in the evolution of human civilization: the Cognitive Revolution (with evidence of the advent of language and communication); the Agricultural Revolution; and the Industrial Revolution.
Appropriately, the centerpiece of the exhibit is the oldest copy of the Ten Commandments from a Dead Sea Scrolls manuscript so delicate and cherished that it can be displayed no more than two weeks every five years.
In the Torah reading this week, we encounter the peculiar placement of two, upside-down and backwards, Hebrew letters – two "Nuns." They seem to bracket a famous line of the Torah – "vayihi binsoah aharon," words we sing each time we open the ark in shul. Our Sages teach us that the Torah might have ended here were it not for the sin of the spies. We were supposed to leave Sinai, following the Aron, and head straight to Israel. Instead, our mistakes led to wandering.
In other words, the bracketed text signals that the remainder of the Torah is the story we ultimately wrote, but not necessarily the story we could have written. Each time we open the Aron and sing these words, we are reminded of our story, and what has already been written. However, like the intent of the exhibit, we are also challenged to consider what story we wish to write moving forward.
Shabbat Shalom from Aspen Hill!
See you in shul,
Rabbi Uri
A special first Shabbat welcome to Erica & Ken Pelman, and their holy children, who moved into their new home this past week on Flint Rock! Baruch Habah!
Your feedback is appreciated! RSVP to this email.