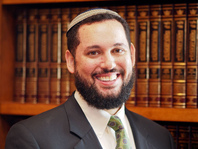 Dear Friends,
I always got a kick out of the fact that in New Orleans, the community children's Purim carnival is called "The Adloyadah Festival" (coming from the Hebrew term - "[Drink] until you don't know!")
The Talmud (Megillah 7b) is the source of "Adloyadah," where it records the following statement and story:
"Rava said: A person is obligated to become intoxicated with wine on Purim until he is so intoxicated that he does not know how to distinguish between cursed is Haman and blessed is Mordechai.
Rabba and Rabbi Zeira prepared a Purim feast with each other, and they became intoxicated to the point that Rabba arose and slaughtered Rabbi Zeira. The next day, [when he became sober and realized what he had done,] Rabba asked God for mercy, and revived him. The next year, Rabba said to Rabbi Zeira: Let the Master come and let us prepare the Purim feast with each other. He said to him: Miracles do not happen each and every hour [and I do not want to undergo that experience again]."
I take both parts of this Talmud seriously. I am not a drinker, except on Purim, and only then, when I am seated at my Purim/Sushan Purim Seudah (with no swords nearby), drinking in proper measure with the right company. The Talmud values the idea that a little drink can open the soul, and lead to meaningful sharing, and at the same time, the text reminds us of the dangers of alcohol consumption.
The author of the holy book "Kol Boh" (Siman 45) asserts that, "it is forbidden to get drunk, as it could lead to the worst of sins relating to sexual improprieties, and the spilling of blood." Instead, the book argues that, "one should drink a little more than usual in order to enhance his joy, and to gladden the poor members of the community, and be a comfort to them - speaking straight into their hearts."

The Kol Boh is articulating a special kind of "Adloyadah" to aspire to on Purim - on that is not self-serving at all, but simply about bringing joy to the needy. At times, this task may be uncomfortable - think about the emotions we feel when a stranger crosses our threshold, or we pass a beggar on the street. But on Purim, we are invited to achieve "Adloyadah" - to move beyond our comfort zones, to greet with extra joy and love those we sometimes look past.
See you in shul! Shabbat Shalom,
Rabbi Uri
Click here to learn more details about our Yom HaShoah trip to Whitwell, TN!
**********************************************************
Please mark your calendars for the Friends of Beth Joshua Shabbat on
May 12th-13th
. (It coincides with Berman Academy's Grandparents Day on
May 12th
.) We are planning a special Shabbat and would like to extend an invitation to siblings, Grandparents, and other family members and close friends. We will have a deluxe kiddush in your honor, a special afternoon event, and we'll show some real Aspen Hill hospitality!
YOUTH PROGRAM UPDATE:
Regular Shabbat Children's Programs
9:15AM

-
5/6th grade+ meets in cafeteria.
9:30AM

-
Tot room opens for supervised play
10:15AM

-
Groups begin for Tots, K-2nd grade, and 3rd-4th grade.
10:20AM

- Gym time for 5th graders and up
11:00AM

- Gym time for K-4th grade
All children return to the main sanctuary to help lead tefilot at the end of Musaf.
Carmiya is on maternity leave
Carmiya Weinraub is on maternity leave, and in her absence, Lily Landau has taken over many of the youth director roles. You can reach Lily at office@bethjoshua.org
Your feedback is appreciated! RSVP to this email.