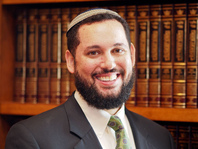 Don't forget the Omer!
Dear Friends,
I gave a class on the second day of Yom Tov about the fifth cup of wine at the Seder - the one we usually call, Kos Eliyahu - Elijah's Cup. I say "usually" because, this custom developed very late in our history, and isn't mentioned at all in the Talmud or early rabbinic texts. And while nearly every Pesach Seder now has a cup for Eliyahu, the practices surrounding this cup are quite varied.
In his Sefer Nitei Gavriel, Rabbi Zinner records just a few of these customs: "There are those who divide up Eliyahu's Cup into the fourth cup for all the Seder participants. And there are others who cover the cup and [leave it] on the table, to be used for Kiddush the next day. And there are those who do not drink from Eliyahu's Cup, rather, after the Seder, they return it to the bottle."
Along with these varied practices, there are also many different meanings associated with Kos Eliyahu. One idea is recorded by Rabbi Menachem Kasher, in his Haggadah Shleimah (1957 ed.). He writes: "And now in our own time, when we have been privileged to behold the mercies of the Holy One, Blessed be He, and his salvation over us, in the establishment of the State of Israel, which is the beginning of the redemption, as it is written: 'And I shall bring you into the Land…' It is fitting and proper that we observe this pious act, the drinking of the fifth cup, as a form of thanksgiving."
Next year, may we all celebrate in the streets of Yerushalyim!
Shabbat Shalom,
Rabbi Uri
YOUTH PROGRAM UPDATE:
Regular Shabbat Children's Programs
9:15AM

-
5/6th grade+ meets in cafeteria.
9:30AM

-
Tot room opens for supervised play
10:15AM

-
Groups begin for Tots, K-2nd grade, and 3rd-4th grade.
10:20AM

- Gym time for 5th graders and up
11:00AM

- Gym time for K-4th grade
All children return to the main sanctuary to help lead tefilot at the end of Musaf.
You can reach Carmiya, our Youth Director, at ckasse@yahoo.com
Your feedback is appreciated! RSVP to this email.