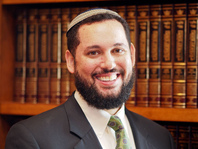 Dear Friends,
This week marked the 50th anniversary on the English calendar of reunification of Jerusalem as a result of the 1967 Six Day War. I had the opportunity to gather at the US Capitol for a unique technological celebration that featured a joint event with the Knesset in Israel. In a live telecast, our two houses of government went back and forth, trading turns, with speakers and musical performances. I was impressed by the flawless technological achievement, and it succeeded in meaningfully connecting me to Israel on that special day.
A dominant theme throughout the speeches was that Jerusalem, since '67 under Jewish rule, has been a city open to different religious expression. In particular, Jews, Muslims, and Christians can freely worship in their holy sites in Yerushalyim. A quick glance around the Middle East should remind the world, that this fact should not be taken for granted.
In the Torah reading this week, complaints are brought to Moshe, that others in the camp are attempting to receive prophecy (Bamidbar 11:26-29). Presumably, they are concerned these new prophets will undermine Moshe's authority.
Moshe's response is deeply instructive: "Are you being zealous for my sake?! Would that the entire people of God could be prophets, if God would but place Its spirit upon them!"
While the comparison to modern day Yerushalyim is not exact - clearly Moshe was not promoting an interfaith camp, I do believe Moshe understood that he did not have a monopoly on spirituality. Taken one step further, I believe we have a responsibility today, to promote peace among nations and religions, and recognize that each share teachings that could benefit the other.
Yerushalyim has the singular capacity to communicate this message to the world, and we are blessed today as a people to guide its future, and attach ourselves to its destiny.
Shabbat Shalom!
See you in shul,
Rabbi Uri
YOUTH PROGRAM UPDATE:
We are honoring Carmiya Weinraub this Shabbat for her service to the shul as Youth Director.
Regular Shabbat Children's Programs
9:30AM

-
Tot room opens for supervised play
10:15AM

-
Groups begin for Tots, K-2nd grade, and 3rd-4th grade.
10:20AM

- Gym time for 5th graders and up
11:00AM

- Gym time for K-4th grade
All children return to the main sanctuary to help lead tefilot at the end of Musaf.
Your feedback is appreciated! RSVP to this email.