Yesterday, our congregation celebrated the arrival of another new family in Aspen Hill, marking the 50th member unit in our Beth Joshua Congregation!
This is an incredible milestone for our growing congregation, and we are already expecting a few more families to be moving in this coming summer.
There are many aspects of our community that are appealing (I am happy to offer prospective families my sales pitch any time!), but one of the particularly intriguing elements of Aspen Hill is the idea of joining a community still in formation. Every step is exciting. The first time we held Tot Shabbat groups. The first time we had a Bar or Bat Mitzvah. The first wedding in the shul. The first women's Rosh Chodesh group. The first community seder. The first time we ran out of Chumashim because of the crowd that wasn't a school shabbaton. And so on.
Many of these firsts happened long before I moved to Aspen Hill, but relative to the lifespan of many communities, our decade old shul is still an infant. Our members with five years or more under their belt get excited each time they talk about the brief history of the shul, and our newer members are helping to write the next chapter. As we grow, many new firsts are born, and there are even more opportunities for individuals to make their mark in shaping our community.
The excitement we feel about our congregation reminds me of a famously quoted piece of a speech delivered by David Ben Gurion, the first prime minister of the State of Israel. Speaking to the UN in 1947, he describes an ancient congregation, but one that succeeds in constantly keeping its memories fresh as if they happened yesterday:
"300 years ago, there came to the New World a boat, and its name was the Mayflower. The Mayflower's landing on Plymouth Rock was one of the great historical events in the history of England and in the history of America. But I would like to ask any Englishman sitting here on the commission, what day did the Mayflower leave port? What date was it? I'd like to ask the Americans: do they know what date the Mayflower left port in England? How many people were on the boat? Who were their leaders? What kind of food did they eat on the boat? More than 3300 years ago, long before the Mayflower, our people left Egypt, and every Jew in the world, wherever he is, knows what day they left, how many went out, and what food they ate. And we still eat that food every anniversary…"
For David Ben Gurion, the beauty of the Jewish People is that we have an ancient heritage AND that we have a tradition to relive that heritage as if it is gifted to us anew each year.
I bless us this Shabbat HaGadol, as we prepare to re-experience the exodus of Egypt, that we also find ways to re-invigorate our own communities (even if we don't live in a relatively new one!), keeping our Jewish lives fresh in our eyes and in the eyes of our children.
Shabbat Shalom from Aspen Hill!
See you in shul,
Rabbi Uri
Welcome to Aspen Hill Tammy & Josh Levin, and their children, Eli (2.5yrs) & Kira (5mo)!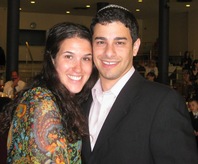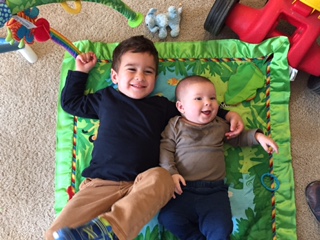 ***SALE OF CHAMETZ FORM IS AVAILABLE HERE.***
Halachik Guide to Cleaning for Pesach is available here.