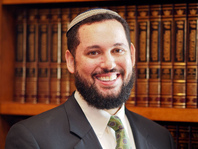 *SHAVUOT SCHEDULE AT THE BOTTOM OF EMAIL*
Dear Friends,
This morning, Rachel Frankel spoke to the Berman high school students. She is visiting different communities to carry forward the message of unity that was so strongly felt a year ago when her son Naftali, along with Gilad and Eyal, were kidnapped and murdered on their way home from school in Israel.
Among the powerful messages she left with the students about prayer, faith, family, parenting, song, and Jewish peoplehood, she also spoke about another lesson she believes the boys taught the world: to care.
She said, "My son caused a miracle to happen. In a world where thousands die each day and no one blinks an eye, last summer, three boys didn't come from school, and the result was that millions around the world could not sleep at night."
We learned to stop and pay attention. To pause, to notice, to feel, and to care.
Rachel Frankel's messages will no doubt sit with the students as they join our community this Shabbat on their annual high school Shabbaton. I pray that all of us will be able to create space in our davening and in our Shabbat conversation to feel the world around us. Certainly we do. But the general reality of our busy lives means that our day-to-day concerns are extremely localized, sometimes only in our daled-amot, or just within our four walls. Shabbat is the gift in time to open our hearts and expand our sense of the joys and travails of the world around us. In this way, we are infinitely more aware of the Divine.
On that note, let us pause to remember the hundreds of lives altered in the Amtrak derailment this week, especially the families of the eight victims: Giuseppe Piras, Laura Finamore, Bob Gildersleeve, Abid Gilani, Derrick Griffith, Justin Zemser, Jim Gaines, and Rachel Jacobs. May their memory be for a blessing.
Rachel Frankel shared with me that this year, the yartzheit of the three boys will be observed on the second and third of Tammuz, the latter being the day the boys were buried. (The 3rd of Tammuz is Shabbat, so some aspects of the commemoration will take place on the day before.) In subsequent years, the family will mark the 15th of Sivan as the yartzheit, the day the boys were abducted. To observe the yartzheit in our community, we will be replanting the flower garden we created last year in their memory on Sunday morning, June 21.
Shabbat Shalom from Aspen Hill!
See you in shul,
Rabbi Uri
Your feedback is appreciated! RSVP to this email.
Shavuot Schedule 5775
SATURDAY, May 23
7:30PM Mincha & Seudah Shlishit
8:30PM Pre-Shavuot Shiur
9:05PM Maariv
10:30PM Dessert Buffet and Shiurim at Topolosky home
with visiting scholar, Nechama Porat
SUNDAY, May 24
9:00AM Shacharit with Akdamot
9:45AM Reading of the 10 Commandments
12:00PM Baked Ziti & Fettuccine Alfredo Open Luncheon
Many thanks to Ida Perelmutor and family for sponsoring the lunch in memory of her parents.
12:30-1:30PM Special Adult Learning & Children's Programming
6:30PM Mincha & Maariv with brief learning in between
MONDAY, May 25
9:00AM Shacharit with Yizkor and Megillat Ruth
4:00-6:00PM Women's Afternoon of Learning
at the shul facilitated by Jackie Krisch and Nechama Porat
8:10PM Mincha and Shiur
9:10PM Yom Tov ends