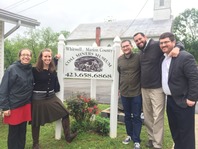 Don't forget the Omer!
Dear Friends,
When you pull up to the Whitwell Middle School, deep in the heart of Tennessee coal mining country there are no Jews in Whitwell, you are immediately taken by the prominent Children's Holocaust Memorial beside the front entrance of the school building. Right in front. Along the carpool dropoff lane. The memorial's central feature is a rail car, brought from Germany, once used to transport Jews to the death camps. It looks so out of place here; a relic from another time. Now, the car is filled with over 11 million paper clips, and other memorial objects, placed there by the school's eighth graders to honor the victims of the Holocaust. The school children describe the car as being "resurrected."
We walk up the ramp the Nazis probably would have killed anyone on the spot who needed a ramp into the rail car. We are immediately overwhelmed with sadness. How did they cram 110 people in here? How they must have suffered! Either end of the rail car is filled with paper clips each one represents a soul set behind glass windows.
One by one, members of our group place individual paper clips behind the glass, each with a story this one is in memory of my uncle… this one to honor my friend's father. My ten year old son put in a paper clip for his teacher's father I was proud of him for coming on such a heavy trip. Among the paper clips, there was also a suitcase, mailed to Whitwell from an elementary school in Germany. The case was filled with apology notes the children had written to Anne Frank. Can she hear them? Would she? We began to sing, first Ani Maamin the tune composed by Modzitzer Chassidim to the haunting rhythm of the train, and then Oseh Shalom. I notice that two of the Whitwell students are singing along with us. They know the song in Hebrew. One of them, Jack, asks us, "If the car could speak, what would it say?"
Oh, the dreams I have witnessed dying!
Why am I condemned to transport bodies, not goods?
Why am I a forced participant in evil?
I am like Abel, whose blood cries out from the ground.
Or, was it:
Thank you children for giving me a chance to say I'm sorry. You give me hope.
"Speak up!" for I cannot.

We are standing in a German rail car crying in Whitwell, TN. It is the eve of Yom Hashoah this past Sunday, and we had come as a combined group of 25 from our synagogue and our neighbors at the Tikvat Israel Conservative Congregation what a blessing to be together. We came to bear witness to a remarkable community rightly made known by the "Paper Clips" documentary. They continue to sustain their project, even after 18 years, building a culture of tolerance and love that is a light unto the nations may their strength carry on forever. We are inspired to read the sign at the memorial's entrance: "Never doubt that a group of thoughtful, committed students can: 'Change the world - one class at a time.'"
Shabbat Shalom!
See you in shul,
Rabbi Uri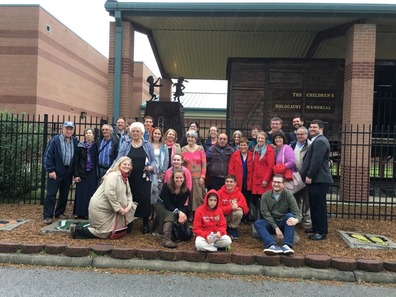 Join us
May 7, from 10AM-12PM
, in the Berman Media Center for a special screening of
Paper Clips
, and to hear
reactions from Whitwell trip participants.
YOUTH PROGRAM UPDATE:
Regular Shabbat Children's Programs
9:15AM

-
5/6th grade+ meets in cafeteria.
9:30AM

-
Tot room opens for supervised play
10:15AM

-
Groups begin for Tots, K-2nd grade, and 3rd-4th grade.
10:20AM

- Gym time for 5th graders and up
11:00AM

- Gym time for K-4th grade
All children return to the main sanctuary to help lead tefilot at the end of Musaf.
You can reach Carmiya, our Youth Director, at ckasse@yahoo.com
Your feedback is appreciated! RSVP to this email.