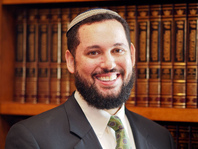 Dear Friends,
This week, I attended the American Jewish Community's 109th Global Forum, an impressive gathering of Jewish policy makers, philanthropists, activists, and engaged Jews. As Shabbat draws nears, I find myself continuing to dwell on two sessions in particular.
The first was a provocative panel discussion entitled, "Is there a future for European Jewry?" Bret Stephens, the Pulitzer Prize winning columnist for the Wall Street Journal, sharpened the question with the Pew statistics: There were 9 million Jews in Europe before 1935. Today there are only 1.2 million left. Another quarter million are expected to leave within the next few years due in part to rising anti-semitism. The program also featured a letter penned to the conference participants by France's Prime Minister in which he echoed his now famous words, "France without French Jews in no longer France!" The panel grappled with questions like, "Is 'home' worth fighting for? Or is Israel our only true home? Should we support policy that actively attempts to resettle European Jews, or do we have a responsibility to bring fixing to all parts of our world? As usual, the questions are often better than the answers…
The second was a series of presentations entitled, "Moral Courage Awards," recognizing special individuals whose moral courage saved lives. AJC honored Lassana Bathily, a Malian Muslim employee of the French Market that was attacked this past January in Paris. Lassana protected Jews by hiding them in a refrigerator and ran to get the police. He remarked, "In this world, everyone bears responsibility, and must do his best for the good of all."
The second award was given to the Rinal Saif, wife of Druze policeman, Zidan Saif, who was killed in the attack on the Har Nof synagogue this past November. Their 11 month old daughter clung to Rinal as she cried, "Our love gave us the greatest gift in this world, our precious daughter Liren."
The final award was presented to the family of Dan Uzan, who was killed this past February while guarding a Bat Mitzvah party at a synagogue in Copenhagen. His sister, Andrea, said, "It warms our broken hearts that 3,528 miles away, people are thinking about Dan and our family." She pleaded to the audience: "We have to teach our children not to hate."
This Shabbat, we read about the Mitzvah of Tzitzit. The Chofetz Chaim reminds us while unpacking the laws of Tzitzit in the Shulchan Aruch (OH 8:5), of the important principle "Kol Yisrael Areivim zeh lazeh" – "All of Israel is responsible for one another." This Shabbat, I have many more examples and questions to ponder on this point…
Shabbat Shalom from Aspen Hill!
See you in shul,
Rabbi Uri
Your feedback is appreciated! RSVP to this email.