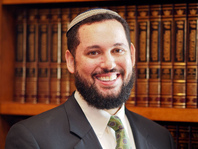 Dear Friends,
Many of us have seen the images and heard the news coming out of Houston and other Texas communities devastated by excessive rains and flooding this week.
My dear friend and colleague, Rabbi Barry Gelman, who leads the United Orthodox Synagogues community, shared a letter for chizuk("strength") with his congregation. You can read it in full here.

He opened by quoting from Song of Songs: "Mighty Waters cannot extinguish our love."

מַיִם רַבִּים, לֹא יוּכְלוּ לְכַבּוֹת אֶת-הָאַהֲבָה
(Song of Songs 8:7)

These words struck a particular chord for me, as this was the verse my former congregation in New Orleans chose to engrave above our Aron in the shul that replaced the synagogue destroyed by the failure of the levees in the aftermath of Hurricane Katrina.

In preparation for the dedication of our shul there, I discovered that these words were also written on the tombstone of Ida and Isador Strauss, former owners of the Macy's Department Store.

In the Winter of 1912, Isador and Ida decided to spend a few months abroad vacationing in Southern France. By the time they chose to come home, a strike among coal workers had spread throughout Western Europe. Only one cruise ship had managed to secure enough coal for a cross Atlantic journey due to its historic maiden voyage. And that's how Isador and Ida found themselves, quite by default, in England, on board the Titanic.
Isador and Ida were in bed when the boat struck the iceberg. The commotion on board had them concerned and they quickly dressed in warm clothes to go out on the deck.
When it became clear that the Titanic was sinking, Isador managed to secure a seat for his wife on board one of the lifeboats. But she refused to get in without him. Some of the passengers told Isador to come into the boat too, but he would not go before the many other women and children waiting behind him.
Ida continued to refuse her husband's urgent pleas to board the lifeboat. And suddenly, her mind made up, she pushed their newly hired maid, Ellen Bird, into the lifeboat in her place. Ida draped her fur coat around Ellen telling her that she would no longer need it. Ida famously said to her, "I will not be separated from my husband. As we have lived, so will we die, together."
Isidor and Ida were last seen on deck arm in arm. Survivors of their lifeboat described the scene as "the most remarkable exhibition of love and devotion they have ever seen."
"Mighty waters cannot extinguish our love."
In Rabbi Gelman's letter to his Houston congregants, he writes, "We have already seen so many acts of kindness offered by those who were able to help, from opening up dry homes for those who need places to go, to canoe crews paddling all over the neighborhood to transfer those who needed help, to doctors volunteering to treat those who needed medical attention... Let us focus on repairing what was ruined and rededicating ourselves to what makes our synagogue so special, the community. After all, what is really special about us are the people that make up our community. That is what is indispensable – the building can always be fixed."
This Shabbat, as our hearts reach out to those struggling in Houston (I am particularly thinking of Rabbi Gelman, whose family, among others, lost their home), let us also take the time to appreciate what is truly indispensable in our own lives.
Shabbat Shalom from Aspen Hill!
See you in shul,
Rabbi Uri
P.S. a special welcome home to my mother-in-law and my daughter Adi who went to Israel for Shavuot!
Your feedback is appreciated! RSVP to this email.