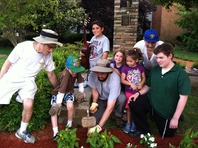 Dear Friends,
Tomorrow is the first observed yartzheit for the three Israeli teenagers who were brutally kidnapped and murdered last summer. However, since tomorrow is Shabbat, the families of Eyal Yifrach, Gil-ad Shaer, and Naftali Frankel, gathered today at the cemetery. (The actual yartzheit, which will be observed in subsequent years, is the 15th of Sivan, but when the burial takes place so many weeks after death, the first year's memorials are based on the date of burial. There were, however, a number of worldwide commemorations 18 days ago.)
After receiving the shocking news last year of their deaths, our shul and school organized an opportunity for our older children to gather, give voice to their emotions, and hear from some community leaders who could speak on their level and give space to their confused feelings. We invited the children to plant a memorial flower garden, reminding them that we each have the capacity to bring life out of death and light out of darkness. It was a moment of communal prayer.
This week, we re-planted that flower garden, accompanied by guitar, singing "Acheinu" – a tefillah for an awakened sense of brotherhood and sisterhood; a prayer for love to conquer hatred.
But sadly, hatred is hard to keep down.
I stood today with dozens of clergy members and hundreds of community members at the Washington AME Church. We hugged each other and expressed our solidarity.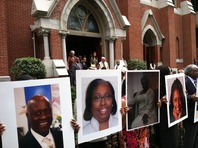 Local African Methodist Episcopal Church leaders met two nights ago and thought about how to respond to the horrific murder of nine church-goers in Charleston, SC. Bishop William DeVeaux said, "We thought about what to do. You know, what program we should launch, and such. Because we are all so program-oriented. But we realized that right now, we just needed to pray."
What I heard today was that prayer helps us put life into perspective; that prayer gives voice to feelings; that prayer helps to forgive, so that hatred doesn't consume us as well; that prayer invites humility; that prayer is a reminder for justice; that prayer helps to refresh our sense of virtue; that prayer can break down walls; and that prayer can be most profound in the context of community.
This Shabbat, let us consider how prayer itself can be a vehicle for holy change. Let our tefillot drown out hate. And as we daven, let us also think about Danny Gonen, a 25 year old Israeli, gunned down yesterday only because he was Jewish, as well as the arsonists' damage perpetrated on a Galilean Church simply because it is a Christian site. And let us remember the nine souls who lost their lives in Bible study while opening their hearts to a stranger among them. We remember, Cynthia Hurd, 54, Susie Jackson, 87, Ethel Lance, 70, Rev. DePayne Middleton-Doctor, 49, The Honorable Rev. Clementa Pinckney, 41, Tywanza Sanders, 26, Rev. Daniel Simmons Sr., 74, Rev. Sharonda Singleton, 45, and Myra Thompson, 59.
Shabbat Shalom from Aspen Hill!
See you in shul,
Rabbi Uri
Your feedback is appreciated! RSVP to this email.