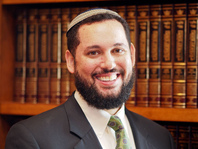 Dear Friends,
This week, I gathered with an interdenominational coalition of Rabbis to meet with the staff and diplomats of the Israeli Embassy, including Deputy Chief of Mission Reuven Azar, to discuss the recent developments regarding prayer spaces at the Kotel plaza.
Some background first: Since 1988, "Women of the Wall" have been holding a monthly Rosh Chodesh women's tefillah in the women's section of the Kotel, following Orthodox prayer customs. A decade later, the first conservative egalitarian minyanim were held at Robinson's Arch - a space along the Kotel, just to the right of the main plaza. Hundreds of minyanim now meet there each year. Another decade later, in 2010, negotiations began to construct a larger, more accessible plaza at Robinson's Arch, and staff/resource it appropriately. Efforts by Natan Sharansky and MK Naftali Bennett helped to advance this cause.
Last year, an agreement was reached with the government, and other interested parties, that included three central commitments: 1) A single entryway for two major plazas, one for Orthodox style prayer, and the other for egalitarian services, 2) the establishment of a pluralistic governing commission, and 3) government funding for the construction and administration of the new egalitarian prayer plaza.
But under pressure from charedi leadership, who reneged on their commitment to the plan, the government last week decided to suspend full implementation of the agreement and go back to the drawing board.
An article this week by Rabbi Donniel Hartman offered the following challenge: "The current status quo on state and religion and the monopoly of Orthodoxy do not merely foster religious stagnation in Israel, they destroy the future of Israel as the home for all our people. It is time to break this monopoly and to create a free marketplace for religion in the State of Israel. It is time to bring Israel's democracy into the 21st century."
As I wrestle with these issues with my colleagues across the denominational spectrum, I am cognizant of the fact that we are entering a mourning period on our calendar this Tuesday known as the Three Weeks, beginning with the Fast of 17 Tammuz. Rabbinic tradition teaches that Jerusalem was lost 2,000 years ago due in part to baseless hatred among our own brethren. Yet, I have no doubt that in every conflict, many believe they have plenty to base their disagreements upon!
I for one am thankful this Shabbat for the gift of the roundtable. I am appreciative to the Embassy for convening a difficult conversation, and I am grateful to my colleagues for airing frank ideas and feelings. It is so much healthier to discuss disagreements in person, rather than on Facebook, or in our own heads. We all learned from each other, and also took the time to embrace and acknowledge the real, human struggles of each side.
May this Shabbat, and our upcoming Three Weeks, help us better learn how to hold each other in our shared ideas and in our conflicts.
Shabbat Shalom!
See you in shul,
Rabbi Uri
YOUTH PROGRAM UPDATE:
Regular Shabbat Children's Programs
9:30AM

-
Tot room opens for supervised play
10:15AM

-
Groups begin for Tots, K-2nd grade, and 3rd-4th grade.
10:20AM

- Gym time for 5th graders and up
11:00AM

- Gym time for K-4th grade
All children return to the main sanctuary to help lead tefilot at the end of Musaf.
Lily Landau is serving as our interim Youth Director. You can contact her at office@bethjoshua.org
Your feedback is appreciated! RSVP to this email.