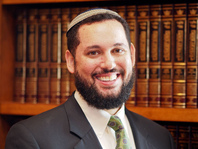 Dear Friends,
This morning, just after 7AM, Palestinian terrorists murdered two Israeli police officers in the Old City of Yerushalyim. The funerals for Master Sgt. Kamil Shnaan and Master Sgt. Haiel Sitawe will be held this afternoon before Shabbat. Smiling pictures of the two Israelis have been circulating the internet, including a heartbreaking photo of Haiel, taken three weeks ago at the birth of his first son.
Kamil and Haiel are Druze Israelis, a monotheistic faith that reveres Yitro, the father-in-law to Moshe Rabbeinu. There are just over 125,000 Druze citizens in Israel, living in northern communities, but their community has nobly stood with the Israel since before the State was even born, and have among the highest army recruiting rates (over 90%) in the country. Kamil and Haiel are sadly now among the 500+ Druze Israelis to fall in the line of duty.
In 2015, the IDF eliminated special Druze units, and integrated Druze soldiers into regular army units. This was a welcomed move, and today, Israelis are proud that Druze and Jewish soldiers serve together side-by-side. Yet, the same cannot yet be said for the integration of Druze into mainstream Israeli society.
The Druze Veterans Association is a prominent advocate pushing for greater equality in the workforce. In ways that somewhat echo America's process after World War II, Druze vets who serve side-by-side with Jews on the front lines, struggle to find that same acceptance when they get back home.
The Israeli government has openly celebrated the Druze community, but many Druze living in the Golan Heights feel more nostalgia for Syria, where their parents and grandparents had been citizens before 1967 when their land became a part of the State of Israel. This cultural gap, and their unique religion, pose a holy challenge for Israeli society in how it continues to build a Jewish, democratic state, that is proud of its identity, yet with access for loving peoples of all religions and ethnicities. This would be a fitting tribute to Yitro's legacy - a man who welcomed "an Egyptian man," who turned out to be the Israelite Moshe, into his family's safe haven.
May the memory of Kamil Shnaan and Haiel Sitawe be for a blessing.
Shabbat Shalom!
See you in shul,
Rabbi Uri
P.S. Chabad of Potomac is hosting a program with The Druze Veterans Association this Sunday, July 16 at 6PM. RSVP to: DVAinPotomacRSVP@gmail.com
YOUTH PROGRAM UPDATE:
Regular Shabbat Children's Programs
9:30AM

-
Tot room opens for supervised play
10:15AM

-
Groups begin for Tots, K-2nd grade, and 3rd-4th grade.
10:20AM

- Gym time for 5th graders and up
11:00AM

- Gym time for K-4th grade
All children return to the main sanctuary to help lead tefilot at the end of Musaf.
Lily Landau is serving as our interim Youth Director. You can contact her at office@bethjoshua.org
Your feedback is appreciated! RSVP to this email.