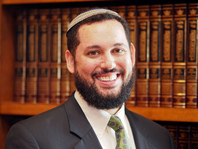 Dear Friends,
Yesterday was the seventh day of the month of Adar. It is commemorated as the birthdate, and yartzheit of Moshe Rabbeinu. While the Torah doesn't specifically mention these dates, the Sages embraced the history of this day based on various interpretations of the text, and at one time, even established it as a fast day.
A 2014 article in the Washington Post reported findings that young people, ages 20-29, died on their birthdays at a rate 25% higher than expected. The author suggested it might be a sign of birthday celebrations gone wrong! The article also noted a study that found a much higher probability that people over 60 will die on their birthdays, in part due to increased risks of heart attacks at birthday celebrations.
I suppose that data is meant to advise us to take it easy on our birthdays, but it also stands in contrast to how we view Moshe's fateful day.
There is a custom to write the short acronym, עמו״ש, after a person's name when writing them a letter. The acronym stands for ״עד מאה ועשרים שנה״, a blessing we often hear to "live until 120 years." These were the years of Moshe's life, and it is considered a merit to live so long. (Although, I should add that once I blessed a woman on her 95th birthday that she should live to 120, and she responded, "Rabbi, don't curse me so!")
Moshe's yartzheit, falling on his birthdate, is understood as a symbol of wholeness and fullness of years. No matter the years of our own lives, we hope to fill our days with meaning, purpose, and fulfillment, as Moshe did.
The 7th of Adar feels especially poignant for me in a week churning with gun debates, lock-down drills at schools, and security alerts. There is a heightened sense of our fragility and vulnerability. Even teenagers are confronting their mortality, instead of defying it as usual.
This Shabbat, we will read Parshat Zachor, remembering the heinous sins of Amalek, who launched a surprise attack against the ancient Israelite camp, and chose to strike first at the rear, targeting the weakest members of our community.
7 Adar reminds me to consider those who are most vulnerable, who do not perhaps have the vigor of Moshe in their older age or condition. Are we leaving them in the rear as well? Are they exposed to danger and loneliness in ways in which we can ameliorate?
May Moshe's fateful day be a blessing to us all - to remember his Torah, and strive for his wholeness of years. But also, to be more deeply cognizant of the fragility of life, that most of us, (who are not Moshes), are likely to encounter… עמו״ש.
Shabbat Shalom.
See you in shul,
Rabbi Uri