---
---
---
---
COMING UP AT WESTHILL
Mon 11/28 - Cyber Monday - Please register for Amazon Smile
Tues 11/29 - Giving Tuesday - Please donate!
Wed 11/30 - EARLY RELEASE - 11:45am
---
---

To help kick off the giving season,
Giving Tuesday -- observed on the Tuesday following the Thanksgiving holiday -- brings the world together to celebrate generosity.
On this day, we give back to our communities, our favorite or new charity, and the causes
we feel so strongly about.
SO PLEASE GIVE TO
WESTHILL'S DONORS CHOOSE
ON GIVING TUESDAY,
NOVEMBER 29th
PLEDGE ANY AMOUNT TO
ANY DEPARTMENT
AND HELP US REACH OUR GOALS
to make a donation using a
credit card or your PayPal account
---
DONORS CHOOSE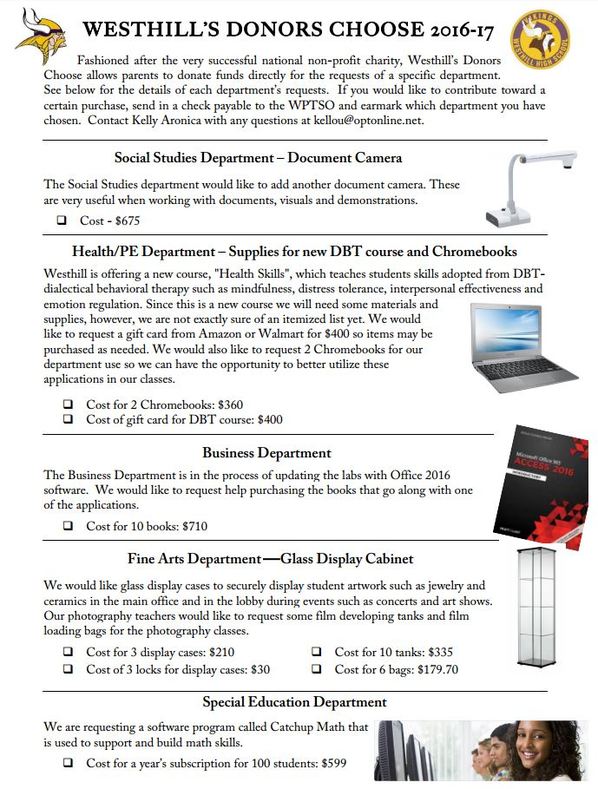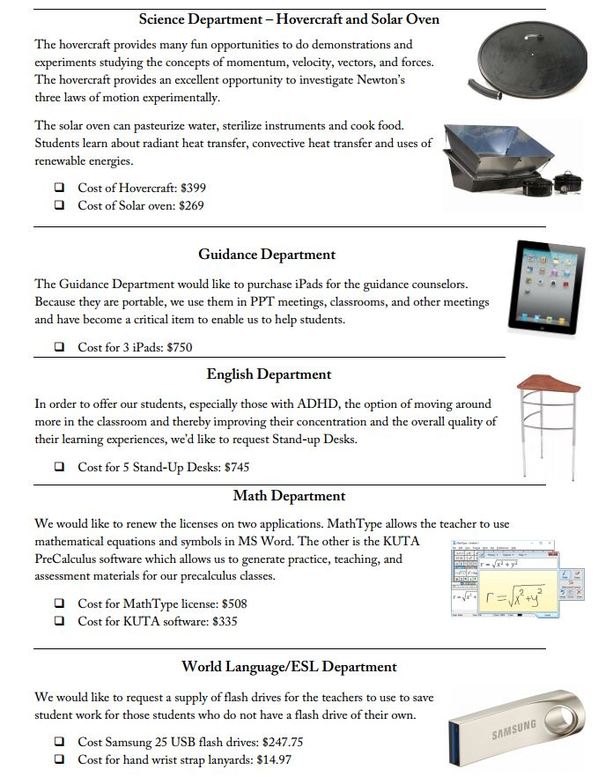 ---
---
SUPPORT THE WPTSO THROUGH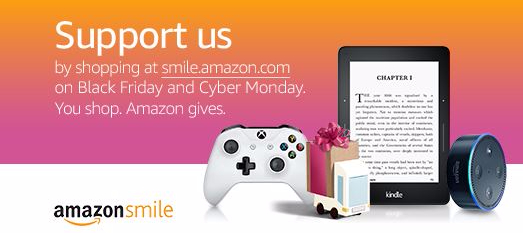 ---
---
STUDENTS AND FAMILIES:
The Class of 2017, in partnership with the Class of 1976, is currently collecting Personal Care Items for Kids in Crisis. If you can bring in any NEW and UNOPENED products (see next paragraph) to the main office to drop off, to Ms. Tobin (432) or Mrs. Grant (310), that would be greatly appreciated.
Travel-sized or "hotel" items - UNOPENED and UNUSED - also accepted!
We are looking for: Toothpaste, toothbrushes, mouthwash, floss, hairbrushes, combs, hairclips, shampoo, conditioner, bodywash, lotion, facewash, razors, shaving cream, deodorant, and ANY and ALL personal care items! AND, soap holders and toothbrush holders - for travel - are needed.
These items will be given to teens - just like you - who are between foster placements, or are staying in shelters.
We are collecting these items
now through Mon 11/28
---
---
WINTER SPORTS TRYOUTS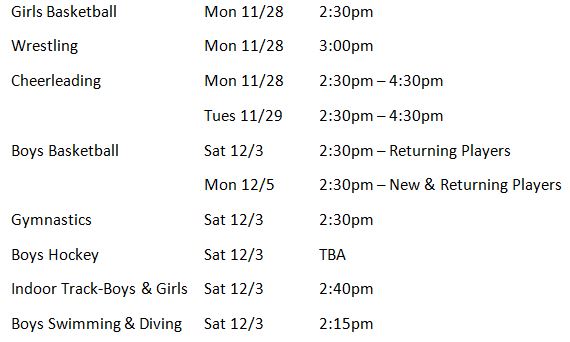 ---
---
SPIRIT WEAR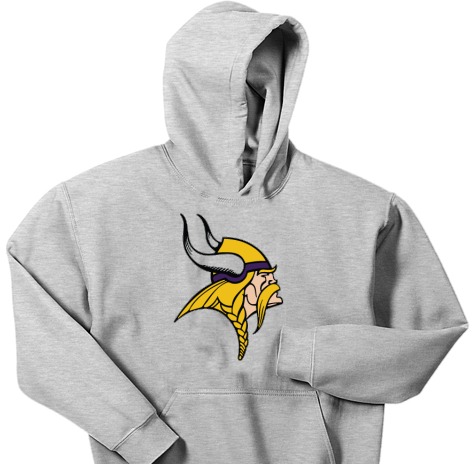 Your next opportunity to buy Spirit Wear
will be Friday,
December 2nd
during lunch waves
You can make checks payable to
Please volunteer to help at the Spirit Wear Table. There will always be a Spirit Wear committee member at the table, but a second set of hands during the sale really helps.
---
---
VIKING SPORTS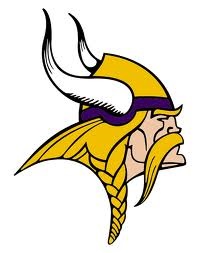 Click the link below to access
Westhill's athletic schedules:
NO HOME GAMES THIS WEEK:
---
---
UPCOMING COLLEGE VISITS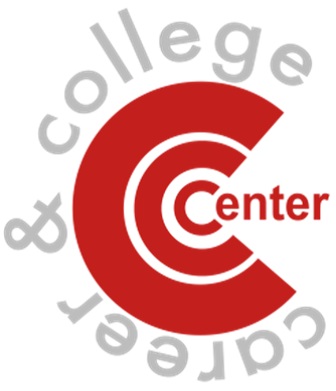 Juniors and Seniors: Representatives from the following schools will be visiting Westhill in the coming weeks:
* Tues 11/29 - Hartford Art School - West Hartford, CT
* Mon 12/12 - United States Marine Corps Recruiter
* Wed 12/14 - Norwalk Community College - Norwalk, CT
* Wed 12/14 - United States Navy Recruiter
If you are interested in any of these schools, sign into NAVIANCE , click on the COLLEGES tab, and then click on the COLLEGE VISITS link to sign up to attend the presentation. Print out your confirmation, and get an authorized signature AT THE VISIT.
SENIORS
If you handed in your Westhill Common Scholarship Application, you can now come down to the CAREER CENTER and go to your Counselor's drawer. Find your name and see if there are any scholarship opportunities in your folder. The scholarship committee put a letter in everyone's folder
---
---
BUY A YEARBOOK AD
To buy business or personal ad space in the yearbook, do ONE of the following:
2) Come by room 432 periods 1, 3, 4, 5, or 6 and get an "Ad Flyer" from Ms. Tobin. OR, go to room 202B periods 2 or 7.
3) Talk to any member of the Yearbook staff. 20% of their grade is Ad Sales. They will be EAGER to assist you.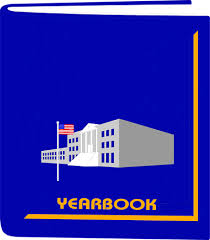 ---
---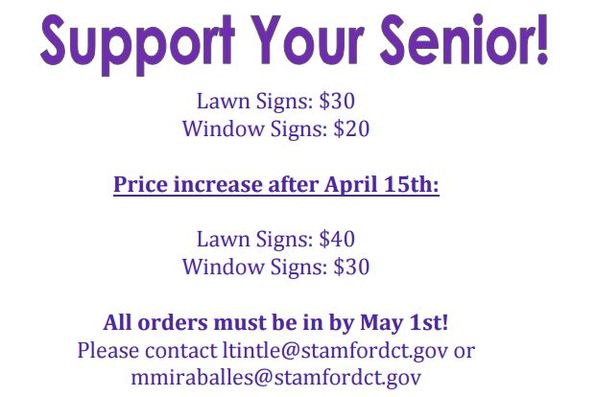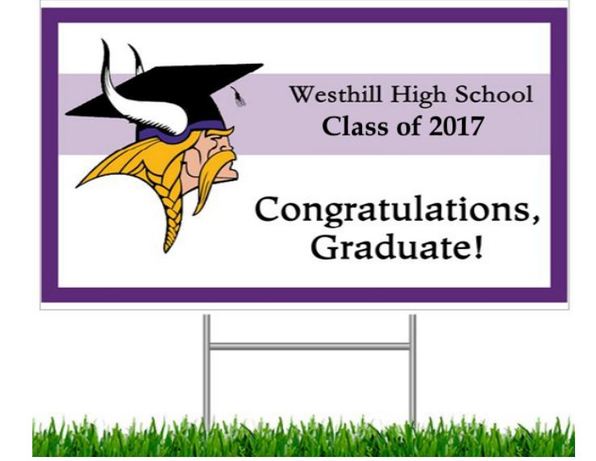 ---
---
BOYS LACROSSE FUNDRAISER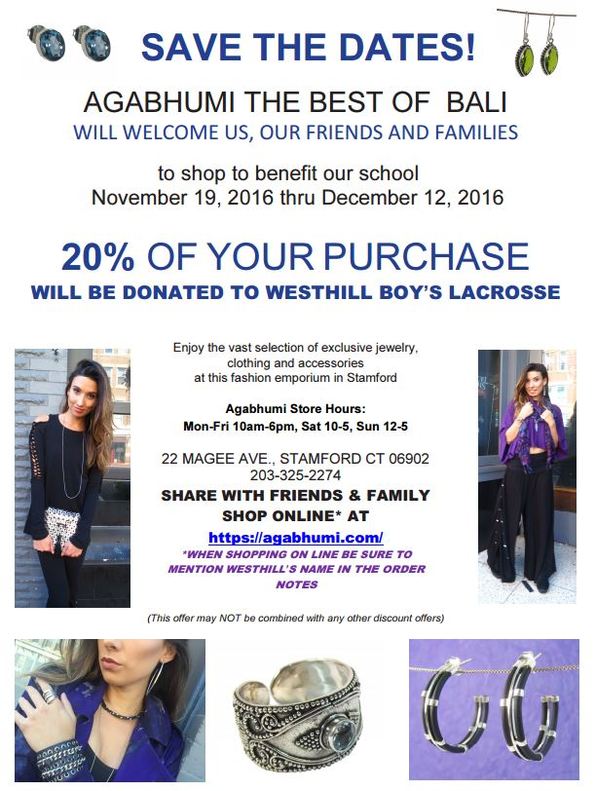 * Mention Westhill Boys Lacrosse
when ordering *
---
---
STAMFORD ALL-SCHOOL MUSICAL
TICKETS ARE NOW ON SALE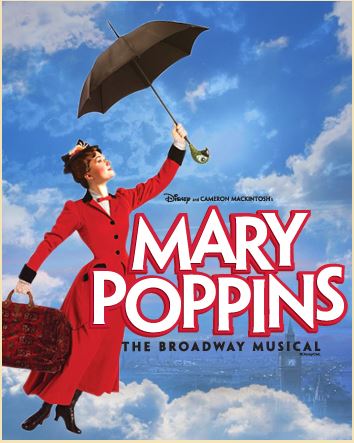 Saturday, 12/3 at 7:30pm
Sunday, 12/4 at 3:00pm
(followed by a Meet & Greet)
Friday, 12/9 at 7:30pm
Saturday, 12/10 at 7:30pm
Sunday, 12/11 at 3:00pm
All performances will take place at
Westhill High School
---
---
FOOD DONATIONS ARE NEEDED FOR OUR WEEKLY BACKPACK PROGRAM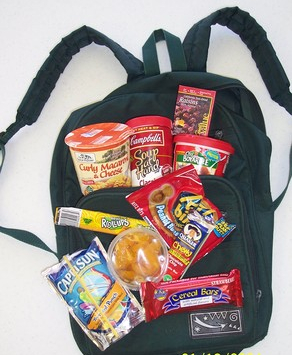 Please help the WPTSO feed over 30 students through the weekly Backpack Program. We fill backpacks with donated food every Friday and students at risk of going hungry over the weekend pick them up and return them empty Monday morning. Please consider donating non-perishables which you or your student can drop off in the main office. Suggested items include:
Cans of Tuna fish, chicken and/or ham
Spam, protein packets, cans of beans,
Canned vegetables and beef ravioli
Small containers of peanut butter, jelly , crackers
Carnation breakfast packets
Cans/boxes of soup, chili, mac 'n cheese
Fruit cups
Small boxes of milk, drink packets, juice
Stop & shop or Shop Rite gift cards
Gently used or new backpacks
Individual servings and/or small sizes (no glass please) work best for packaging. We would happily accept monetary donations as well.
---
---
RENEW YOUR MAGAZINE SUBSCRIPTIONS AND MAKE A DIFFERENCE AT WESTHILL!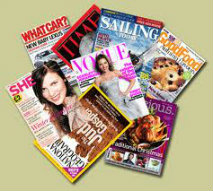 You can purchase or renew subscriptions to your favorite magazines at up to 85% off! Each time you make a purchase, our WPTSO will receive up to 40%! You can also support us by sharing this information with friends and family.
It's quick and easy -- and it will help make a difference!
---
---
If this newsletter was forwarded to you by a friend, and you would like to receive the Westhill Newsletter each week, please e-mail westhill@wptso.org