Dear Salon friends,

Greetings from Taos, New Mexico where I am composer in residence at the Wurlitzer Foundation. You are invited to the next Salon on Sunday, October 20th at 400 S. Sydenham Street, 7:30pm. This Salon features Jimmy Bruno; Ching-Yun Hu; Murmuration: Eric Coyne, Russell Kotcher and Andrew Marsh; Kwesi K; Peggy King and the "All-Star Jazz Trio": Andy Kahn, Bruce Klauber and Bruce Kaminsky; David First; Stephen Ng with Laura Ward; Matthew Brower; Eric Carbonara; Suzzette Ortiz with Rene Ginett; Gideon Whitehead. Doors open at 7:00pm and you are advised to arrive early for a seat. See below for directions and season dates. The program will be sent shortly.
All best wishes,
Andrea

Room for Rent: The beautiful large room on the 2nd floor of the Salon house is available for rent (work, studio or live-in). Contact me at aclearfield@gmail.com for more info.

Directions to 400 S. Sydenham St., go up Lombard from Broad, make a right on the first street past 15th St. (Sydenham). The large tan house is on the left just after a parking lot (private parking only). Or go south on 15th St, turn right on the first street after Pine (Waverly). Large tan house is halfway down the block on the left, corner of Waverly and Sydenham. Indoor parking on Broad and Pine and 16th and Waverly; outdoor parking on 15th and South.
27-Year Season Dates: October 20, November 24, December 22 (Holiday Salon), January 26, February 23, March 30, April 27, May 18. Salons will be held at 400 S. Sydenham unless indicated otherwise.

Watch short meditative film Just as Mist on a Mirror Fades by artist Martha Boyden and my electronic score featuring Amelia Cuni on Druphad vocals

Watch Salon film

See Photos by John Hayes from the 27 Year Salon Celebration!







News
Click here for a complete list of my performances
• My current commissions include works for the Grand Rapids Women's Chorus; Arc Duo and the Diller-Quaile School of Music; Susquehanna University; Pennsylvania Girlchoir; Philadelphia Orchestra hornist Denise Tryon; Norwegian hornist Froydis Ree Wekre for Øystein Baadsvik, tuba; Duo Agosto: Ling-Fei Kang and Charles Huang for the Women Composers Festival of Hartford; a chamber work for oboist Ian Shafer and an opera, MILA, on the life of Milarepa to libretto by Jean-Claude van Itallie and Lois Walden. For info about the premieres of these works, click here.

•
Since my Salon celebrated its 25th year, patrons and organizations have asked me to help them start other Salons. If you are in the area, join me at upcoming Salons:
•
Wynnewood, PA -
Main Line Reform Temple Salon
, Dec. 8, 3pm. Features pianist Tania Stavreva performing works by Samuel Barber; art songs and opera with soprano Melissa Shippen and pianist Yu Xi Wang; Brazilian music with Minas: Orlando Haddad and Patricia King; original songs with Alexandra Day; cabaret with Karen Gross and gypsy jazz with The Hot Club of Philadelphia led by Barry Wahrhaftig with guest singer Phyllis Chapell. Website will be up shortly

.
• Aspen, Colorado - The Salon at Justice Snow's, Dec. 1, April 6, 5pm
• Phoenix, Arizona - The Salon at the Garden, March 16, 7:30pm, details TBA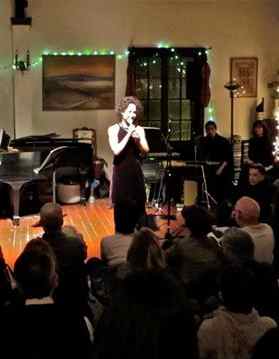 .