December 2014 News in Agricultural Technology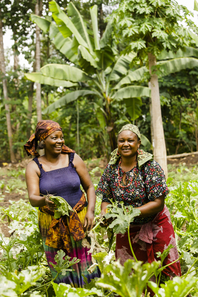 2014 has been a year of exciting progress for Feed the Future Partnering for Innovation. Our partners have been successful across the world, commercializing technologies that have improved the productivity and incomes of thousands of smallholders. Partnering for Innovation has also expanded its reach through its USAID Mission partnerships and through its role as a leading facilitator of knowledge exchange for private sector organizations looking to engage smallholder farmers.
In 2014, a total of 36,000 smallholder farmers in twelve countries accessed new technologies through Partnering for Innovation's partnerships. Recognizing that engaging smallholders benefits both farmers and private companies, the private sector has committed $13 million of their own funds to these projects, nearly as much as Partnering for Innovation has invested. Additionally, USAID Missions are investing close to $20 million in new private sector partnership initiatives with Partnering for Innovation's support and guidance.
Partnering for Innovation also launched two major knowledge exchange tools in 2014 to help stakeholders across the spectrum form stronger and more effective partnerships. One was
From Shareholders to Smallholders: A Guide to Optimizing Partnerships with the Private Sector for Smallholder Impact
, a
"how to" guide
that features tools and methodologies for investor engagement as well as replicable models and case studies. The other was an online community called the
AgTechXChange
. This community provides a place where people across the world can access information on funding opportunities, innovative technologies, companies, and events, as well as discuss how to engage smallholders and develop effective partnerships. In its first year alone, over 500 people have joined the AgTechXChange.
The results we've seen in 2014 continue to prove that partnering with the private sector is an effective way to move needed technologies down market to the base of the pyramid and to open up new markets and product possibilities for innovators and businesses. As
Feed the Future
continues to be a priority program for the US government's efforts to address food security, we at Partnering for Innovation look forward to continuing to promote innovative technologies, build partnerships, enable learning, and improve the livelihoods of smallholder farmers around the world.

Bob Rabatsky, Director, Feed the Future Partnering for Innovation