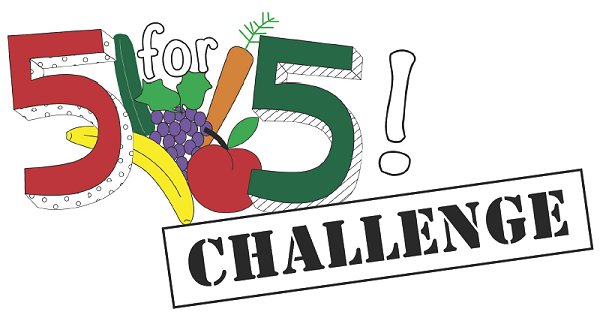 Hack your family's health and compete for a prize in RFKM's 5 for 5 Challenge Oct. 17-21!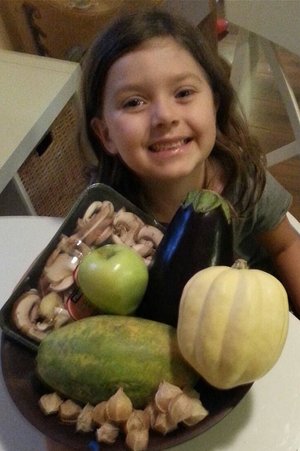 Did you know that only 1 in 10 Americans eats the recommended 5 servings of fruits and vegetables a day?

RFKM will be conducting its 5 for 5 Challenge during the week of Oct. 17-21 this year. We are challenging MCPS students and their families to eat 5 servings of fruits and vegetables a day for 5 days and to ask their friends and family to sponsor them and support their efforts, which will support the work of Real Food for Kids – Montgomery.
Prizes!

The child who eats the greatest variety of fruits and vegetables, the child with the largest number of sponsors and the first child to form a team of 2 or more children (from different families) and get at least one sponsor for at least two team members will win $50 gift cards to our sponsor, Whole Foods Market. The deadline to sign up is Oct. 16 at 11:59 p.m.
---
Real Food for Kids - Montgomery Rocks the Lunch Tray Blog!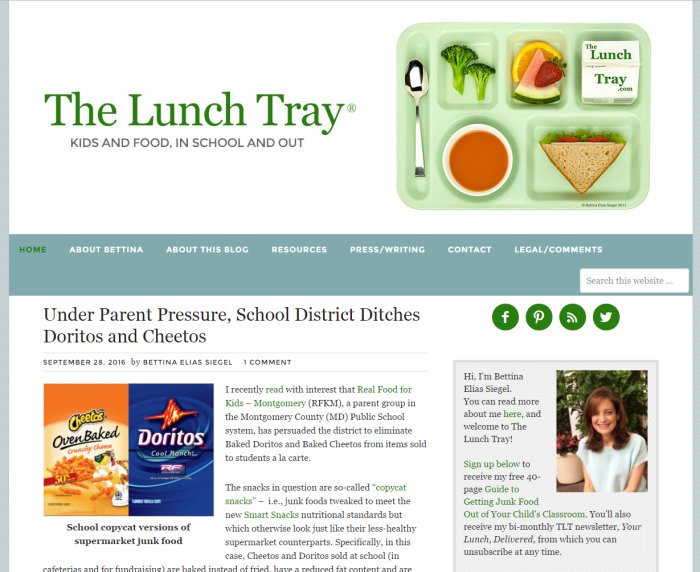 RFKM's success in getting MCPS to stop selling Cheetos and Doritos as an a la carte option was featured in The Lunch Tray blog last week, a nationwide blog that focuses on school food policy. The Lunch Tray highlights an additional concern with these types of products known as "copycat snacks" - that they have very similar packaging to what is sold in supermarkets and convenience stores, while differing in their nutritional content in order to to meet USDA Smart Snacks in Schools standards. So, for example, Flamin' Hot Cheetos sold in schools have to be over 50% whole grain or have whole grains as the first ingredient and are baked instead of fried, while their supermarket counterparts are much higher in fat and are not whole grain. While RFKM and our parent supporters in many schools object to these products due to the long list of artificial food dyes and other chemical additives, many in the nutrition community are also concerned that they may fool kids and parents into thinking that their commercial counterpart products are healthy choices. However, from our experience, most parents and children do not typically consider these types of chips healthy, even when adjusted to meet Smart Snacks standards (which most parents are not aware of), and their presence in schools tended to reinforce the image of school food as unhealthy rather than improve the image of the copycat snacks. We hope the prominence of this accomplishment which you, our supporters, made possible, will spur other districts to start removing such foods from their offerings. Please help us continue our advocacy work to improve the food in MCPS by making a small donation.

School Food Activism Training

RFKM will be hosting a training on school food activism on Saturday, Oct. 22 from 10:00 a.m-12:30

p.m. at our office in Bethesda at 7979 Old Georgetown Road, 10th floor. Topics covered include why school meals are like they are (USDA Regulations, decision-making structures in MCPS); Competitive Foods in MCPS; MCPS Wellness Policy and Regulation; Parties, Snacks and Fundraisers; Starting a Wellness Committee; the RFKM Healthy Kids PTA pledge; Conducting a School Food Survey; Interventions throughout the year (back-to-school night, holidays, testing, etc.); and Building Bridges with Administrators. The training will last two hours followed by lunch. If you're considering becoming a school representative, serve on a school wellness committee, are new to the job of school rep, have never attended the training or just want a refresher, please come! Everyone is welcome. Please RSVP to lindsey@
realfoodforkidsmontgomery.org.
---
Articles, Events, Webinars and Jobs of Interest

Events

Meeting on the Agricultural Reserve featuring MoCo Councilmember Craig Rice, October 10, 6:30 p.m., The Universities of Shady Grove, 9630 Gudelsky Drive, Rockville, Building II-Bethesda/Gaithersburg Meeting Room

Webinars

Sustainable agriculture with or without labor? - October 7, 1-2 p.m.

Articles

"Unmasking" the Processed Food Industry to Encourage Teen Healthy Eating

Los Angeles Teachers' Union says "No, Thanks" to McTeacher's Nights

The Montgomery County Food Security Plan - Information on Meetings and Listening Sessions

Organic Gatorade is Here, and I'm not Happy about it

LiveWell School Food Initiative: Thompson School District Trainings

Some Low-Income Kids Face a 'Nutrition Gap' Before Starting School
---