School Food Enviroment Grades Released by Healthy School Food Maryland



Healthy School Food Maryland, a coalition of 20 local, state and national non-profit organizations and businesses coordinated by Real Food for Kids - Montgomery, has released their first School Food Environment Grades for the 24 public school districts in Maryland. The grades are based on a rubric of 12 items with scores ranging from 0-4, which address parent and community concerns related to school food and wellness, such as reducing sugar; access to potable water; use of local produce and farm-to-school programs; salad bars; use of artificial colors, flavors and other chemical additives; scratch cooking; variety and repetition of meals; healthier vending options; transparency; wellness committees; and policies on junk food marketing. Grades were issued based on a normal bell curve, resulting in few A's and F's, with the majority of districts falling in the C range.





Top marks on the rubric went to Howard County, the only district to receive an A+, followed by Frederick and Carroll Counties, who earned grades of B+. Montgomery County Public Schools earned a grade of C with a raw score of 21/48, earning the top grade in the state on only two rubric categories. The first was for their policy on artificial colors, flavors and other chemical additives in which they got a 2 out of a possible 4, thanks to the policy prohibiting several artificial colors and other chemicals issued by MCPS subsequent to RFKM's petition and lobbying in June of 2014. A policy of this type was unique in the state making MCPS a leader in serving cleaner label foods. The second high mark was a 4 out of 4 for farm-to-school programs and procurement, due to MCPS' reported 40% local procurement for school year 2013-2014 on the USDA's farm-to-school census, as well as their participation in the yearly week-long Maryland Homegrown School Lunch Week. Thirteen other districts also received a 4 in this category, with Howard County reporting a high of 81% local procurement.

MCPS performed particularly badly in relation to their peers on vending machine policy, with 8 counties in the state prohibiting soda, candy and other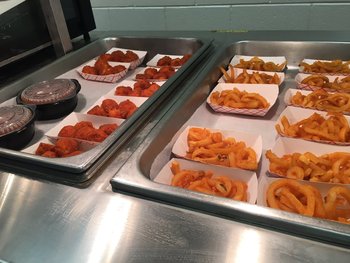 non-Smart Snacks compliant foods 24 hours a day, while MCPS permits the sale of these foods 30 minutes after the end of the school day. MCPS also performed worse than many of their peers on menu variety, which would not be a surprise to parents and students who complain frequently about the repeating options of pizza, burgers, processed chicken, fries, and other "kid-friendly" foods, which MCPS' Division of Food and Nutrition Services (DFNS) stubbornly insists are the only things children will eat, despite ample evidence to the contrary from other schools and districts.

While most of the items on the rubric are under the control of the DFNS, others items are decided at a higher level, albeit with strong input from DFNS. This includes rubric items about the district-wide wellness committee and its composition and transparency, policies on junk food marketing and use of personal water bottles, which could be included in the district-wide Wellness Regulation (which is currently being updated by the MCPS Wellness Committee) and policies around vending machine contents outside of school hours.

The complete 2016 scorecard can be found at: http://www.healthyschoolfoodmd.org/2016_grades.php as well as links to all the documentation and individual district rubrics. RFKM's Executive Director and Coordinator of the Healthy School Food Maryland Coalition, Lindsey Parsons, will also be presenting the results of the grades project in a webinar hosted by the Chesapeake Foodshed Network on February 2 from 1-2 p.m. EST.

---
RFKM Film - Watch and Share!





Want to learn more about RFKM or share a short film with your school community? RFKM's summer intern Alejanrda Mathies, a film major at American University, made this 5-minute film about our work. Please share widely and consider becoming a member of RFKM this year.

---

RFKM at 49% of Year-End Goal: Please Become a Member Today

Your donations make the work of RFKM possible. To meet our budget for the year, we still need to raise $2,455, 51% of our year-end goal of $5,000. Will you show your support and become a member of RFKM today? All donations are tax-deductible through RFKM's fiscal sponsor, Chesapeake Institute for Local Sustainable Food and Agriculture.


---

Look for a Great Holiday Gift? Check out a variety of items with RFKM's logo from t-shirts for all ages to water bottles, glasses and hats. A kid's t-shirt is a great gift for spreading the word in your school about RFKM!

---

Graceful Growing Together Seeks Cooking Teachers



Are you a dietician, nutritionist, caterer, personal chef, culinary school graduate, a great home cook or certified food safety instructor? Graceful Growing Together, in partnership with Montgomery County Recreation, is looking for volunteers to teach in Recreation facilities and possibly other county buildings with

skills in nutrition, cooking and food safety.

They will work with you to help you get established as an instructor. Food costs for cooking classes, and materials for other classes, will be paid by the students. If class tuition is charged, you will receive a stipend from Montgomery County Recreation. If interested, please reach out to Dave Lambert at

drlambert@GracefulGrowingTogether.org.

Mark Your Calendars for Jan. 28th Dance-A-Thon to Benefit RFKM

On January 28, 2017, from 9 a.m. - 1 p.m., Joy of Fitness Studio in Silver Spring will be hosting a Dance-A-Thon to benefit RFKM! Sign up for 1-4 dance-based aerobics classes (Zumba, Country Heat, Cize (Hip Hop), or Zoco Afro Pop) with all proceeds going to RFKM. Bring your kids as well to participate in carnival-themed activities such as mask making or beading, or to participate in a healthy cooking demo between 9 and 11 a.m. while you're in class. There will also be a raffle with prizes from local businesses! Classes are appropriate for all fitness levels and can be taken by kids and adults alike (ages 9 and up). Visit Joy of Fitness Studio's website to sign up for the Dance-A-Thon.

---

Articles and Webinars of Interest

Articles
House Freedom Caucus Takes Aim at School Food: My Thoughts

Pew and RWJF: Schools Report Growing Success With Healthier Menus

Expanding Farm to School Through Salad Bars

Nestlé Reformulates Sugar and Says It Will Use Less in Its Candy

Webinars
Keep Moving! Comprehensive School Physical Activity: 1/4, 3-4 p.m.

Moving schools towards local, scratch-cooked food: Insights from Healthy School Food Maryland's "School Food Environment Grades" and strategies for implementation from Fairfax County Public Schools: 2/2, 1-2 p.m.

---

Buying from Amazon.com for the holidays?

Please bookmark the Amazon link from RFKM's web site - see upper left hand corner of our home page - and a portion of your purchase will go to RFKM. Thanks!
realfoodmcps@gmail.com - www.realfoodforkidsmontgomery.org - (301) 202-4812

Real Food for Kids - Montgomery is a grassroots parent and student advocacy group working to promote
whole, real, local, sustainable and nutrient-rich foods in the Montgomery County Public Schools in Maryland.