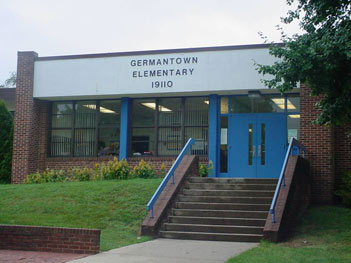 This week, RFKM is spotlighting Germantown Elementary School for the stellar work they have done this past year to improve the school food environment. Germantown is committed to making healthy changes that promote the well-being of the students. Here are just a few of their accomplishments this past year:
1. An "Outdoor Classroom" was created and installed by the school grounds committee of the PTA, including two salad tables and a rainbow flowerpot garden. Each grade was able to plant carrots, radishes, and up to five different types of lettuce, and was involved in the watering of the garden as well as the thinning of plants. The salad table allowed students to taste the lettuce they planted in a tasty school-grown salad. Next year, the classroom will feature a Sensory Garden with many different types of scented plants.
2. This April, members of the PTA planned and coordinated a Healthy Lives, Happy Families event for the school community. The event featured "One Small Change--How the Food and Lifestyle Choices WE Make Today Will Affect OUR CHILDREN Tomorrow," an interactive presentation for parents that included lessons on how to shop smartly for affordable, healthy meals, how to prepare easy recipes at home, and how to increase your family's consumption of fruits and vegetables. The program received rave reviews and inspired many to make changes in their homes.
3. Germantown is making an effort to provide students with better snack options during events. Snack options at more events have included healthier, oftentimes organic foods, free of artificial dyes and preservatives, as well as water and organic juices.
4. Earlier in the school year, all students participated in the iWalk PTA fundraiser. Students were encouraged to enlist the help of family and friends to sponsor a certain number of laps to be completed during the walk. Students spent their lunch and recess time completing their laps and enjoying the outdoor activity.
5. During the last week of school, the physical education department organized a school-wide Field Day that allowed the children to showcase all that they have been working on in their classes throughout the year. Parents were encouraged to cheer on their children as they participated in outdoor activities and games.
Way to go, Germantown!
For more information about the amazing work being done at Germantown, please contact our school representative to Germantown ES, Heather Ford.