MCPS to Establish Wellness Committee
After more than 2 years of advocacy on this issue, MCPS has agreed to establish a standing Wellness Committee! According to MCPS' Acting COO, Andrew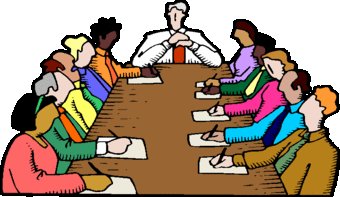 Zuckerman: "The committee will be composed of a broad cross section of stakeholders as outlined in the Healthy, Hunger-Free Kids Act of 2010, and the purpose will be to periodically review and update our wellness policy, as based on best practices."

We are very glad that MCPS has agreed to take this step and hope that this will open up an opportunity for parents and other stakeholders outside of MCPS to weigh in on a policy that impacts the wellness of our children and, therefore, our present and future community.

The agreement to establish this committee comes after 5 months of meetings by the Wellness Regulation Revision Work Group which RFKM's Executive Director Lindsey Parsons took part in. This group was charged with updating sections D and E of the MCPS Wellness Regulation. While this group was composed of only 15 people (including 2 parents, 2 students, a representative from Share our Strength, the head of school nurses, the holder of the vending contract with MCPS - an obvious conflict of interest - and the remainder employees of MCPS), we are hopeful that a future committee will bring in much greater outside participation. A desirable goal is 50% non-MCPS employees, including representatives from non-profit organizations, medical professionals, nutrition professors, community wellness organizations and a much larger contingent of parents (ideally at least 25%).

The temporary Wellness Regulation Revision Work Group, which was ultimately only allowed to consider alterations to the competitive food regulations, voted to change the Wellness Regulation in a few ways. This included changes welcomed by RFKM, including limiting sugar in an 8-oz. serving of chocolate milk to 21 grams if available, and prohibiting the artificial sweetener acesulfame-potassium in school food. Unfortunately, it also voted for changes that RFKM fought against, including increasing the serving size of juice sold in elementary schools from 6 to 8 oz. and in secondary school from 8 to 12 oz., and increasing the serving size of milk (including chocolate milk) allowed in secondary schools from 8 to 12 oz. In adopting USDA regulations on beverages, the committee also weakened the MCPS Wellness Regulation by allowing low calorie sugar-sweetened beverages (maximum 60 cal. per 12 oz. serving), which were previously not permitted. In practical terms, this means Fruit Wave H20, the flavored water sold in secondary schools with 3.5 tsps of added sugar per serving, will now be legal. For 2 years, it has been sold in violation of MCPS's own wellness regulation. The holder of the vending contract with MCPS is also part-owner of the company that manufactures and distributes Fruit Wave H20.

While we fought hard against these weaker standards, it was difficult within the context of what we were allowed to do.
Despite the fact that the Healthy, Hunger-free Kids Act of 2010 mandates that the general public be involved in the writing, updating and implementation of the district's wellness policy, the group's facilitator asked that we keep the process confidential. The process was fundamentally flawed, and the outcomes were predictable on that basis. For more information on the process, read Lindsey's testimony to the Board of Education on April 27 on the topic.

With the initiation of a standing Wellness Committee, we are nonetheless hopeful to start off on a new foot to work towards a wellness policy and regulation for MCPS that scores better than the current 34 (F) for comprehensiveness and 20 (F) for strength, according to evaluations using the WellSAT 2.0, a wellness policy evaluation tool developed by the Rudd Center for Food Policy and Obesity.
---
RFKM Farm-to-Table Wine-Pairing Dinner and Silent Auction
On May 16, RFKM hosted a successful farm-to-table wine-pairing dinner and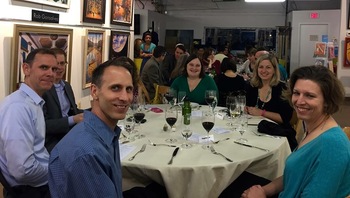 silent auction at Huckleberry Fine Art Gallery in Rockville. We were glad to have County Council President and RFKM Advisory Board Member George Leventhal, as well as Board of Education member Jill Ortman-Fouse in attendance. It was a delightful evening with live jazz performed by Joe Yanovitch (Karen's husband) on guitar and Massimo Quartararo on saxophone. Event Photos
---
Submit Comments on Child and Adult Care Food Program

Comments on the federal proposed rule for the Child and Adult Care Food Program (CACFP) are due on May 27, 2015. We encourage you to submit a short comment in support of the proposed rule and ask that they 1) do not allow flavored milk in the CACFP; 2) do not allow juice to substitute for fruit in the CACFP and 3) require that all grains be whole-grain rich. If you would like to submit a more detailed comment, you can see a model in RFKM's full comment at the bottom of the page under "Comments on USDA Rules".
---
Food Literacy Public Meeting Inspires with Presentations on Activities to Help Kids Eat Healthier

The Montgomery County Food Council's Food Literacy Working Group, of which RFKM's Executive Director Lindsey Parsons is the co-chair, hosted a public meeting on May 19 entitled "Healthy Eating Initiatives for Montgomery County Children". The event featured 12 5-minute lightning presentations on topics ranging from nutrition programs for pre-school children, to school-based culinary education (during and after school), nutrition and horticulture programs, composting with kids, and of course, school food advocacy. After the presentations, attendees had a chance to network on various topics (see a list of presenters here). Participants were inspired after seeing the many excellent programs that exist in the county to teach and encourage children to eat healthier.
---
Empowered Wellness Nutrition Education Curriculum for Kids

A unique activity book, written by one of our members, is getting national attention for inspiring kids to make healthier choices. CSPI Director, Dr. Michael F. Jacobson, had said: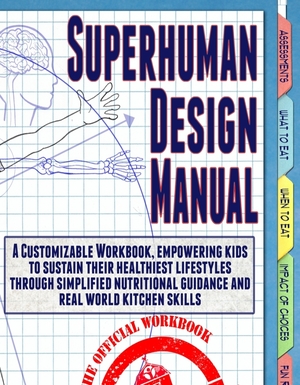 "The Superhuman Design Manual provides a fun, hands-on and simplified method for families to improve their diets and health."
Traditionally the book has been used exclusively with their popular enrichment programs, but it's also proving effective as a stand-alone solution and is finally available for broad distribution.
If you decide to purchase, please enter "RFKM" in the line that asks "How did you hear about us?" so that RFKM can get a small portion of the proceeds to support our work.