RFKM Farm-to-Table Wine-Pairing Dinner and Silent Auction

How about a night's stay at the elegant Fairmont Hotel in Washington, D.C.? A summer membership in the Forest Knolls pool in Silver Spring? A therapeutic massage? Sessions with a personal trainer?

A subscription to the Six O'Clock Scramble? Our Silent Auction is really coming together! Please join us on May 16 from 7:00-10:00 p.m. for an elegant farm-to-table wine-pairing dinner with food from Catering by Seasons. Enjoy live music and a chance to bid on a variety of great items. All proceeds go to our ongoing advocacy work to create a healthier, more sustainable community.
Please contact us if you have a business to promote or an item, resource, gift card, or service to donate. From a weekend stay at your beach home, to a homecooked meal prepared at some else's house or a free service from your business, we know many of our supporters have something that we could auction off. Be creative!
---
Spotlight on Schools - Victory at Forest Knolls ES
Craisins and cinnamon rolls are off the menu at Forest Knolls ES!

Parents asked for the elimination of these high sugar items from the 'Free breakfast in the classroom' and were granted their request. While chocolate milk with 2.25 teaspoons of added sugar is still being given out to kids against their parents' wishes, parents are working on a compromise. What is your experience with breakfast in the classroom? Let us know if you'd like some tips on how to advocate for less sugary options for breakfast in the classroom at your child's school. To get another perspective on the sugar issue, read Dana Milbanks' Opinion in the Washington Post from 4/12 on "Big Sugar's Sour Tactics".

RFKM now has parent supporters in 180 schools and reps at 60. We still need parents at a number of schools including 2 in the Downcounty Consortium, 3 in the Northeast Consortium, 3 in the Clarksburg cluster, 3 in the Watkins Mill Cluster, and 2 in the Seneca Valley Cluster. If you know parents in any of these clusters who could help, please let us know.
---
SNA's Impact on National, State & Local Standards

According to its mission statement, the School Nutrition Association (SNA) is the "national organization of school nutrition professionals committed to advancing the quality of school meal programs through education and advocacy." Yet the SNA is working to repeal parts of
the Healthy, Hunger-Free Kids Act (HHFKA) on the basis that it is too restrictive. Among several requested changes, the SNA wants individual schools to be able to decide whether students must take a fruit or vegetable with their meal and whether only whole grains must be offered and for a loosening of sodium standards. Large food companies fund half of the SNA's budget, and their influence on the SNA's work is more evident than ever in this latest attempt to roll back these standards that will negatively impact student health nationwide. SNA's lack of commitment to children's health became apparent at the state level when the Maryland Chapter of the SNA testified against our school nutrition bills on Transparency, Sugar and Chemicals and Water in the state legislature this session. Each of these bills asked for what the SNA should be asking for—higher standards, better food, and more transparency with parents. However, even though these bills were reasonable and well researched, the Maryland SNA took the side of Big Food. With obesity rates higher than ever, it is imperative that we work together in our commitment to our children's health. As you can see from the article in USA Today (3/24) titled "Keep School Lunches Healthy" by Tom Vilsack, Secretary of Agriculture, Arne Duncan, Secretary of Education, and Sylvia Burwell, Secretary of Health and Human Services, this issue has risen to the top of national priorities.
---
RFKM School Food Improvement Award

RFKM is currently seeking nominations for the 2014-2015 RFKM School Food Improvement Award, which recognizes school administrators and parents who have worked together to improve the school food environment. There are many different ways that your school may have exemplified such efforts. For example...
The presence of a wellness committee and/or school-based wellness policy

Improvements to a la carte items and/or vending choices

Healthy classroom snacks and in-school parties

Healthy PTA fundraisers and events

PTA signing the RFKM Healthy kids Pledge

Nutrition speakers, classes and assemblies

School garden
To nominate your school, please e-mail Lisa Mandell at lmandell22@gmail.com with a brief description of any efforts made this school year to improve the school food environment. Deadline for submissions is Monday, April 20 at 5:00 p.m. The RFKM Award Committee will review all submissions and announce the winner on Monday, May 4.
Questions? Contact Lisa Mandell at lmandell22@gmail.com.
---
John Oliver on the Dangers of Sugar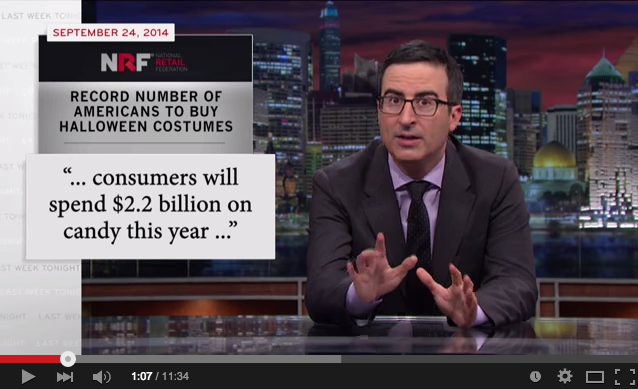 Watch John Oliver completely debunk the American attachment to sugar, particularly as it concerns Halloween candy, in this hilarious video. Oliver goes in depth about how much sugar the average American consumes in a year and what that sugar is doing to us. In addition, he discusses how large corporations that depend on sugar sales blatantly lie about the fact that sugar is linked with obesity or weight gain.

John Oliver then proceeds to talk about how the FDA is trying to add a new category of Added Sugar to nutrition labels. In accouncing this, many food corporations have contacted the FDA protesting the idea and asking to be exempt from the change. Leave it to John Oliver to be brutally honest about the effects of sugar. You won't want to miss this one. Show us your peanuts!
---
We Need Your Support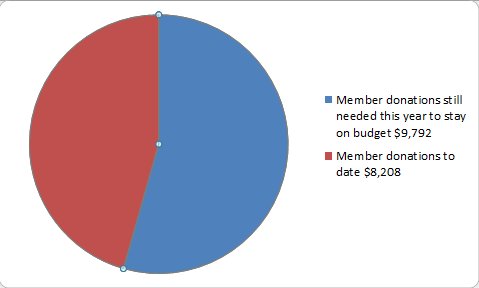 As you all know, RFKM is a grassroots advocacy group founded by two Montgomery County parents. We are dependent on member donations for a large portion of our support, and we could really use yours before school ends and parents become less accessible during the summer. Our children deserve better school food, and we will continue to advocate for it.

Please show your support by donating to our cause. Any amount is more than appreciated.