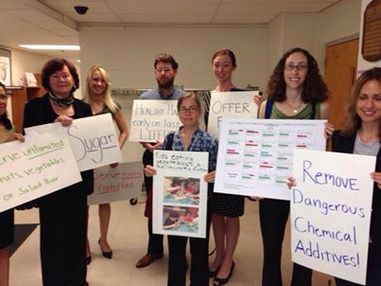 On Tuesday, June 3rd, parents and supporters of Real Food for Kids - Montgomery took to the Montgomery County Board of Education meeting at the Carver Education Services Center in Rockville, MD to demand improved food and nutrition for school children in MCPS. Additionally, RFKM co-director, Lindsey Parsons, delivered a petition with over 2,000 signatures addressing the top ten concerns of RFKM members. The petition, with signatures from 809 parents, 203 students, and 43 physicians, called for school lunches to include more scratched-cooked, wholesome meals with an abundance of fresh fruits, vegetables, or the option of an unlimited salad bar, and to eliminate the use of chemical additives, limit the availability of foods with high levels of added sugar, and offer, free unlimited water to school children with their lunches.
Concerned parents and county members presented their testimonies in front of Superintendent Joshua Starr and the Board, recounting their children's experiences with school lunch and even their own personal struggle to find healthy options. Ashia Mann told the school board that her child is only allowed to buy lunch from her school's cafeteria once per year, and that to her daughter, the food "tastes like going to the fair." Caron Gremont, founder of First Bites, a local non-profit organization that works with preschools in the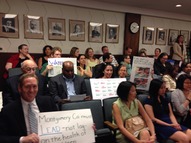 area to excite children about eating fruit and vegetables, talked about CentroNia, a public charter school in Washington, D.C. that is able to feed each child each day fresh, high-quality, oftentimes local food for just $3 per meal—one dollar less than the $4 per meal that MCPS serves.
Later in the meeting, following an update on the state of school nutrition by Director of MCPS Food and Nutrition Services, Marla Caplon, several board members expressed concern regarding the lack of easy access to water in school cafeterias. Caplon agreed to look into providing baby waters to children who couldn't drink milk or conducting a trial of water coolers and cups at several schools. Caplon also indicated that MCPS is slowly working to remove foods with dyes from their offerings, and that preservatives would also be reduced when their new facility comes online, which will allow for more preparation of scratch-cooked foods. Regarding RFKM's concern about lack of transparency about a la carte items, Caplon indicated that they would create a template for principals in the coming school year to share information with parents regarding a la carte options at each school. Board of Education member, Phillip Kauffman, told Caplon that upon investigation of five individual school web sites, he was unable to locate a listing of a la carte and snack offerings, and recommended the creation of a shared tool that schools could use to post these items to their web sites. Other issues mentioned during the discussion with Caplon indicated that BOE members had read and were seriously considering the requests from the RFKM petition.
The meeting video can be watched here (Items 3 and 7).
Gazette coverage: Montgomery council, advocates push for healthy school foods