Takoma Sportscamps Improves Snack Bar Offerings

by Lindsey Parsons
Are you frustrated with the food offered for meals, snacks or for sale at your child's camp? I was too when I heard that a variety of soda and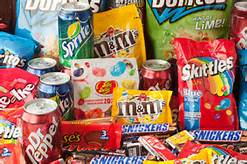 candy was available for sale on a daily basis at my sons' baseball camp in Takoma Park. Despite trying to prevent my kids from taking money to camp, they would always find a way to sneak out with some, or another camper would share snacks they purchased with them. So last year, I asked the Director of Takoma Sportscamps, Louis Hoelman III, to stop selling these types of items and instead offer healthy choices. Because he had already purchased snacks for the summer, it was too late to intervene, but I was thankful to hear that this year he chose to eliminate soda and candy sales and instead offer many of the healthier snack and beverage options I suggested.

Culture change is a slow process, so while we're not at 100% of what I would sell, we're a lot closer given limits on refrigeration and portability. Many thanks to Louis for enduring the boos of disappointed children (when he announced there would be no more candy and soda) and doing the right thing to help protect our children's health. Despite those boos, according to Louis "we really haven't missed a beat since we have been selling the healthier snacks." At a later follow up he remarked how much better he felt about the snack bar and switching to healthier options, and wondered why it had never occurred to him to do previously.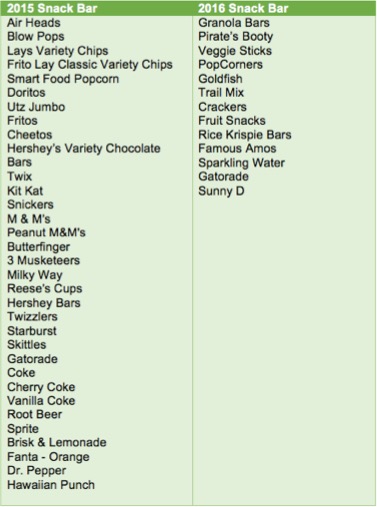 If you're concerned about the snacks at your child's camp, I'd recommend that you politely approach the person in charge of snacks, point out that as a parent you would like them to support your desire to offer your child healthier options and ask if they would consider some changes. Find out where they get their snacks, whether they have access to refrigeration and what their budget is, then be prepared with a list of healthier options. Often, a lack of understanding of where to purchase reasonably-priced healthy snacks, or an understanding of what really is healthier, is one of the primary obstacles. While you may not get immediate change, if you are persistent, most people will eventually come around, even if only to please the squeaky wheel.

---
Buy a Rockville Rewards Card and Support RFKM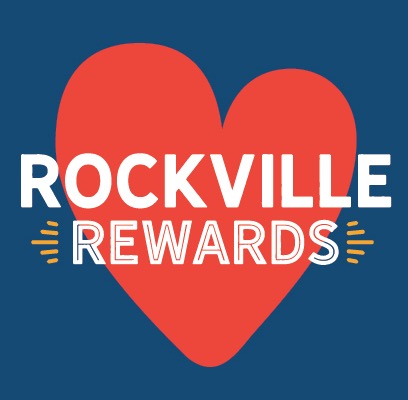 Save money, support local businesses, and help raise money for RFKM with the Rockville Rewards Program! RFKM is selling Rockville Rewards Cards, which provide valuable discounts on goods and services from over 125 local Rockville businesses, including Dawson's Market, Paladar Latin Kitchen, Massuage Associates, Earth Treks Climbing Center, and much more. Check out the complete list of businesses participating this year. RFKM will earn 100% of the profits from card sales to help us keep doing our work. Cards are available now for $25 (plus $.50 shipping) and you can start using your rewards on September 1. The discounts 'pay' for the card after only a few uses!

Or Save the date for Rockville Rewards Kickoff Day on September 15. RFKM will be partnering with Ev & Maddy's on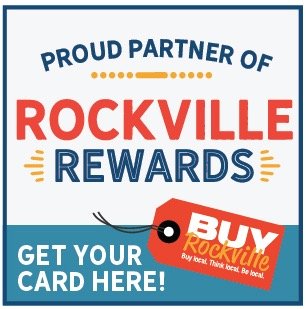 an event where you can get a card for $15 and enjoy a perk (TBA) from the restaurant. Ev and Maddy's is Rockville's newest family-owned, French bistro committed to serving scratch-cooked food. Rewards cards will be just $15 for that day only. Buy your Rockville Rewards Card now from RFKM to save money while supporting the community!


Please help our kids reach their fullest
health and academic potential!

FarmRai$er: The Healthy, Local Fundraiser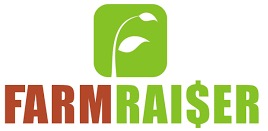 FarmRai$er allows you to create a healthy, local, and sustainable fundraiser for your school's PTA, organization, or cause. Schools, youth groups, bands, or other organizations can register with FarmRai$er and then the cultivators at FarmRai$er will create a custom online market for the organization and stock it with local farm products that you choose. Your organization sells these products online, with the mobile app, or with paper and a pen. Your organization earns 90% of the profits while learning about healthy, local food. On distribution day, students distribute farm-fresh products while FarmRai$er pays the supplier and sends proceeds to your organization. Use referral code RFKM25 after starting your campaign to receive a $25 credit from FarmRai$er.
---
New Resource: Guide to Ingredients to Eliminate from School Food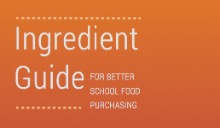 The new Ingredient Guide from School Food Focus is a resource intended for school food leaders and manufacturers with the goal of improving the nutritional quality and safety of foods served at every school. It contains a detailed list of unwanted ingredients, those to avoid and eliminate, and watch ingredients, those to beware of. A description of each ingredient and the potential concerns that accompany it are provided. Ingredients are organized by category, including artificial colors, preservatives, nitrates, and partially hydrogenated oils. This is a great resource to share with the school food service director in your county.
---
Articles, Petitions, and Jobs of Interest