Chevy Chase ES Awarded Most Improved
On May 29, RFKM awarded Chevy Chase Elementary School (CCES) the 2014-2015 Most Improved School Food Award for their exceptional emphasis on school nutrition. Last year, CCES created a formal wellness committee, which has been the driving force behind many of the nutrition-related changes that have been made.This year,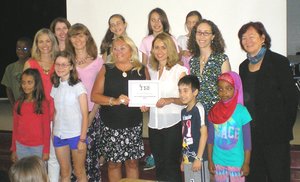 CCES instituted RFKM's Healthier Party Plan, which incorporated healthy snacks and water into school parties and discouraged soda and foods with artificial colors. CCES has also provided teachers with RFKM's flyer with alternative options to rewarding children with food in class. The wellness committee at CCES replaced cafeteria a la carte foods containing artificial food dyes and too much sugar with healthier items containing high fiber and whole grains.

Furthermore, the staff at CCES has shown their support for nutrition education by inviting nutrition specialists to hold a workshop for parents in April on preparing healthy snacks and lunches.They also made an effort to keep parents informed and to get parents involved in the changes being made to improve the school food environment. In May, CCES hosted a Wellness Week dedicated to educating the students about nutrition. Assemblies were held featuring experts in healthy eating, and a program called "Eat the Rainbow" was promoted to get the children to eat a variety of fruits and vegetables in a fun and engaging way.

CCES has been an advocate for healthy living in the greater community as well as within the school. They held a fundraiser at Nava Health Center to teach parents how to update their holiday meals with healthier recipes and they held a parent-child fitness class fundraiser at Pulse Fitness.

Other notable nominees included:
Sligo Creek ES—for installing an interactive salad garden, featuring a section for RFKM on their PTA web site, and promoting healthy snacks in the classroom and at parties; and
Takoma Park ES—for forming a Health and Wellness Committee, promoting nutrition education, and conducting a parent school food survey.
---
Healthy Summer Snacks
While the school food environment is relatively controlled (especially at schools where there are no a la carte options), summer food options for children, especially those who are at an economic disadvantage, can be much worse than school food. Studies have found that many children gain weight over the summer, due to consumption of more sugar-sweetened beverages and other unhealthy foods. What food environments will you come into contact with this summer where you could preemptively advocate for better choices, not just for your kids but for the other kids who may not get real food at home? Many of your children will be attending summer camp this summer. If they serve food there, what is it like? At one camp my child attended, I found that the snacks consisted of ice cream, Rice Krispie bars, cookies and other unhealthy, sugary treats. While a treat is okay every once in a while, it is not appropriate as a daily snack choice at a camp. Here are some suggestions for snacks you can pass on to camp administrators:

Apple slices, orange slices, strawberries, grapes, melon chunks, pineapple chunks, watermelon wedges
Popcorn

Whole grain pretzels or chips

Whole grain bagels

Baked tortilla chips with dips (hummus, salsa, etc.)


High fiber granola bars

Trail mix

Cheese sticks

And water or plain milk only as a beverage
And it's also good to remind camp administrators that if they want well-behaved children, they would do well to avoid food with artificial food dyes, which cause hyperactivity in a certain portion of sensitive children. If you're not convinced about this, watch this eye-opening video.
---
Support RFKM through Amazon Affiliate Link
Please bookmark RFKM's Amazon Affiliate Link and support RFKM with your Amazon purchases.
---

Ann Cooper on the school food when she arrived in Boulder, Colorado:

"Well, this is the food I found 24 months ago. This is not even food. This is the stuff we were feeding our kids: Extreme Burritos, corn dogs, pizza pockets, grilled cheese sandwiches. Everything came in plastic, in cardboard. The only kitchen tools my staff had was a box cutter. The only working piece of equipment in my kitchen was a can crusher, because if it didn't come in a can, it came frozen in a box."
Ann Cooper, Director of Food Services, Boulder Valley School District
Featuring: RFKM Intern Beverly Uzoma

Beverly Uzoma is a Fundraising and Development Intern at RFKM. She shares with us her experience with the food in MCPS.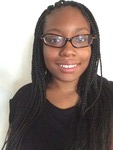 From the 2nd grade until my senior year of high school in 2012, I qualified for free or reduced lunch in MCPS. I ate an assortment of foods that were not very appetizing or healthy for me, such as sloppy joe's with tortilla chips, oily pizza, and boardwalk fries. As a kid, it was definitely the best part of the day, since my mom was adamant about healthy eating at home. She was born in Nigeria, where junk food is not a large part of the daily menu. She did not allow us to drink sodas or eat candy very often. Instead, we ate a lot of rice with tomato and onion stew, baked chicken (never fried), and a side salad. Our traditional foods, such as fufu and Egusi soup, consisted of pounded yam flour, spinach, beef, and natural herbs bought from the nearby African store.
As I grew older and spent more time at school, I ate breakfast and lunch there every day. The sugary snacks and junky a la carte items took a large toll on my body, and therefore my confidence. I gained too much weight which hindered me from doing as well as I could have in outdoor activities, such as softball and cheerleading. The weight gain was due in part to sugary breakfasts, such as French toast sticks with syrup, or cinnamon rolls wrapped in plastic. If the lunch option did not look good, I would buy a cookie with the 40 cents meant for my reduced-price meal. My high school also had a small store that sold chips, cookies and hotpockets after school. Now that I am in college, I can better control what I eat and choose foods with better nutritional value. With full salad bars with lots of fruit, a salad station with salmon, chicken, sprouts and other options, as well as a vegan station, the choices are much healthier. My hope is that one day my four younger brothers who still attend MCPS will be able to have the same access to healthy foods to promote their physical, mental and academic well being.

**********
While many of you will be taking a break, RFKM will continue to work towards Beverly's goal over the summer. We could use your support before you leave on vacation! Please donate to RFKM. Any amount is more than appreciated.
---
Articles of Interest

RFKM's Executive Director Lindsey Parsons had two letters to the editor published:
Hershey sours on children's health (Baltimore Sun from March - sorry we just discovered it!)
Children's Health Isn't a Partisan Issue (Washington Post)

This Is What America's School Lunches Really Look Like

5 Ways City's School Food Director is Transforming Cafeteria Menus

Big Food: Sounds a Lot Like Big Tobacco

---
Special thanks to our sponsor: