Takoma Park Elementary School Receives 2016-2017
School Food Improvement Award
On June 1, 2017 Takoma Park Elementary School (TPES) was awarded the School Food Improvement Award for their efforts in improving the school food environment and overall well-being of TPES students.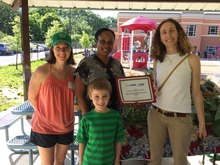 Top: Alisa O'Brien, TPES Wellness Committee Member; Zadia Gadsden, Principal, TPES; Lindsey Parsons, Exec. Dir., RFKM; Front: Andrew, student, TPES
The award was given to TPES principal, Dr. Zadia T. Gadsden at the weekly afterschool farm stand established this spring by the TPES PTA Health and Wellness Committee in partnership with a local farm, Your Chef's Table.
The Wellness Committee is led by RFKM School Representative and former RFKM Member Coordinator, Marissa Walker. The farm stand, which is stationed next to the playground, has successfully attracted a steady stream of kids and
their families, as well as faculty,
staff and community members. The fresh, local, seasonal produce comes from a farm in Montgomery County and is grown without synthetic fertilizers, pesticides, herbicides, or GMOs. Pasture-raised eggs and chicken as well as fruits and vegetables are available, as well as complete meal kits using farm-fresh ingredients. The farm stand takes all forms of payment, including EBT/SNAP.
Russ Testa, Farmer, Your Chef's Table farm
TPES has been a leader in school wellness initiatives over the last several years, including the launch of the Move More! Sit Less campaign in April 2015. This campaign provided TPES K-2 teachers with information and equipment (including yoga balls, wiggle seats, and other movement tools) necessary to infuse movement into their curricula and classroom routines, as well as to educate the broader school community about the benefits of physical activity and its link to improved health, cognition and academic performance. The following year, the Health and Wellness Committee documented active classrooms by creating an educational video, Minds on the Move, and still photographs that appear in large posters around the school. The Health and Wellness Committee now maintains a supply of movement equipment available to any interested teachers.

Furthermore, recognizing that outdoor spaces are vital to whole-school wellness efforts, since 2013, the TPES PTA's Playground and Field Committee has: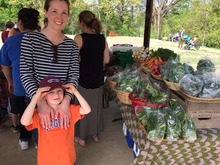 Marissa Walker, Chair, TPES Wellness Committee with her son
Raised approximately $20,000 for (and managed the installation of) an outdoor classroom that doubles as a shade structure during recess.

Raised $2,400 for - and managed the installation of - 12 trees around the play field perimeter, to provide much-needed shade.

Worked to sustain a viable playing field surface, including successfully advocating for a county-wide school play space management program that will support a long-term solution to providing continuously usable play space.
RFKM is very proud of Takoma Park Elementary School, their many active PTA committees and parents and their supportive principal for their continious efforts in promoting wellness for TPES students!
News from Fairfax Chapter of Real Food for Kids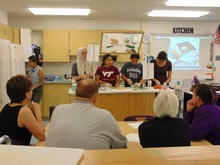 In recent news, a group of students from Lake Braddock Secondary School in Burke, VA, who won the 2017 Real Food for Kids Culinary Challenge, recreated their Chicken Shawarma dish for the Fairfax County Public Schools (FCPS) Food and Nutrition Services in an effort to get the dish into the FCPS lunch line next year. FCPS Food and Nutrition Services will review the recipe to determine how it can be implemented, with plans of making it available in late fall.