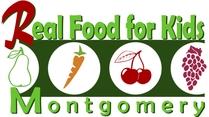 School Food Forum Now on YouTube
If you missed the School Food Forum: Creating a Vision of Fresh, Real Food in Montgomery County Public Schools, then you're in luck – it's now up on YouTube. If you can only devote an hour to reviewing it, I'd recommend part 3, which includes the inspiring talk by Tony Geraci, the subject of the documentary "Cafeteria Man" (his speech begins at 14:45).

Edgemoor Clothing Exchange to Benefit RFKM
The Edgemoor Clothing Exchange in Bethesda has selected Real Food for Kids – Montgomery and another new non-profit as their beneficiaries this year. If you have clothes to donate or would like to shop for a bargain, here are the details:
What:
The Annual Edgemoor Clothing Exchange
7415 Exeter Road, Bethesda
When:
Drop off clothing on Saturday, March 1st, between 8 a.m. and 6 p.m. Shop for bargains on Sunday, March 2nd between 8 a.m. and 6 p.m.
Beyond Foodies: Why Talking About Food Could Change the World
Tracie McMillan, a
uthor of "The American Way of Eating: Undercover at Walmart, Applebee's, Farm Fields and the Dinner Table" will be giving a talk on her book.
When:
Thursday, April 3, 2014 from 6-8 p.m.
Where: Lohrfink Auditorium, Hariri Building, Georgetown University
Contact Information:
Annie Lorenzana, 202-687-7446, libraryassociates@georgetown.edu
Will you support the work of RFKM?
We are still far short of our yearly budget. If each RFKM member gave $27, we would be finished fundraising for the year. Can you help?
Donate online here.
"My child told me today that the bananas at school tasted fake. I was actually surprised, how much of a difference can there be when it comes to bananas? He said all the 4th graders know not to choose the fruit because it just doesn't taste good like it does at home."
-an MCPS Parent
Want to get the Styrofoam Trays out of MCPS?
Following on the work of the Young Activists Club, RFKM Member Amie Wiseley has begun a petition to get the styrofoam trays out of MCPS.