First Victories at State Level!
We're proud to report our first victories in Annapolis! Our Jane Lawton Farm-to-School Expansion bill, sponsored by Delegate Jeff Waldstreicher and Senator Jamie Raskin, passed unanimously out of the House
Environment and Transportation
Committee. Our
Thirsty Kids Act, sponsored by Senator Ronald Young and Delegate Aruna Miller, passed out of the Education, Health, and Environmental Affairs Committee in the Senate with a favorable report (although amended to only retain the part about reusable water bottles being on school supply lists). See below about how you can help our other bills get favorable reports.
---
Urgent – We Need People to Give Verbal or Written Testimony on Behalf of Our Bills
or Call Their State Senators or Delegates
Are you passionate about better water access in cafeterias, lowering sugary options at school, getting soda and candy vending machines out of schools or chemicals out of school food? If so, then we need your help! We need people to testify on all of these topics this Friday, 3/13/15 in the Maryland House of Delegates in Annapolis or submit written testimony if you can't come in person. We can help you craft your testimony, but mostly you just need to bring your personal experience with school food and as a parent into your testimony. You will only be expected to talk for 2 minutes and then submit a written copy of what you're saying. The bills that will be heard on Friday are:

3/13: HB894 Sugar–Free Schools Act
3/13: HB 1095 Vending Machines and Marketing
3/13: HB 1023 Thirsty Kids Act
3/13: HB 679 Chemical–Free Schools Act

Although hearings start at 1 p.m., there is no predetermined time schedule so you will not be aware of when you will testify and hearings can go until late. Please email Lindsey as soon as possible and let her know if you want to testify in person or in writing and for which bills and she can give you further guidance. (We'd like a rough draft by Wednesday to ensure that there is enough time for review and making copies.)

If you're a constituent of one of the Senator's below, you can help the cause by emailing or calling your Senator's office and asking them to support our bills. A call is more powerful than an email. Remember to identify yourself as a constituent. You can just talk to the person who answers the phone and say "I'm a constituent of Senator ____ (and a parent of x) and I wanted to ask him/her to support the bills proposed by Healthy School Food Maryland". These calls are extremely important and need to happen as soon as possible, especially for Senator Kagan who represents District 17 that covers Rockville and Gaithersburg. She has not yet expressed solid support for our agenda.
Chairwoman Joan Carter Conway, District 43, Baltimore City, (410) 841-3145, joan.carter.conway@senate.state.md.us
Senator Paul G. Pinsky, Vice-Chair, District 22, Prince George's County, (410) 841-3155, paul.pinsky@senate.state.md.us (he's a co-signer on the farm-to-school, Sugar, Wellness Committee, Vending and Marketing and Thirsty Kids bills)
Senator Gail H. Bates, District 9, Howard & Carroll Counties, (410) 841-3671, gail.bates@senate.state.md.us
Senator Cheryl C. Kagan, District 17, Montgomery County, (410) 841-3134, cheryl.kagan@senate.state.md.us
Senator Karen S. Montgomery, District 14, Montgomery County, (410) 841-3625, karen.montgomery@senate.state.md.us, (she is the sponsor of the Thirsty Kids Act and a co-signer on Sugar, Wellness Committee and Vending and Marketing bills so an email to her is sufficient)
Senator Shirley Nathan-Pulliam, District 44, Baltimore County & Baltimore City, (410) 841-3612, shirley.nathan.pulliam@senate.state.md.us (she's the sponsor of our Transparency Bill and a co-signer on all of our other bills so no need to bother her with phone calls but emails never hurt; sometimes co-signers don't ultimately vote for bills they originally supported)
Senator James C. Rosapepe, District 21, Prince George's & Anne Arundel Counties, (410) 841-3141, jim.rosapepe@senate.state.md.us
Senator Johnny Ray Salling, District 6, Baltimore County, (410) 841-3587, johnnyray.salling@senate.state.md.us (he's a co-sponsor on the wellness committee bill)
Senator Bryan W. Simonaire, District 31, Anne Arundel County, (410) 841-3658, bryan.simonaire@senate.state.md.us
Senator Stephen M. Waugh, District 29, St. Mary's & Calvert Counties, (410) 841-3673, steve.waugh@senate.state.md.us
Senator Ronald N. Young, District 3, Frederick County, (410) 841-3575, ronald.young@senate.state.md.us, (he's the sponsor of 3 of our bills: Sugar, Wellness Committees and Vending and Marketing and co-sponsor of Thirsty Kids Act)
You can find the bills and the details about them at: http://www.healthyschoolfoodmd.org/agenda.php
---
Rockville High School Finds Lead in Water
Rockville High School took it upon themselves to test the water in the fountains that students drink from every single day.The water was practically yellow in some instances and even had actual particles floating with it. The
resulting lab reports
found concerning levels of lead in the water that are higher than the EPA action level. According to Jim Roenick,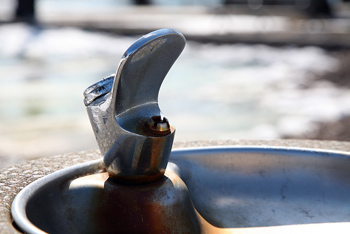 one of the people involved in the water testing, the high lead levels can be attributed to the fountains themselves. The piping can wear away over time, causing it to be mixed into the water. Stories like these remind us why we're fighting for more accessible, clean water for kids in Maryland schools. Students should be provided with water that is not harmful to their well-being. If we want to create a water-drinking culture, having water that tastes normal and is not yellow is more than essential.
---

Bring Your Own Bags to Help Out RFKM
At the Takoma Park Co-Op, for every bag you bring in from home, you get to donate chips to a local selected charity. We were pleased to find out that one of those is now Real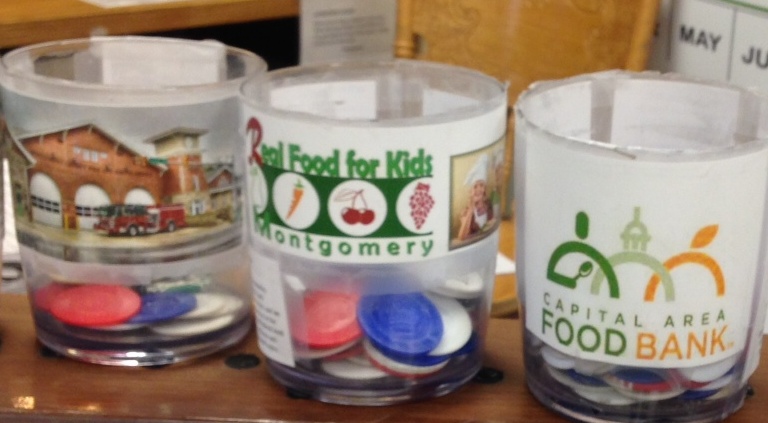 Food For Kids - Montgomery! Please support our cause and help the environment by bringing your own bags and donating your chips to us. Every little bit helps!
Thank you to Takoma Park Co-Op for featuring our organization and helping us achieve healthier school food in Montgomery County and
Maryland.
---
Special thanks to our sponsor: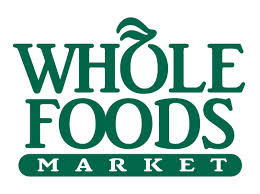 Telephone Town Hall This Thursday at 8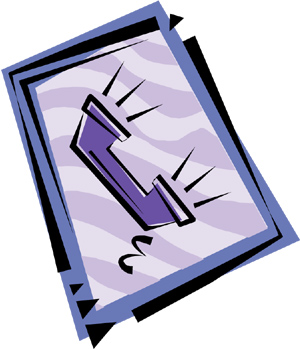 This Thursday at 8 p.m. RFKM
will be hosting a short telephone town hall to talk about school food
issues
such
as
sugary breakfasts,
getting a salad bar and healthier
a la carte items in your school, and
starting wellness committees. The discussion will also
cover
district-wide issues such as
more variety and less junk food in
entrees,
changing the MCPS wellness policy, and
advocacy opportunities. Lastly, the status of
our statewide
legislative efforts and how you can help by calling or emailing testimonies will be provided.
Please take 1/2 hour to connect with us on the issue of healthy school food. Looking forward to talking to you then!
Dial-in number: (605) 562-0020
Meeting ID: 950-288-560
Please also bring up:
http://tinyurl.com/rfkmtownhall
on your computer. You can write your questions there. You will be called on to ask your question. To unmute your phone to ask a question, press *6.
---
FED UP Screening a Huge Success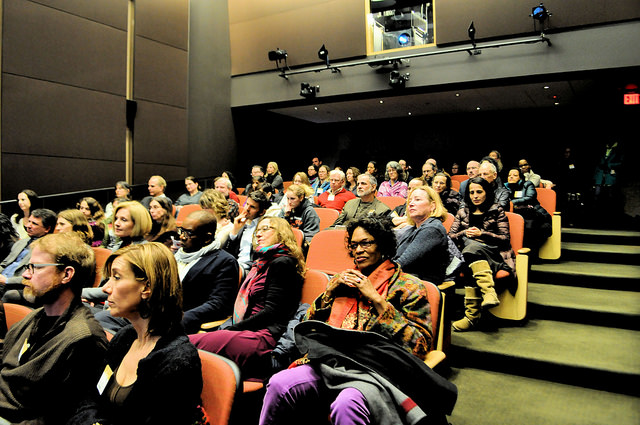 This sold out event last Friday featured the screening of the documen-tary FED UP, with Q&A afterwards with our Director, Karen Devitt (left in picture below), Aviva Goldfarb, founder of the Six O'Clock Scramble (middle), and our Executive Director, Lindsey Parsons (right). The audience asked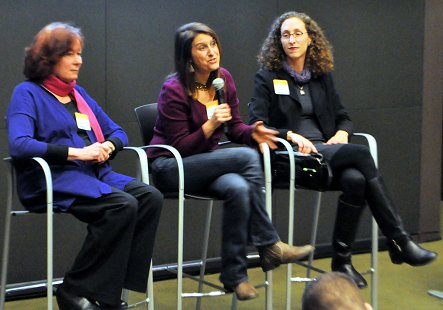 questions on the cost of cooking versus buying processed or fast food, dealing with unhealthy sports
snacks, and moving to freshly prepared school meals. County Council President George Leventhal, State Delegate Jeff Waldstreicher and School Board Member Jill Ortman-Fouse all said a few words and shared about their efforts to bring healtheir school food to MCPS. Karen McManus of Congressman Chris Van Hollen's office also attended. All of this was followed by a beautiful wine and hors d'oeuvres reception catered by Whole Foods, featuring plenty of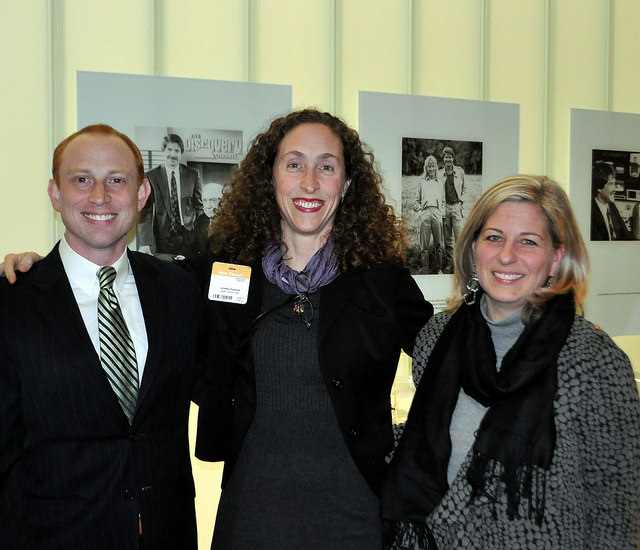 State Delegate Jeff Waldstreicher, Lindsey Parsons, MCPS Board of Education Member, Jill Ortman-Fouse
healthy, delicious options. Thanks to all who joined us, our generous sponsors, and Ed Kimmel, who took plenty of pictures. We hope to see you at our next event!
---
Articles and Petitions of Interest
Stand Up for the Science on Sugar - Sign this petition to support the truth about sugar and its clear links to obesity, diabetes, and heart disease

Yes! Kids Deserve Healthier School Meals - Sign this petition to urge Congress to improve school meal programs
Will the USDA's School Food Standards Make a Difference in Childhood Obesity?

EWG's 2015 Shopper's Guide to Pesticides in Produce - The Dirty Dozen and Clean 13 are out for the year - sign up to get a PDF version of the guide.

Maryland: Building Wellness Champions Workshop
When: Saturday, March 14, 10:00 AM - 2:00 PM
Where: Holabird Academy
1500 Imla Street
Baltimore, Maryland

Help Pass the Water Affordability Act - Sign this petition from Sugar-Free Kids Maryland to repeal the sales tax on bottled water in Maryland.

Tell General Mills: Stop Attacking the Science on Added Sugar - Sign this petition to urge General Mills to stop supporting industries that twist the facts about sugar.

What is M&M's Waiting For? Share this campaign to get M&M's to remove artificial dyes from their candies, just like Nestle agreed to do.