E-News January 24, 2018
Sign up now for the 5 for 5 Challenge and ramp up your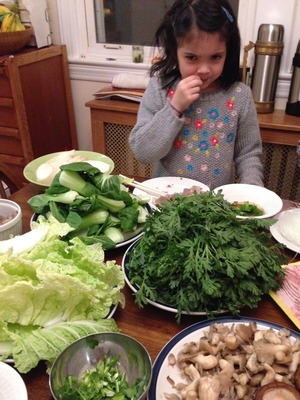 Did you know that only 24% of Montgomery County high school students eat the recommended 5 servings of fruits and vegetables per day?* If you're looking to increase your child's (or your own) fruit and vegetable consumption while supporting RFKM, the 5 for 5 Challenge is a great way to jump start it! Sign up for the 5 for 5 Challenge for the week of Feb. 5-9 and start talking to your kids about eating a greater number and variety of fruits and veggies each day.

If you're interested in conducting the 5 for 5 Challenge as a joint school-based fundraiser between RFKM and your school's PTA or wellness committee, see our site
for more information.
*2013 Youth Behavior Risk Survey: Montgomery County, MD, Centers for Disease Control and Prevention.
What's Possible in Salad Bars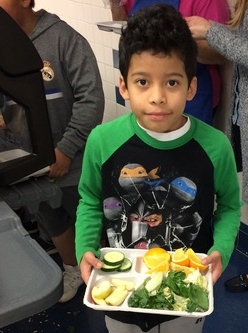 On December 6, 2017, our Executive Director, Lindsey Parsons, volunteered at the opening of a salad bar at Shrevewood Elementary School in Fairfax County, VA. The salad bars, which are opening at the rate of once a week in all Fairfax County elementary schools, are the brainchild of Faixfax's new Director of Food and Nutrition Services, Rodney Taylor, who spoke at RFKM's Salad Bar Summit

in April, 2016.



On the first day, the salad bar was running smoothly, with a parent volunteer directing students to the hand sanitizing station, cafeteria employees in Real Food for Kids aprons restocking the salad bar and helping direct students to make sure they took at least 1/2 cup of fruits and vegetables, and the cashier occasionally sending a child back who hadn't met that minimum requirement. But most kids fell on the other end of the spectrum, piling up their trays with huge quantities fruits and veggies. The salad bar coordinator for the district indicated that there would be a lot of waste in the first couple of weeks, but it would settle down as kids got used to knowing how much they can eat. The bar was located in the main room of the cafeteria, was stocked with 4 vegetables, 3 cup up fruits and 2 proteins (cheese and ham on this occasion), with unlimited servings of all.
| | |
| --- | --- |
| | |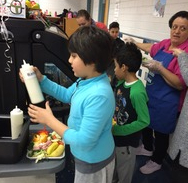 Dressings were self serve at the end. All kids had gone through an orientation to learn to use an allowable amount of dressing and proteins to comply with federal regulations.

A sign at the beginning of the line explained to kids how to make a complete meal of the salad bar (with proteins included + a hot pretzel or other grain) or have it as a side dish with a main dish. So a meal with an entree could look something like this one (below left). While an all salad bar meal might look more like this one (below right).
| | |
| --- | --- |
| | |
According to Taylor at the 2016 Salad Bar Summit, his salad bar program in elementary schools is revenue neutral, despite having to add more staff to restock and attend to the salad bar. Also, all students go through the salad bar for everything except the hot entree or grain item, so there is never an issue of underutilized salad bars, as has been an issue in MCPS when salad bar use is optional and cups of fruits and vegetables are available elsewhere, competing for students' time and attention.

We're hopeful to one day see such a rollout of salad bars in MCPS, which currently has a smattering of bars in elementary, middle and high schools, whether on the Fairfax or another model. If you're interested in getting a salad bar for your school, have your principal contact the Division of Food and Nutrition Services to express interest.
Support us through Amazon Purchases
Please register to automatically support RFKM (via our fiscal sponsor Chesapeake Institute for Local Sustainable Food and Agriculture) when you shop on Amazon.com by pressing on the link below. Thank you!
Articles, Petitions, Webinars, Events, Grants and Jobs of Interest
realfoodmcps@gmail.com
www.realfoodforkidsmontgomery.org
(301) 202-4812
Real Food for Kids - Montgomery is a grassroots parent and student advocacy group working to promote whole, real, local, sustainable and nutrient-rich foods in the Montgomery County Public Schools in Maryland and is a chapter of Real Food for Kids.