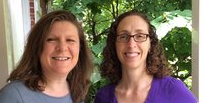 Please join us in welcoming Fania Yangarber (left) as our new Executive Director this week.

RFKM co-founder Lindsey Parsons (right) and her family are moving to Tuscon, Arizona, where she will be pursuing a new career as a Health and Wellness Coach.

Fania has our full confidence as she pursues RFKM's educational and advocacy work that has contributed to real changes in the quality and character of Montgomery County Public School food in RFKM's five short years of existence.
Without further ado . . . meet Fania Yangarber!

Fania brings to RFKM a wealth of experience in food policy and safety, having worked in health-related advocacy fields in a professional and volunteer capacity for over 15 years. She has an MS in Food Policy and Applied Nutrition from Tufts University, a JD from Chicago-Kent College of Law, and a BA in Political Science from Barnard College. She previously helped develop international food safety standards and regulations as a food safety specialist at the US Department of Agriculture; worked on disability cases for the Social Security Administration; advocated for victims' and patients' rights to informed consent; and conducted various nutrition research projects. Before attending law and graduate schools, Fania worked for several years on Wall Street in financial information services. In her spare time, she volunteers on the PTA of her children's school (Lucy V Barnsley ES), and with her own alma mater. She speaks fluent Russian and Spanish. Fania can be reached at realfoodmcps@gmail.com.
This year, Fania is dedicated to pursuing RFKM's members' priorities, with a special emphasis on the following three priorities, which the RFKM Board refined in our annual Strategy Retreat:
Reduce added sugar to 10% per meal

Ensure that all students have access to safe, clean water

Decrease the use of processed foods ​
Finally, we would like to add that fundraising to support our mission is one of the most difficult aspects of this job. To smooth Fania's transition into the role, please consider making an extra tax-deductible donation to RFKM.
| | |
| --- | --- |
| Jane Welna | Lindsey Parsons |
| Chair, RFKM Board of Directors | Former Executive Director, RFKM |