Why is There So Much Sugar in Your Kid's School Breakfast? Loopholes in Latest Nutritional Guidelines Could Be the Cause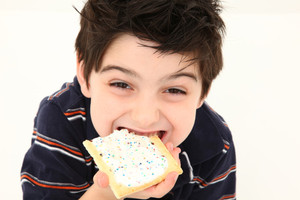 New guidelines for school meals set under the 2010 Heathy, Hunger-Free Kids Act (HHFKA) were meant to create a healthy food environment for kids. However there is a notable omission: no cap on added sugars in school meals.

The overall calorie cap on school meals put in place by HHFKA doesn't necessarily translate to removal of high-sugar foods. According to the Center for Investigative Reporting, sugar levels in school meals are more than double what is recommended for the general public.

School breakfasts don't have to contain a protein component, so when a meal consists of only fruit, a sweetened, highly-processed grain item, and milk (usually flavored), it's possible for sugar to account for a substantial portion of the total calories allowed. Additionally, schools must offer a full cup of fruit, and kids need to take at least a half-cup serving, yet districts are allowed to swap 100% juice for half the fruit quota. Many health experts believe juice consumption contributes to childhood obesity due to high fructose content and lack of fiber, but juice is usually shelf stable and easy to store and serve. This makes it hard for school districts to pass it up.

Should kids be short-changed with a high-sugar breakfast that harms their metabolism, teeth, waistline and ability to focus, in class in order to improve other aspects of the school meal program? You can read more about it in the Lunch Tray's blog about the problem.

Real Food for Kids - Montgomery, through our coalition Healthy School Food Maryland, will be working to pass a bill in the 2016 session of the Maryland legislature to have school districts in Maryland examine their food offerings and to reduce added sugar loads by meal to recommended levels.
---
50% of Americans Diabetic or Pre-Diabetic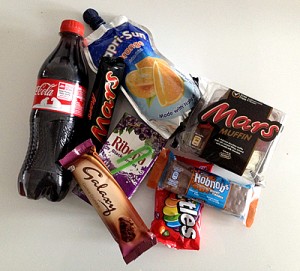 A new study in the Journal of the American Medical Association (JAMA) found that 50% of Americans have either diabetes or pre-diabetes, with almost 1/3 still undiagnosed. Rates of diabetes among African Americans were double that of whites (22% vs.11%) and about 50% of African Americans and Asians were undiagnosed. With population level studies showing that an increase in sugar consumption (irrespective of calorie consumption) correlates with an increase in the incidence of type 2 diabetes, reducing the intake of added sugar is one of the best ways to protect the health of your children. Considering that about 75% of processed foods in the U.S. contain added sugar, it's difficult not to quickly overdo the sugar, especially for children. Here are the best things you can do for your kids if you're concerned about their weight or sugar consumption.

1. Switch to water and plain milk as the only beverage options. If your child is used to soda, try switching to Deer Park or Perrier carbonated waters with natural flavors. Avoid even 100% juice if your child's weight is an issue and otherwise limit it to 6-8 oz. a day.

2. Eat whole, unprocessed foods and cook dinner for your family (or look carefully at the labels of processed foods to make sure that they have no or very little added sugar).

3. When buying grain products, choose items that have whole grains as the first ingredient (i.e., they must have the word "whole" – "wheat flour" is just white flour made of wheat, not whole wheat flour). Be careful with breakfast cereals and granola bars as these are some of the biggest culprits for added sugars. Reasonable targets to shoot for are at least 3 grams of fiber in a granola bar and less than 10 grams of sugar (some Kind bars are a great choice at only 5 grams of added sugar) and at least 5 grams of fiber in a breakfast cereal and less than 10 grams of sugar. Or better yet, buy sugar-free cereal and give your children raw honey to put on it – studies show children will eat much less sugar when adding it themselves than they do when it's already added.

4. If your child eats school meals (especially breakfast), discuss with them the maximum amount of added sugar they should have in a day (3 tsp./day for 3-8 year olds, 5-8 tsp./day for older children, ~4 grams in a teaspoon) and teach them to make good choices about chocolate milk consumption when a sugary entrée is offered. Restrict a la carte purchases of cookies, ice cream and gummies by calling your school's cafeteria manager and asking them to put "no a la carte" on your child's account.

5. Look carefully at yogurt options to select the lowest sugar options your child will eat. Stonyfield Farms and Siggy's Icelandic yogurts tend to have the lowest amount of sugar of the common sweetened brands. Or purchase your own plain yogurt and sweeten it with raw honey or fruit and fill a small, reusable container each day for your child.

5. Keep desserts out of the house and leave them for special occasions. It's hard not to cave into temptation if they're there.

6. Serve dinner on smaller plates. If you're truly hungry, you can go back for seconds, but it's hard not to overeat once your plate is served.

7. Reduce eating out to 2 times a week. Restaurant meals are much higher in sugar, salt, calories and portion sizes. It's hard not to overeat at a restaurant.
---
Support Landmark Pesticide Legislation in Montgomery County

A bill was recently passed that strips protections from pesticides on public and private property within Montgomery County, including athletic playing fields.
Without these provisions, cosmetic pesticide use can put children, pets, wildlife and the wider environment at unneccessary risk. Council President Leventhal and Councilmembers Elrich and Hucker have vowed to work to restore these protections in the original bill at the final vote on Bill 52-14 on October 6, 2015. It is critical that Councilmembers hear from you prior to the vote. Send an email now, and consider a phone call or showing support at the meeting on October 6 at 9 a.m. at the Montgomery County Council Building in Rockville, MD.
---
Montgomery County is Looking for Council Members Committed to Improving the Local Food System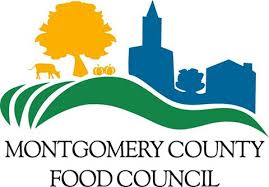 Do you live/work/feel invested in Montgomery County? Do you have expertise in food-related issues? Do you represent a food sector or working community? Can you bring food system relationships and resources to the table? Beginning January 2016, the Montgomery County Food Council is looking for members. A resume and personal statement must be submitted to Heather Bruskin, Food Council Manager, at mocofoodcouncil@gmail.com by October 16.
School Food Advocacy Training
RFKM will be hosting a school food advocacy training (most likely in Chevy Chase) this Saturday, Oct. 3 from 10 a.m. to 1 p.m. We will cover the basics of representing RFKM at your school, our materials for schools, how to start a wellness committee and how to advocate for change at your school. To RSVP, e-mail Lindsey at lindsey@realfoodforkids
montgomery.org.
---
Join the Health and Safety Committee of the MCCPTA
RFKM will be attempting this year to pass a resolution related to school food through the MCCPTA. The resolution will originate in the Health and Safety Committee. Committees are open to all PTA members. If you're interested in joining the Health and Safety Committee, you can sign up here. Just make sure you're a member of your school's PTA.
---
Join the #RealSchoolFood Campaign
Nearly a third of our nation's children are on track to get type II diabetes. 30.4 million children are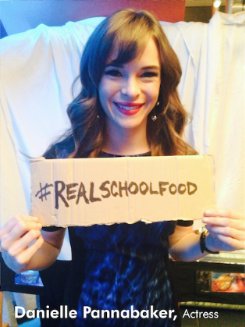 eating school lunch every day. Imagine the effect we could have on the health of our kids if we served them #RealSchoolFood made from scratch with healthy, nutritious ingredients. #RealSchoolFood is a campaign created by The Lunch Box to raise awareness for the need for real, scratch-cooked food at school.

Want to get involved? Snap a selfie holding a sign that reads #RealSchoolFood and tag RFKM (@realfoodmcps) and MCPS (@mcps). Mamma Chia, a chia-based organic foods company, will donate $1 toward healthy school food recipes for every person who posts using the hashtag!
---
Articles, Petitions, and Videos of Interest

Discover the Who and Why Behind Your Food on a Tour of Holter Farm in Jefferson, Maryland on October 10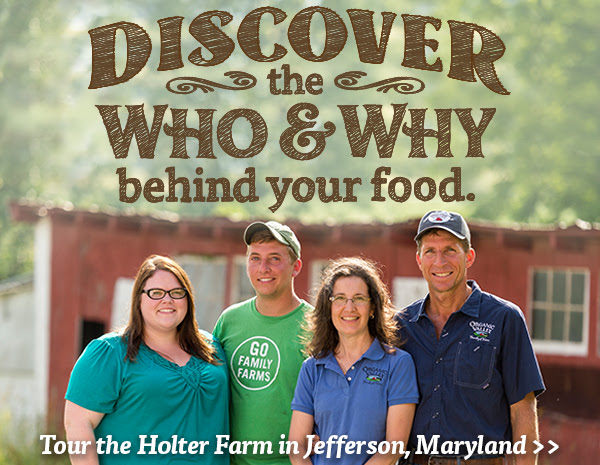 Last spring, Karen and Lindsey took a tour of the Holter Farm. According to Lindsey, it was incredible to hear about Ron Holter's switch from traditional dairy to grassfed dairy and its benefits to his family, the welfare of this animals and the health of his customers. Well worth taking the day to see.

Help support the FED UP Kickstarter campaign to bring a FED UP Food Education Kit to every school in America. Deadline is September 30.

It's Not Just About Eating! What Japanese Kids Do During School Lunch Will Blow Your Mind (video)

Forget Gardens. This Bethesda Roof is a Farm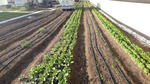 Looking for information on local school wellness policy, tools for promoting health and success, data on behaviors and obesity, or other resources relating to school wellness like the graphic below? Check out CDC Healthy Schools
Please bookmark RFKM's Amazon Affiliate Link and support RFKM with your Amazon purchases.
---
Special thanks to our sponsor: