Broadcast on May 29 by NBC News 4, this story features our very own Gaithersburg High School. According to News 4, thousands of free lunches are skipped each day in DC area schools because kids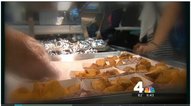 either don't like the cafeteria food, there is a stigma attached to eating it, or they eat off campus. (About half of the high schools in MCPS are open campuses where kids can leave for lunch).
There are 49,344 students in MCPS who qualify for free or reduced price lunches (FARMS). According to this story, 1 in 4 kids who qualify don't take the free lunch, costing schools $3 in federal reimbursement money for every free lunch not taken. In our rough estimation, this translates to a loss of about $37,000 every day these kids in MCPS don't eat the free lunch for which they are qualified.
If MCPS served whole, fresh and delicious lunches - and curtailed the practice of selling snacks in the cafeteria at lunchtime - it could result in an increase in revenue, as more kids who qualify for free lunches might enjoy eating them.
Please watch this clip at least twice. The second time, pay close attention to shots of the cafeteria food and snack offerings. If you don't have time to visit your child's school cafeteria, this clip is the next best thing.
Thanks to the Parents' Coalition of Montgomery County for bringing this story to our attention.