As you probably know, last week saw the launch of our
online petition
to MCPS with the list of recommendations drawn from our supporters' priorities, as well as a
similar list of requests sent to the Superintendent
by Montgomery County Council VP George Leventhal and President Craig Ri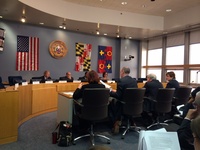 ce to MCPS Superintendent Joshua Starr. Following
a response from MCPS
outlining why they should maintain the status quo, the Superintendent, Dir. of Food and Nutrition Services Marla Caplon, and MCPS BOE President Phil Kaufman (with 4 more BOE members in attendance) appeared before the Montgomery County Council's Health and Human Services/Education Committee to respond to the RFKM recommendations. RFKM Co-Director Karen Devitt, shown above seated next to the Superintendent, testified on behalf of RFKM. We were very thankful to have been at the table and to finally have a forum in which to see the concerns of our supporters addressed.
We have learned that the Board of Education is slated to address the issue of school food in their June 3 meeting at 10 a.m., so please mark your calendars to come out in force to that meeting.
The HHS/Ed Committee meeting, which for hard core food advocates like me was more exciting than an episode of House of Cards, is available for viewing at the
County Council's web site
(under Committee Work Sessions, HHS/ED - 3-20-14 Mar 20, 2014).