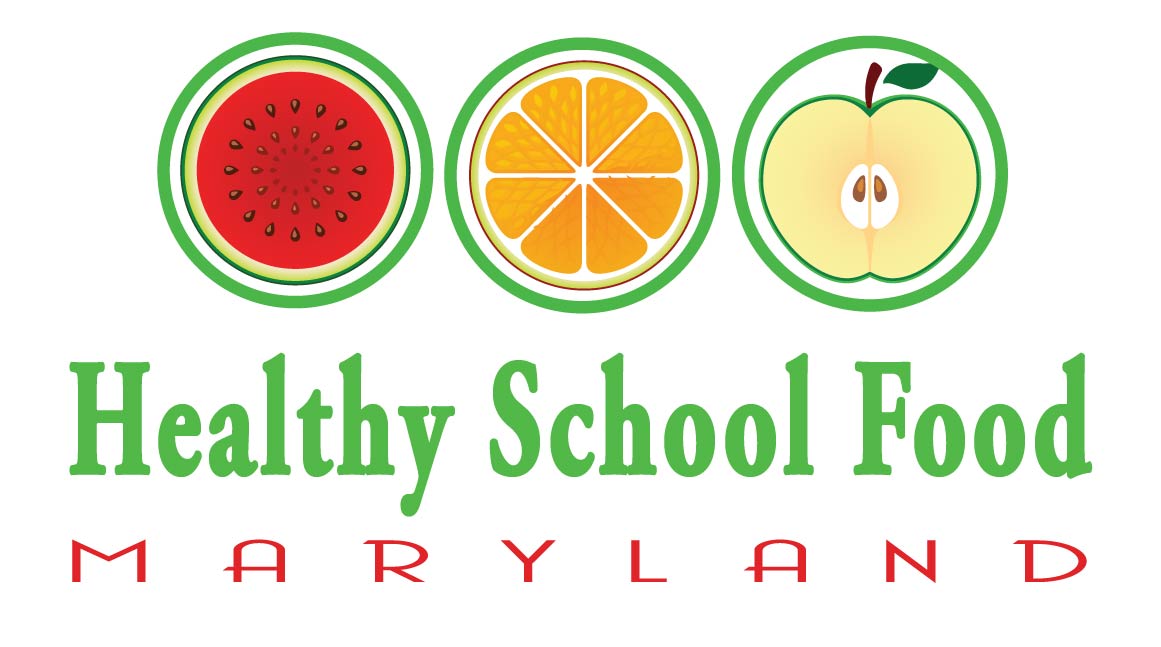 ---
E-News
December 19, 2016
---
School Food Grades are out: How did your district do?
HSFMD has now released our first School Food Environment Grades for the 24 public school districts in Maryland. The grades are based on a rubric of 12 items with scores ranging from 0-4, which address parent and community concerns related to school food and wellness, such as reducing sugar; access to potable water; use of local produce and farm-to-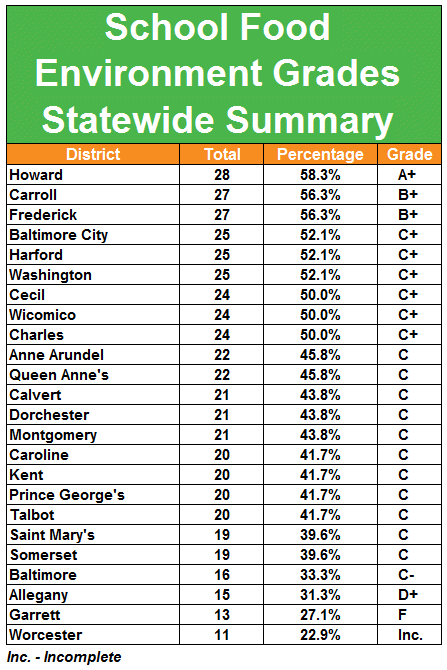 school programs; salad bars; use of artificial colors, flavors and other chemical additives; scratch cooking; variety and repetition of meals; healthier vending options; transparency; wellness committees; and policies on junk food marketing. After meeting resistance from the Maryland School Nutrition Association, school boards around the state and the Maryland State Department of Education when trying to address these concerns legislatively, the coalition decided to pursue the route of grading the school food and wellness environments in hopes of moving the needle forward in school food service statewide.

Top marks on the rubric went to Howard County, the only district to receive an A+, followed by Frederick and Carroll Counties, who earned grades of B+. Letter grades were issued based on a normal bell curve, so the majority of the state's districts fell into the C and C+ range. Of the state's five largest school districts, three (Anne Arundel, Montgomery and Prince George's Counties), earned a grade of C, while Baltimore City earned a grade of C+ and Baltimore County, a grade of C-. While most of the items on the rubric are under the control of food services staff, others items are decided at a higher level. This includes rubric items about wellness committees or school health councils, their composition and community involvement, and policies on junk food marketing included in district-wide wellness policies. These district-wide wellness policies, which are required under the Healthy, Hunger-free Kids Act of 2010 (HHFKA), are currently under threat from the House of Representatives Freedom Caucus, whose first 100 days agenda includes removing over 200 policies across federal agencies, one of which is healthy school meal and snack regulations issued under HHFKA. The latest of these regulations, issued by the USDA on July 29, 2016, requires districts to update their wellness policies by next school year and include prohibitions on marketing of foods that do not meet the requirements to be sold in schools during the school day.

The complete 2016 scorecard can be found at: http://www.healthyschoolfoodmd.org/2016_grades.php as well as links to all the documentation and individual district rubrics. Lindsey Parsons, Coordinator of the Healthy School Food Maryland Coalition, will also be presenting the results of the school food grades project in a webinar hosted by the Chesapeake Foodshed Network on February 2 from 1-2 p.m. EST.

Please support the continuation of this project for next year by making a year-end donation to Healthy School Food Maryland. Donations are tax-deductible through HSFMD's fiscal sponsor, Chesapeake Institute for Local Sustainable Food and Agriculture.
---
Articles of Interest
House Freedom Caucus Takes Aim at School Food: My Thoughts
He grew up hungry. Now he wants to revolutionize school lunch.
Pew and RWJF: Schools Report Growing Success With Healthier Menus
As school gardens spread, so do the teaching moments
Ask Chili's to Drop Sugary Drinks
Nestlé Reformulates Sugar and Says It Will Use Less in Its Candy
Expanding Farm to School Through Salad Bars
Webinars of Interest
Keep Moving! Comprehensive School Physical Activity: 1/4, 3-4 p.m.
Moving Schools toward Local, Scratch-Cooked Food: Healthy School Food Maryland's "School Food Environment Grades": 2/2, 1-2 p.m.