5 for 5 Challenge Greatest Variety Winner Announced; Everyone Wins By Eating More Fruits and Vegetables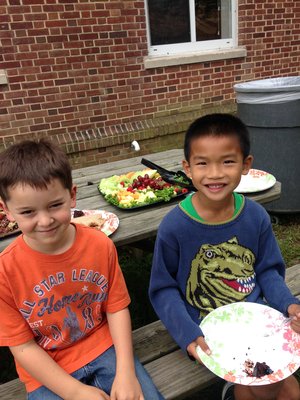 Congratulations to the 31 kids who participated in the "5 for 5 Challenge" and ate tons of fruits and veggies over the 5 days of the Challenge! This is more than double the number who participated last year. With 16 days left to donate, RFKM has already raised more than $2,200! We had two schools' PTAs partner with us this fall - Sligo Creek Elementary School and North Chevy Chase Elementary School. Partnering PTAs get half of the profits from the Challenge.

The greatest variety award was given to Nico, a Sligo Creek ES student, for eating 42 different fruits and vegetables during the challenge! They included many things you've probably never heard of, including bitter melon (pictured below), cardoon, lychee and dandelion greens! According to Nico's mom, Jo Rasi, "The 5 for 5 Challenge became a bit like a family board game,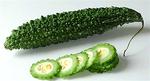 except it lasted all week. We went to different grocery stores looking for new veggies we hadn't had before, we read about veggies, we looked closely at different lettuce leaf varieties, I told the story of my grandmother reminiscing about cadoons, and we enjoyed making dinner plates with different colors." Great job, Nico!

The prize for Most Sponsors will be awarded after our October 15 deadline. You can still make a donation here to support the kids and their efforts until October 30.

If your PTA is interested in partnering with RFKM on the 5 for 5 Challenge later in the year, check out our page with information on how to do that.
---
Preparing for Halloween Parties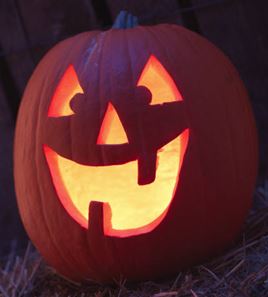 As Halloween approaches, it's good to start thinking about how to host a healthy school celebration to make sure classroom activities don't add to the pile of candy your children will already be getting if they go trick or treating. Work with your child's room parent and offer to set up an online party sign-up form that lists specific healthy items for parents to bring, including only one "treat" and water as the beverage. Also try to introduce healthy Halloween treats and activities
as alternatives. Need more ideas for healthy snacks? Check out RFKM's Healthier Party Plan flyer (available in Spanish as Viva la Fiesta) Happy Halloween!

---
Wanted: Member Coordinator (volunteer)
Do you have about 5 hours a week to spare to help out RFKM? We are looking for a Member Coordinator. Duties would include:

Responding to inquiries from new members

Reaching out to schools/PTAs to get new members

Adding new members to online marketing program and database

Handling member emails

Approving new subscribers to Yahoo Group
The ideal person would have a PC with MS Access on it or be able to download and install a new version of MS Word that includes its (must not have Office 365 previously installed or this version won't work), is computer literate and quick to learn new technologies, and has a pretty good grasp of what RFKM is about. If you're interested or would like to hear more, contract lindsey@realfoodforkidsmontgomery.org
---
RFKM Added to Montgomery County's Workplace Giving Campaign
RFKM is pleased to announce that it has been added to the workplace giving campaign for Montgomery County. If you work for

the county, we encourage you to select RFKM during the fall registration for the 2016 workplace giving campaign. Also, if you could tell your co-workers with kids about our work and encourage them to consider donating to us, we'd appreciate it!
RFKM Partners with FarmRai$er

RFKM is pleased to announce its partnership with FarmRai$er, a healthy new way to raise funds for your PTA, team, club, or other organization. Each group will choose from a selection of local, farm products to sell, then participating kids
will sell the products via a custom online market to family and friends. Your group keeps over 50% of total sales (90% of profits). Pickup takes place at your school or other chosen location. We want our kids to be healthy - their fundraisers should be too! Use RFKM coupon code RFKM25 to get $25 in matching funds to start your campaign if you sign up by Dec. 31, 2015. To get started, go to FarmRaiser.com.
---
Articles, Petitions, and Videos of Interest

The Academic Downside to "Western" Diet

Kids See More Candy Ads on TV New Than in the Past

New York Times Says "Students Hate Healthy Lunches" - a rebuttal by The Lunch Tray
For information on how to host a successful wellness program at your school: Get Your Game On: Using the Game On Program to Enhance Your School Wellness Initiatives
When: Wednesday, October 21
Time: 2-3 p.m.

Dr. Dina Rose on Overcoming Lunchbox Struggles

Looking to launch a food literacy campaign at your school, reinvigorate an existing wellness committee, or engcourage more school-wide buy in, cooking, gardening, or physcial fiteness programs, FoodFight's Food Literacy Toolkit can help.

Join The Food Trust and farmers, food service professionals, suppliers and others for a day of local food procurement strategies workshops and networking: Field to Tray: Strengthening Farm to School Purchasing in the Mid-Atlantic
When: Wednesday, November 4-5
---
Buying Halloween Costumes Online or Starting Your Christmas Shopping Early?
Please use RFKM's Amazon Affiliate Link and support RFKM with your Amazon purchases.
---
Special thanks to our sponsor: