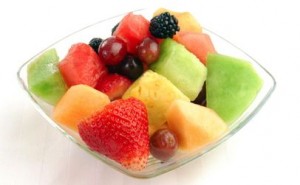 Rolling Terrace Elementary School (RTES) in Takoma Park has 872 students, 68% of whom qualify for Free and Reduced Meals (FARMS). Because of this high FARMS rate, RTES is one of 74 schools in MCPS where breakfast is served free in the classroom to all students every school day. This program is possible through a statewide initiative called "Maryland Meals for Achievement" (MMFA).
While we are grateful to MCPS for helping to feed needy children, many of our members are concerned with the quality of the breakfast as it is highly processed, heavily sugared, and always includes a choice of chocolate milk. Each 8 oz. serving of chocolate milk has over 2 tsps. of added sugar, in the form of high fructose corn syrup. "Fruit or Juice" is listed on the menu, but fruit is never served. On every Friday when a cinammon roll is served - and if chocolate milk is chosen - the total added sugar intake for breakfast alone exceeds the American Heart Association's recommendation for children ages 4-8 - for the entire day.
RFKM's representative at RTES, Lorig Charkoudian, has been advocating for the addition of fresh fruit to the free breakfast, and this past February her efforts paid off when a pilot program to include fresh fruit started.
According to Lorig, "Several parents were interested in having fresh fruit, instead of the juice which currently is served to meet the 'fruit' requirement. The school administration expressed concern over the messiness of fresh fruit and the time it takes to consume. Parents met with the principal and Marla Caplon of MCPS Food and Nutrition Services to identify ways to address these concerns. The group agreed to test fresh fruit for breakfast in classrooms where the teachers were willing. Four first grade classes, 1 second grade class, and 1 fifth grade class agreed to try it out. On Tuesdays and Thursdays, these classes received fresh fruit with the breakfast (usually sliced apples, and occasionally bananas). The pilot was tested from February to the end of the school year. Plans are to evaluate the pilot in terms of how much was eaten and how teachers experienced the test in terms of time efficiency and neatness."
While we wish decisions about food served to our school children were based on criteria other than efficiency and messiness, we applaud Lorig and Rolling Terrace for bringing fresh, real food to these kids!