More Progress in MCPS: Greater Transparency and Nitrite and Nitrate-Free Hot Dog
Slowly but surely, MCPS is working behind the scenes to respond to the changes in their food that our members and supporters have requested.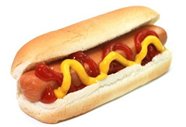 We recently learned that a year ago, they substituted their hot dog (actually their turkey frank) with one that has no added nitrates or nitrites (of course as with many natural products such as Applegate Farms bacon and lunch meats, it does contain celery powder to maintain the color and ward off botulism). According to Center for Science in the Public Interest, "
Several studies link consumption of cured meat and nitrite by children, pregnant women, and adults with various types of cancer. Hot dogs and other cured meats that say "no added nitrite" are often made with celery powder or juice which are naturally high in nitrite, and no better." However, spinach, beets, lettuce, celery, parsley, and cabbage are also naturally high in nitrates, but fortunately, it is offset by their vitamin C, which limits the formation of toxic nitrosamines. So the long and short is that we're pleased they have responded to our requests to eliminate added nitrates and nitrates from their food, but ultimately, eating processed meat isn't good for our kids (or us) and should be limited.
For now, if your child likes the hot dog, you might encourage him or her to eat an orange with it. Fortunately, it doesn't appear frequently on the menu and is only served in elementary schools.

Another positive development we recently discovered is a more transparent,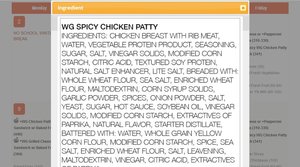 interactive menu for elementary schools on the MCPS Divison of Food and Nutrition Services web site. It includes rollover links to many of the main dishes listing ingredients. We're not sure when this site went up, but it may have been in response to the release of our coalition, Healthy School Food Maryland's School Food Environment Grades, which included transparency about ingredients as part of one of the twelve rubric areas on which grades were based. The grades were covered in a Washington Post Story on January 15, 2017. In any case, we're thankful to MCPS for these positive changes!
---
Musical Gala and Silent Auction + Pre-Bid on Auction Items
Join Real Food for Kids - Montgomery's leaders and board members in support of our mission to bring whole, real, local, sustainable and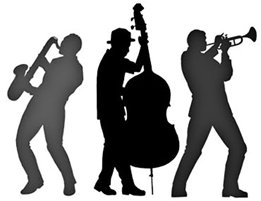 nutrient-rich foods to students in the Montgomery County Public Schools at our Musical Gala and Silent Auction 2017 on Feburary 24th, 2017 from 7:30 p.m. to 9:30 p.m at Jane Lawton Community Center in Bethesda, MD.

You will be entertained by the straight ahead jazz and bossa nova sounds of the The Karen Devitt Quintet (Karen is RFKM's co-founder and past Director) while enjoying wine and heavy hors d'oeuvres and bidding on items like restaurant gift cards, vacation homes, massages and more in our silent auction. Tickets are $25 each. Buy your tickets and/or become a sponsor online.
Pre-Bidding
If you can't make it, you can still pre-bid on the following Silent Auction items:
A Thursday-Sunday stay (during off-peak season – spring and fall) in a 7 bedroom vacation home (with 5 Master suites) at Deep Creek Lake Near Wisp Mountain ($3,800 value). Opening bid $1,000, minimum bid increase $100.
A membership to Forest Knolls Pool ($775 value). Opening bid $300, minimum bid increase $50.
To make a pre-bid, please email realfoodmcps@gmail.com with subject line "pre-bid: name of item". Include your opening bid, maximum bid, name and phone number.
---
School Food Activism Training
RFKM will be hosting a training on school food activism on Saturday, Feb. 11 from 11:00 a.m.-1:30 p.m at our office at Nonprofit Village in Rockville, MD in Conference Room 2. Topics covered will include:
Introduction to RFKM; USDA Reimbursable Meal Regulations; Competitive Foods in MCPS; Useful Documents and Flyers; Getting Started; Building Bridges; First Steps/Commitments. The training will include lunch. If you're considering becoming a school representative, serve on a school wellness committee, are new to the job of school rep, have never attended the training or just want a refresher, please come! Everyone is welcome. Please RSVP to lindsey@realfoodforkidsmontgomery.org.
---
Fair Farms: Keep Antibiotics Working
Watch the video and read the message to learn how giving antibiotics to livestock affects our health.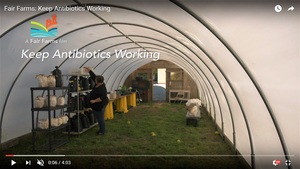 A Message from Jermie Superbug
Email your legislator
to limit the use of human antibiotics in farm animals that are not sick.
Exercise, Kids' Cooking Demo and Activities - All to Benefit RFKM - Sign up for Saturday's Dance-a-Thon

On Saturday, Jan. 28, from 9 a.m.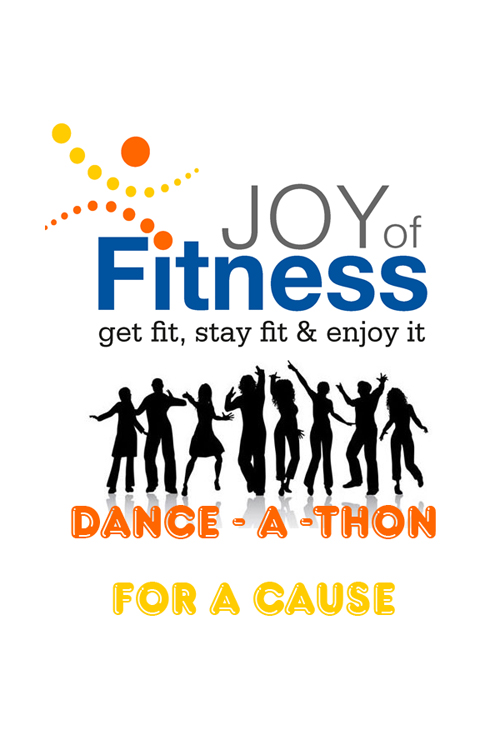 - 1 p.m., Joy of Fitness in Silver Spring will be hosting a Dance-A-Thon to benefit RFKM! Sign up for 1-4 dance-based aerobics classes (Zumba, Country Heat, Cize (Hip Hop), or Zoco Afro Pop) with all proceeds going to RFKM. Bring your kids as well to participate in carnival-themed activities such as mask making or beading, or to participate in a healthy cooking class/demo from 9-11 a.m. while you're in class. Includes a raffle with prizes from local businesses! Classes are appropriate for all fitness levels and can be taken by kids and adults alike (ages 9 and up). Visit Joy of Fitness Studio's website to sign up for the Dance-A-Thon.
---
Articles, Webinars, Conferences and Jobs of Interest
Articles
Report card on school food in Maryland: Lots of C's, one A, two B's​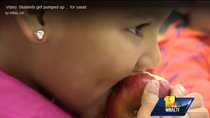 Howard County Schools get A+ for Healthy Food Options

Big Sugar's Secret Ally? Nutritionists

New Guidance on Kids and Peanut Allergies – A Radical Shift​

USDA gives schools additional year to meet second sodium reduction targets for school meals

Minneapolis School Embraces Family-Style Dining

Getting a School Garden Blooming

New Rules May Curb Classroom Cupcakes

New insights into how Akkermansia mucinphila improves metabolic health, leading to first human safety trial

Six Diet Changes to Cut Your Risk of Diabetes

How Much is Too Much? New Study Casts Doubts on Sugar Guidelines

Sugar in the News: A New Book, a Lawsuit, and a Victory for Houston Parents

Webinars
Eat Better at School! Creating a Healthier School Food Culture: Jan. 25, 1-2 p.m.

Moving schools towards local, scratch-cooked food: Insights from Healthy School Food Maryland's "School Food Environment Grades" and strategies for implementation from Fairfax County Public Schools: Feb. 2, 1-2 p.m.

Get recognized as a Health Promoting School: It's Time to Apply! Feb. 7, 3-4 p.m.

Wellness Wednesday: Celebrating National Nutrition Month and School Breakfast Week: Feb. 8, 4-4:30 p.m.