Musical Gala and Silent Auction + Pre-Bid on Auction Items

Join Real Food for Kids - Montgomery's leaders and board members in support of our mission to bring whole, real, local, sustainable and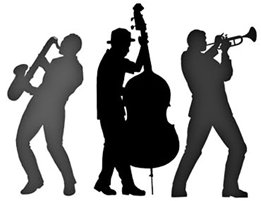 nutrient-rich foods to students in the Montgomery County Public Schools at our Musical Gala and Silent Auction 2017 on Feburary 24th, 2017 from 7:30 p.m. to 9:30 p.m at Jane Lawton Community Center in Bethesda, MD.

You will be entertained by the straight ahead jazz and bossa nova sounds of the The Karen Devitt Quintet (Karen is RFKM's co-founder and past Director) while enjoying wine and heavy hors d'oeuvres and bidding on items like restaurant gift cards, vacation homes, massages and more in our silent auction. Tickets are $25 each. Buy your tickets and/or become a sponsor online.

Pre-Bidding

If you can't make it, you can still pre-bid on the following Silent Auction items:
One week of Young Chefs summer cooking camp, 9:30 a.m.-12:30 p.m., Monday-Friday for the following dates:
July 10-14 (ages 8-12)
July 17-21 (ages 10-14)
July 24-28 (ages 8-12)
July 31-August 4 (ages 14-17) Plant-based Cooking
August 7-11 (ages 10-14)
See Young Chefs web site for more information ($325 value). Opening bid $150, minimum bid increase $25.
A Thursday-Sunday stay (during off-peak season – spring and fall) in a 7 bedroom vacation home (with 5 Master suites) at Deep Creek Lake Near Wisp Mountain ($3,250 value). Home includes pool table, sauna, wifi, grill, outdoor hot tub and many other amenities. Enjoy a variety of nearby activities such as hiking, boating, mini-golf, zip lining, and more. Opening bid $1,000, minimum bid increase $100.
A basket from the Children's Playseum in Bethesda including:

A certificate for a "CityShop" Playseum Birthday Party for 7 children & unlimited adults (can be upgraded to 14 kids by paying the difference). Kids will spend time in "real play" city shops, have a story time, and celebrate your private birthday. Each child will receive their own cupcake to decorate with favorite toppings. The birthday child will also receive a new children's book.

Two children's books: "I Love You Daddy" and "Anthony and the Ants" (Value: $235). Opening bid: $125, minimum bid increase: $15.

A weekend stay in an off-grid, local hardwood-constructed, loft-style cabin situated on 18 acres of wild and wonderful

W

est Virginia mountainside! The loft has one queen bed, two sets of bunk beds and one bathroom. Enjoy foosball, swinging, and reading by lantern in the cabin, outside Great Cacapon, WV. Dine like a New York foodie in nearby Berkeley Springs, where you can also view the castle that on Mr. Suit built for his bride... but never got to inhabit ($500 value). Opening bid $150, minimum bid increase $25.
A membership to Forest Knolls Pool ($775 value). Opening bid $300, minimum bid increase $50.
A moonbounce for 2 hours anywhere in Montgomery County from Great Kids Events (value $250). Opening bid $100, minimum bid increase $25.
A CASESTUDY remodeling design plan and consultation from Case Design/Remodeling, including measuring the space, drawing the existing plans, developing (3) preliminary design concepts, creating a general specifications list and project budgeting. A consultation meeting to review the designs is also included (value $800-2500). Opening bid $300, minimum bid increase $50.
To make a pre-bid, please email realfoodmcps@gmail.com with subject line "pre-bid: name of item". Include your opening bid, maximum bid, name and phone number. Check our events web page for up-to-date information on other items open for pre-bids.
---
Wellness Policy Updates in Progress
The MCPS Wellness Committee has been meeting since November to update the MCPS Wellness Regulation.
We will be sending out our yearly member survey shortly to get detailed feedback on several areas that will now have to be added to the wellness policy (per federal law) to guide our recommendations to the committee. That will include prohibitions on marketing of food to kids that don't meet Smart Snacks in Schools standards and standards for food brought in by parents. Also, thanks to our advocacy, the committee leadership has agreed to create a form on the MCPS web site to solicit feedback from stakeholders on the policy updates. As soon as that is ready, we will be communicating with you about submitting comments to the committee around our focus areas.
---
Junk Food Marketing in Schools
Have you spotted junk food marketing in your children's school?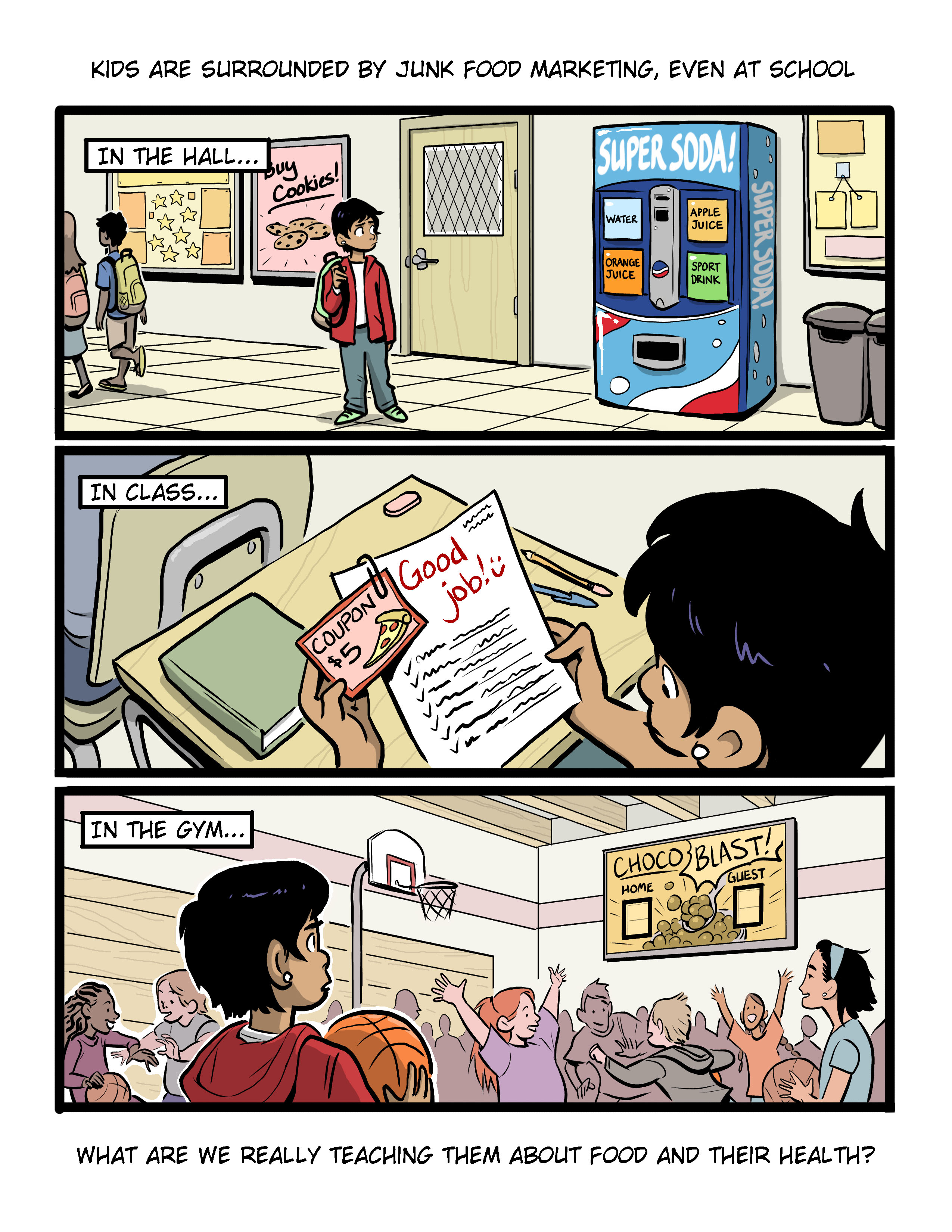 Logos, brand names, and products are often marketed to elementary,
middle, and high school students. They use signs, scoreboards, fundraisers, educational material, and more. Many advocates are working to reduce junk food marketing in schools but policymakers are unfamiliar with the issue. That is why we need real world examples to help policymakers visualize the problem and to cultivate their support to address it. You can help by visiting a school in your community and taking pictures of junk food marketing examples. Any example is helpful! Please contact Colin Schwartz at cschwartz@cspinet.org if you are willing to help, and he can send more information about collecting examples. Please cc Lindsey Parsons with any images you collect in MCPS.
---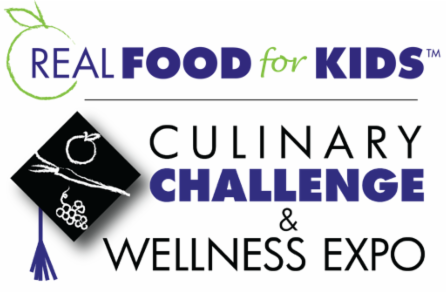 Real Food for Kids (VA) is hosting their Culinary Challenge and Wellness Expo on Saturday, March 11, 2017 at Lake Braddock Secondary School from 9:30 a.m-2 p.m. The Culinary Challenge is a cooking competition for middle and high school student teams.
Moving Toward Local, Scratch-Cooked School Food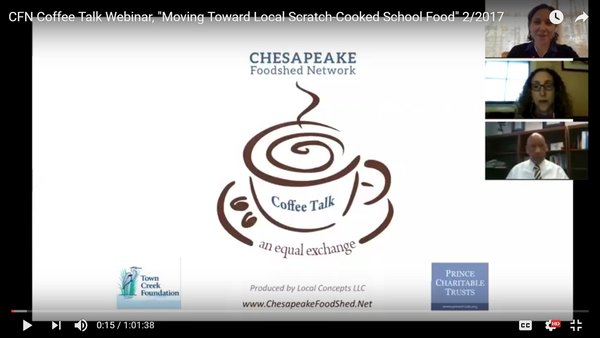 Watch our Executive Director, Lindsey Parsons, and the Director of Food and Nutrition Services of Virginia's Fairfax County, Rodney Taylor, in this webinar about moving toward local scratch-cooked school food and best practices demonstrated in Mr. Taylor's elementary school salad bar program.
---
Rockville Rewards Cards are now $10!!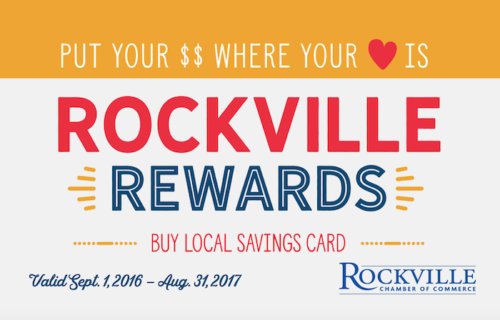 Save money, support local businesses, and help raise money for RFKM! Rockville Rewards Cards provide valuable discounts on goods and services from over 125 local Rockville businesses, including Vie de France, Dawson's Market, American Tap Room, Rockville Massage, Earth Treks Climbing Center, and much more. Check out the complete list of businesses participating this year. Cards are valid until August 31, 2017. The discounts 'pay' for the card after only a few uses! Click to purchase.
---
Help Bring Healthy Vending to Montgomery County Buildings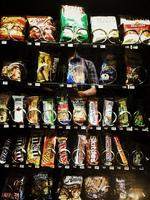 What we drink and eat greatly affects our health. By providing healthy options in public vending machines, individuals and families will have the opportunity to make better chocies. Tell the Montgomery County Council you want healthy choices in public vending machines.
---
Articles, Events, Conferences, Jobs, Petitions, and Webinars of Interest
Articles
Revenge of the Lunch Lady

Secondhand sugars are the new secondhand smoke — and they're harming children

Nutritional quality of kids' menus not improving

An Open Letter to President Trump: What I Hope You Do to Keep American School Food Great

In Maryland, diabetics cost Medicaid twice as much, study finds

Study of three-year campaign finds sales plunged of sugary drinks in Howard County

If Sugar Is Harmless, Prove It

Maryland Grown IV:
HOW WHAT WE GROW COMPARES WITH SCHOOL LUNCHES

Events
Networking and Discussion Event: Making it easier to start and run a food or beverage business in Montgomery County: Feb. 21, 7-8:30PM at Dawson's Market in Rockville, MD.

Soda or Science: Taking on Industry: Feb. 27, 6PM at College Park Airport and Museum

Conferences
Local Foods Impact Conference: April 3-4, 9AM-5PM

Jobs
Montgomery County School Wellness Coordinator- Part-time position with IPHI

Webinars
School Breakfast: Making Breakfast Part of the School Day: March 14, 4-5PM

Petitions
Give Kids Responsibly Raised Chicken in School Lunches

Safeway: Neighborhoods need healthy foods!