National Salad Bar Expert Rodney Taylor to Speak at April 16 Salad Bar Summit
If you haven't heard of Rodney Taylor, you'll want to. He is a dynamic and inspiring speaker, pioneer and expert in revolutionizing school nutrition. He is nationally known for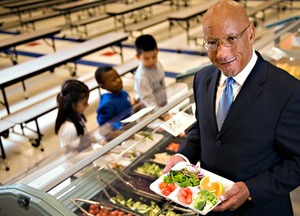 his farmer's market salad bars, which he established in 1997 while working as director of Food and Nutrition Services in the Santa Monica-Malibu Unified School District in California. Subsequently, he worked for the Riverside Unified School District in California, where he introduced daily salad bars in all 31 elementary schools, with 40-60% of the produce procured from local farmers. His other innovation, the Salad Bar First program, involved directing all children through the salad bar, and redeploying staff to assist and encourage kids to eat a rainbow, while leaving only the hot entrée in the serving line. This fall, Mr. Taylor was recruited to be the new director of Food and Nutrition Services for the Fairfax County Public Schools (FCPS) in Virginia, with the help of our friends at Real Food for Kids in Virginia.
Mr. Taylor will be the keynote speaker in Healthy School Food Maryland's Salad Bar Summit on April 16 at the Universities at Shady Grove. The keynote address will be from 9:00-10:30 a.m. Tickets for adults are $10 and for students are $5. Workshops following the keynote address (until 12:30) are by invitation or application only, so that there is an adequate representation from every school system invited (Montgomery, Baltimore, Frederick, Carroll, Howard, Anne Arundel and Prince George's counties and Baltimore City). Purchase tickets here.
Mr. Taylor is the recipient of numerous honors and awards, including the California Endowment's Health Heroes Award, Loma Linda University Award for The Promotion of Healthy Lifestyles – For Outstanding Commitment to the Public's Health, The Riverside Human Relations Commission Heroes Award, and the NAACP Education Award.

His plan in FCPS, in addition to starting salad bars, is to offer healthier a la carte items for the early grades, reduce processed foods, and replace those foods with fresh foods and scratch cooking whenever possible, to ensure healthy, wholesome meals to children. His vision is to change perceptions about school food service, by bringing in fresh and local foods. Get your tickets now for the Salad Bar Summit!
---

Students Testify About Stigma of Eating in BCC Cafeteria

On February 22, two students from Bethesda Chevy Chase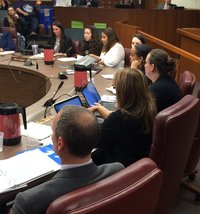 (BCC) High School spoke before the MCPS Board of Education about the deplorable conditions that exist at the school's cafeteria. Helena Hailu, a senior at BCC and leader of the Minority Scholars Program, described the cafeteria as one the most unappealing rooms in the school, and denounced the inadequacy of the school meals.

Hailu (in bottom of photo at right) stated that during freshmen and sophomore years, when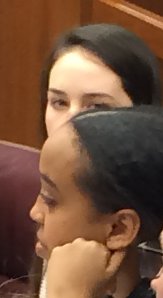 she qualified for Free and Reduced Meals (FARMs): "I didn't even want to eat in the cafeteria. If I walked out with a lunch tray in my hand, people would come up and ask, 'Are you really going to eat cafeteria food?' " She also shared that "The stigma is widespread throughout the school and from what I've heard from other schools, everyone views the government-provided food the same way. . . this overarching stigma is caused by poor quality food which the county could change by providing healthier foods."

Elena de Toledo (in top of photo above), who also attends BCC and serves on RFKM's Advisory Board, testified that "there is no place more segregated in the school than the cafeteria," and also described the stigma of eating in the cafeteria, stating: "I see many kids who would rather eat a lunch made up of several vending machine items, or not eat at all, because eating in the cafeteria targets them as 'poor' ". She testified further that "We have given so much effort to closing the achievement gap but the cafeterias are promoting it. The food offered in the cafeteria is simply not healthy or tasty enough to draw in kids willing to pay for lunch." We congratulate these two courageous students for speaking to the board about their concerns about the school lunch.

Watch Video of Testimonies (click on Public Comments)

---

Spotlight On Schools: Westland Middle School's Sugar Shockers Posters Make the Case for Water instead of Sugary Beverages

How many grams of sugar are found in popular vending machine drinks like Gatorade, Naked Juice Smoothies or Coca Cola? More than you might think, and in many casies the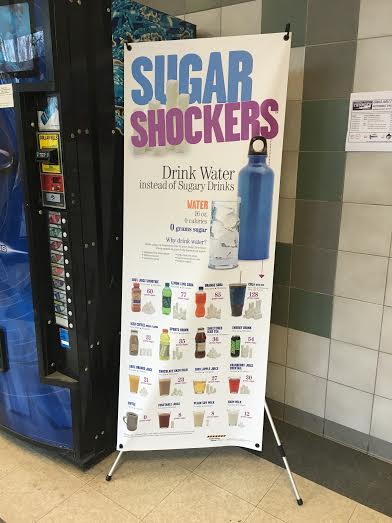 amount is double or triple the total added sugar the American Heart Association (AHA) recommends that teens consume in an entire day! But if you are a student at Westland Middle School, there is no need to wonder anymore. Westland's principal, Alison Serino, and the school's PTA supported the purchase and placement of some "Sugar Shockers" Posters next to the school's vending machines to help educate students. The poster, pictured below, make a strong case for choosing water.

Why use posters? It all started when Maura Vanderzon spotted a Sugar Shockers poster in a DC Charter School. Vanderzon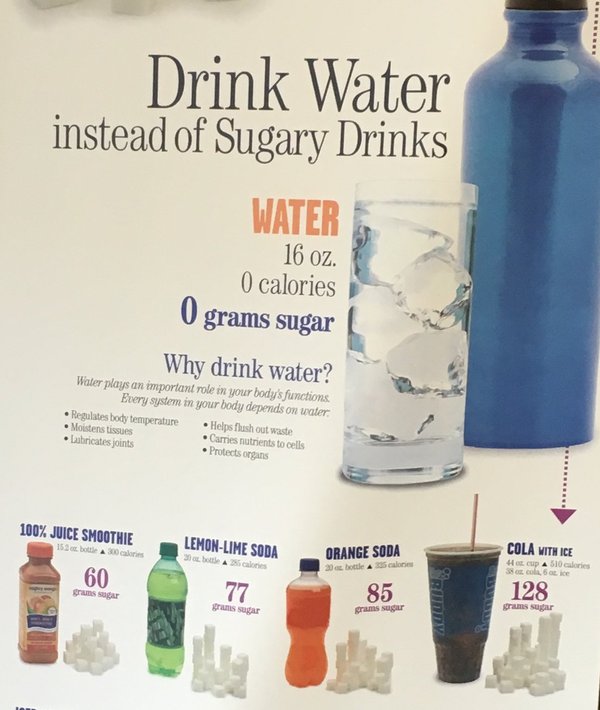 serves on the Westland Health & Wellness Committee, a parent-led, PTA-sponsored committee supporting wellness initiatives, such as improved food choices, more movement and stress reduction for students. The committee had just conducted a survey of Westland parents' top health and wellness concerns that indicated 87% of parents who responded were concerned about products sold in vending machines. While the committee is looking into various ways to address the vending machine issues, Vanderzon thought the Sugar Shockers poster provided a powerful visual that could help educate students. She and the committee took the idea to the school's principal and the PTA. Ms. Serino and the PTA, both of whom are very supportive of health and wellness initiatives at Westland, agreed and voila the posters were ordered.

While some may say that by middle school many eating habits are already formed, it's not too late to impart critical health information. The committee has also provided a visual for students of the recommended allowance for added sugars and the health implications of regularly consuming high amounts of added sugars. Hopefully these visuals will spark discussion both in and outside of the classroom.

For those interested in the Sugar Shockers posters, see: http://www.learningzonexpress.com/sugar-shockers-vinyl-banner-with-stand.html.

---
Donate to RFKM today
RFKM is a small, grassroots organization working for your kids and the kids in your area, getting concrete results in changing the school food. We don't have big government contracts or large foundation grants. We don't have a national or international pool of donors to draw from; we just have you! We need your support to continue our work over the coming year. All donations are tax-deductible. Thanks!

---
RFKM is on Social Media!
Like us on Facebook!
Follow @Realfoodmcps on Instagram!
Follow
@RealFoodMCPS
on Twitter!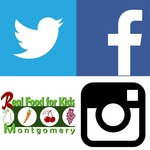 ---
Planning Any Online Shopping?
RFKM's Mid-Winter Celebration Silent Auction - Bid on the Leftovers!
RFKM's talk and silent auction event on February 26th was a resounding success, but we still have a couple of items that we would like to auction off online. Please browse the list below and feel free to bid on these remaining items by March 15.
Training with Beth: 1-hour physical fitness training session with professional trainer, Beth Rosenstein, in her home gym in Bethesda.
Value: $90
Minimum Bid: $20
Minimum Bid Increase: $5
KID Museum: Four free to passes to "open explore" at the museum.
Value: $32
Minimum Bid: $16
Minimum Bid Increase: $2
Six Month Subscription to Six O'clock Scramble Family Meal Planning Service
Value: $49
Minimum Bid: $15
Minimum Bid Increase: $2
One Week of Summer Camp at "Our Young Chefs" cooking camp
For ages 9-14 (July 11-15 or July18-22, July 25-29, August 1-5, and August 8-12; 9:30 a.m.-12:30 p.m.)
Value: $325
Minimum bid: $150
Minimum Bid Increase: $25

Gift certificate for a complete eye exam for glasses (not contact lens fitting)
Takoma Park Vision (Takoma Park)/Uptown Vision (DC)
http://www.takomavision.com/
Value: $180
Minimum bid $50
Minimum bid interval: $10

Six Boxes of Organic Chocolate Truffles from Whole Foods
Bids are for one box only.
Value: $12
Minimum bid: $5
Minimum bid increase: $1
(to be picked up at our office in Bethesda or in Takoma Park)

Send your opening bid and maximum bid (consistent with the bid interval) for any item to lsparace2@gmail.com by March 15, 2016 at 11:59 p.m. For more information please contact lindsey@realfoodforkidsmontgomery.
org
---

We Need 30 Volunteers for 5 Minutes

On Thursday, March 10th, we need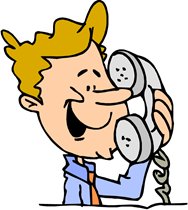 30 volunteers to sign up to spend 5 minutes calling the offices of the committee chairs of the two committees that heard our bills in the Maryland House of Delegates and Senate and ask the to move those bills favorably out of their committees.

SIGN UP HERE

Through our coalition, Healthy School Food Maryland, we have 2 bills in the state legislature that have been heard in committee. They seem to be stalled, and if this continues and they don't get a vote, they will die in committee again this year. We need your help to get them out. We would like one call to be made to the committee chairs' offices every 10 minutes on Thursday. All the instructions are on the sign-up list.
---

On the Verge of a Huge Victory - This is the PTA Meeting you Can't Miss!

RFKM has been working through the Health and Safety Committee of the Montgomery County Council of PTAs (MCCPTA) on a Resolution on School Food. On Feb. 4, it was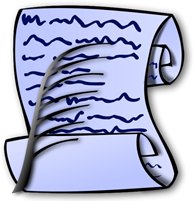 sent by the MCCPTA Board of Directors to the Delegate's Assembly, where it was presented to the Delegates. From there, it goes to the school PTAs for a vote. The Delegates will then vote on it based on their school's vote at the March 22nd Delegates Assembly.

The resolution asks for MCPS to transition to scratch-cooking in its central facility or in schools, to put salad bars in all schools, to reduce sugar in school foods, to offer only healthy a la carte items in elementary schools, to remove soda and artificially-sweetened beverages from school vending machines and to remove all synthetic dyes from school foods. If passed and taken seriously by MCPS, it would bring about profound positive changes to the school food. Given our poll of PTA Delegates prior to crafting the resolution, we believe there is strong support for everything in it among MCPS parents.

While most elementary school PTA meetings have already taken place this month, middle and high school meetings should be this and next Tuesday. We need parents to show up for these PTA meetings and defend and vote for the resolution. This Q&A, prepared by the MCCPTA School Nutrition Subcommittee, will help you answer questions that may come up at your meetings.

This is an exciting moment for RFKM and for all the parents in MCPS. When this great victory happens, I know each one of you will feel proud to have played your part - so get out to those meetings!
---
Articles, Petitions, Grants, Events and Webinars of Interest

Real Food for Kids Culinary Challenge & Wellness Expo
Student culinary competitions, free expert-led workshops, great prizes and more.
March 12, 2016, 10:00 a.m. - 2:00 p.m.

March Coffee Talk- Overview: Assessment of Food System Efforts in the Chesapeake Foodshed
March 9, 2016 9:00 a.m. - 10:00 a.m.

2016 Washington D.C Food Tank Summit
April 20, 2016 9:00 a.m.

Screen-Free Week 2016
May 2-8, 2016

Tell Congress to stop the DARK Act & protect mandatory GMO labeling

A Hidden Cost to Giving Kids Their Vegetables

Recording of Hosting a Health & Wellness Fair Webinar

How Water at Lunchtime Can Help Curve Childhood Obesity

Gardens for Grade School Grant
Allentuck Landscaping Co. will be donating and installing one cedar raised garden to the elementary school that wins this grant.