RFKM Awarded Grant from Mead Family Foundation
We are pleased to announce that the Mead Family Foundation has awarded RFKM a grant of $15,000 for general operating support for our organization. We are very thankful that the Mead
Family
Foundation has seen the value of our advocacy work in changing the school food landscape and has given us this opportunity.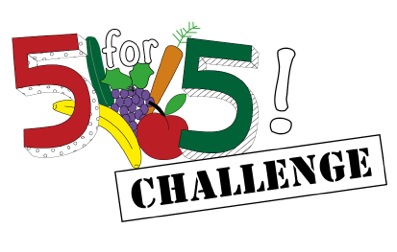 Our thanks to all the students, parents and teachers who participated in the first "5 for 5 Challenge"! To date, we have raised $1,780 - not to mention the benefit to the participants who ate the recommended five servings of fruits and vegetables for five days in a row!

Our congratulations to Eleanor from East Silver Spring ES for winning the prize for eating the greatest variety of fruits and vegetables! Check out her tracking sheet to see what a great job she did trying new things!

Board of Education Candidate Forums

Please see below a list of forums for BOE candidates. Please take the time to carefully evaluate the candidates in this election and their positions on school food and share your recommendations with your friends and neighbors.
Tuesday, September 30th (challengers only): 7:00 - 9:00 p.m.
Rockville Library, 1st Floor Conference Room, 21 Maryland Ave. Rockville
Sponsored by the Taxpayers League, Parents Coalition of Montgomery County and Montgomery County Civic Federation
Saturday, October 5th: 4:30 - 6:00 p.m.
Garrett Park Town Hall, 10814 Kenilworth Avenue, Garrett Park
Sponsored by Start School Later, Inc.
Wednesday, October 8th: 7:30 - 9:00 p.m.
Aspen Hill Library, 4407 Aspen Hill Road, Rockville
Sponsored by The Library Advisory Committee and the Strathmore-Bel Pre Civic Association
Saturday, October 11th: 8:45 - 11:00 a.m.
Carver Educational Services Center, 850 Hungerford Dr. Rockville
Sponsored by NAACP Parents Council
Tuesday, October 14th: 7:30 - 9:30 p.m.
Silver Spring Civic Center, One Veterans Plaza, Silver Spring
Sponsored by the Montgomery County Education Forum (MCEF)
Wednesday, October 15th: 7:00 - 8:30 p.m.
River Falls Club House 7915 Horseshoe Lane, Potomac, MD.
Sponsored by the Whitman High School Cluster
Tuesday, October 21: 7:30 - 9:00 p.m.
Long Branch Community Center, 8700 Piney Branch Road, Silver Spring
Sponsored by Safe Silver Spring
Articles and Videos of Interest
The Healthy Schools Revolution
Register to learn what pro-active schools and parents are doing across the nation to improve health in schools.
Portions of your registration will support your child's school and RFKM.
Researchers suspect that these artificial sweeteners are disrupting the bacterial microbiome in our gut, which is causing spikes in blood sugar and may be contributing to obesity and other diseases, such as cancer.
The Empowerment Challenge Four weeks of eating healthy with informative tips and resources to help you along the way.
Health Fair How-To Guide Learn how to plan and execute a successful health fair at your school.
Eat Healthy, Be Active Community Workshops Offered in both English and Spanish, workshops are available for download that include lesson plans, learning objectives, hands-on activities, etc. They are designed to raise awareness on healthy lifestyles and how to pursue them.

Health and Fitness Board Game Encourges kids to be healthy and active.