You Can Have it All
An Interview with School Food Innovator Bertrand Weber
Salad bars. Check. Scratch cooking. Check. Fewer and less frequent "junk food" options. Check. No food dyes or other dangerous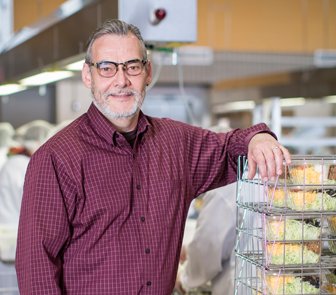 chemicals. Check. Less sugar. Check. And all this is happening right now in Minneapolis!

After seeing media reports of a parent who was fed up with the poor school food being hired to take charge of the school food in the public schools in Minneapolis, RFKM Director Lindsey Parsons and Board Member Perry Plumart interviewed Bertrand Weber, Director of Culinary and Wellness Services for the Minneapolis Public Schools (MPS) to find out more about his model. The district has more than 35,000 students and like MCPS, a very diverse student body. Sixty-three percent of MPS students qualify for Free and Reduced-price Meals (FARMs). The work of Weber in MPS is a testament to the fact that you can have truly healthy public school food without breaking the bank.

Scratch Cooking and Chemicals: The district has committed to building kitchens in all schools within 6-7 years, with one third already cooking on site. For schools that already have a kitchen, 80% of meals are cooked from scratch. The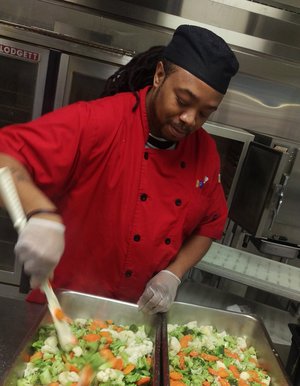 school nutrition center sends trays of cooked food to the remaining schools, 60% of which are made from scratch at the center. As schools install kitchens and start cooking from scratch on site, Weber says they have seen increases of 5-10% in average daily meal participation, especially notable at schools with lower FARMs rates. This shows that families who can afford to send lunch now trust that the food is wholesome. Weber uses the expression "True Food" to describe the wholesome ingredients and food integrity he practices. Items like roasted chicken and vegetables are always cooked from scratch on site at schools for best quality. For items like burgers, hot dogs and meatballs, the district contracts with farmers who sell antibiotic-free meat and local meat processors who do not use nitrates and nitrites. Under an agreement with the Life Time Foundation (which awards grants and training to school systems that agree to follow their guidelines), they have eliminated a list of ingredients of concern*, such as synthetic food dyes, from 97% of their food.

Breakfast: For breakfast served in the classroom, where pre-packaged items are necessary, Weber has worked with a local bakery to develop lower sugar,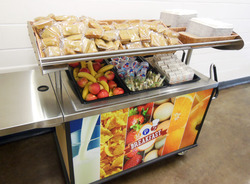 whole grain breakfast items like banana chocolate chip bread. Two days a week the menu offers non-sweet breakfast items (egg and cheese sandwich, bagel and cream cheese) and hard boiled eggs are offered once a week. He serves only white milk (no flavored) and fruit (both fresh and canned) daily, and only serves juice three times a week. He offers both breakfast in the classroom and a grab and go model (see cart at right), which has been shown to increase participation, especially for older students. His high school in-cafeteria breakfast menu includes options like oatmeal, omelets with breakfast potatoes and toast, scrambled eggs and hash browns, egg strata with breakfast bread, and pancakes with spiced pears (the only sweet item offered that week).

Lunch: High school lunch menu options typically include 4 daily options such as Brasa's Curried Chicken Bowl, Pickled Peppers & Pineapple (pictured below); Fish Tacos, Black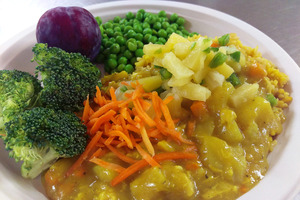 Beans and Rice; Swedish Meatballs and Mashed Potatoes; Porchetta with Rice Pilaf and more traditional options like pizza (only served twice a week) and pulled pork BBQ sandwiches. Whole meal salads (Chicken Caesar, Buffalo Chicken, Chef, Greek, Taco) appear three times a week; soups (lentil, Tuscan bean, potato chowder and tomato) with deli sandwiches twice a week; and hot vegetable sides 2-3 times a week. K-8 menus include simpler items like chicken or pasta alfredo, French herb chicken drumstick and cheese omelette with pancakes, but also only have items like pizza, burgers and chicken patty sandwiches once every two or three weeks. Traditional French fries don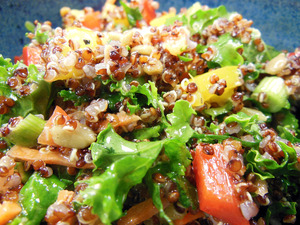 't appear on menus at any level. There are salad bars in 98% of schools, right before the cashier in every serving line, with 25% of the produce sourced from 14 local farmers. They consist of a dressed whole grain salad (e.g., red rice salad, quinoa, tabbouleh, kamut, barley, wild rice + some small amounts of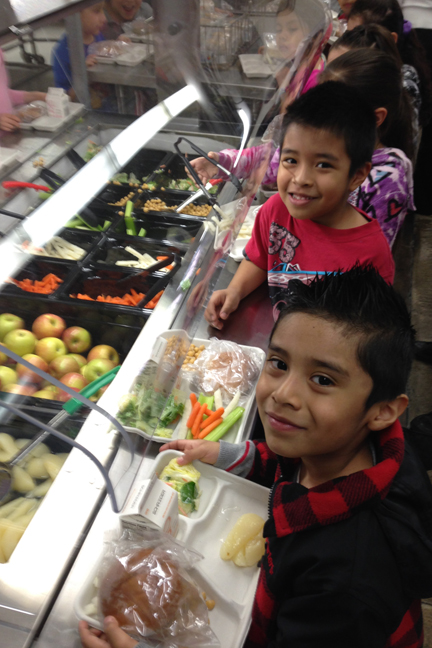 fruits or vegetables) to develop in kids the taste for true whole grains, then 4 different vegetables toppings and a minimum of one fresh and one other fruit. Schools with kitchens cut up their own salad bar produce. Because of the dressing on the whole grain salads, no additional dressing is served. Since the introduction of the salad bars, they have seen a substantial increase in vegetable consumption among students. There is also only white milk at lunch (with no blowback from parents after its removal) and no juice is sold.

A la carte food: None: "I'm not a convenient store, I'm here to serve meals to kids. The purpose of the national school lunch program is to serve the best quality breakfast and lunch," said Weber.

Reading about all this, you might think that MPS is spending a fortune on school food, but that's not the case. Although there were some losses in the first couple of years due to equipment purchases and a learning curve, they have been operating at a profit for the last four years. Mr. Weber affirmed that using raw ingredients is in fact less expensive than purchasing processed food (even when the raw meats are antibiotic free but the processed ones are not). For the central kitchen and school kitchen construction, the district has received help from various sources, including a ¾ million dollar grant from the Life Time Foundation, and grants from Cargill and General Mills, despite the fact that they don't buy a single product from them!

When we asked him how they accomplished all this in MPS, Weber affirmed what we already realized, that to make these kinds of changes, you need someone at the helm whose core values are to provide the healthiest school food possible and who is willing to be at the cutting edge of change. This includes a commitment to go beyond the USDA guidelines. We're very thankful for Mr. Weber's incredible example in Minneapolis and his sharing his insight with us!
*Artificial flavors, artificial colors, artificial sweeteners, azodicarbonamide, benzoates, bleached flour, bromated flour, BHA, BHT, caramel color, carrageenan, EDTA, guanosine monophosphate, MSG, high fructose corn syrup, hormones/antibiotics, hydrogenated or partially hydrogenated fats, nitrates/nitrites, sorbates, sulfates and sulfites and TBHQ.