Read on for
all the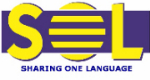 SOL

Summertime

News

and Breath of Tranquil Devon Air!
---
Firstly Reassurance from SOL - Travel to Devon is a Safe Choice!
The recent horrible events in Westminster and Manchester certainly created fear in a lot of parents' minds and added to the worries of teachers bringing groups and so this has affected us quite a bit this year since we work on such narrow margins. The recent racist attack on Muslims in East London added to that fear especially as it was widely treated as a "terrorist attack" even the perpetrator had no connections whatsoever with any terrorist groups.
The most important thing we want to stress here is that it IS safe to come to England and it is a good part of education for children to realise that it is safe, despite the media raising fears in people's minds. The media are of course there on the spot to any incident, so transport you there as if you were there, whereas these terrible atrocities occur in the tiniest speck of time and in a tiny speck of space on our planet and the chance of any one person being caught up are miniscule. In reality the risk is far less than everyday dangers to life that exist around our own activities at home.
Indeed, the statistics show that it is as safe as ever to come to England. So, we just wish to reassure teachers and parents, whose fears we understand. These fears distort and mislead people into ignoring real risks around us.
Those groups that have come to us this year have reflected on our courses in the most positive ways – and the feedback is best that we have ever had, so we hope that worries will be put aside and that numbers next year coming to safe Devon will rise once again! To all teachers of English, we need you, that is certain, but we know we will help your students to gain so much in confidence and motivation – and which will make your work with them easier in the future as well!
---
Conferences and more
Ukraine, Czech Republic, Poland, Slovakia (3), Albania, Montenegro,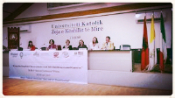 Serbia and Bosnia- Hercegovina have all had conferences which we have attended during these last 3 months.
At each one we have offered teacher course prizes. I have not been able to

attend any of them, sadly, but Mark has been at most of them where he has given a presentation.
At several Sanja Čonjagić has stood in for me and in Albania she was part of the "panel of experts" for one of the sessions.
They were both at ELTA in Belgrade and promoting our work on our stand.

In Bosanska Krupa, Bosnia-Hercegovina, they were joined by Fiona Mauchline

who was on hand to give our main prize to the winner.
On display at most conferences recently, as here at the ELTAM day in Nikšić,
Montenegro, was a North Devon tea towel which we have purchased many of and which is now one of the prizes, as well as for sale, in Devon!

In addition, Mark has given workshops and talks when on tour in Ukraine and Croatia. In Ukraine he was given a special 'shirt' to wear in Uman and then later was presented with a very artistic
certificate for his workshop!
Finally mention must be made of the cooperation we are developing with the Bear Educational Theatre in Prague, who last year ran 300 performances of their educational drama shows in several countries. Three weeks ago we ran a combined performance with them, entitled "Should I stay, should I go?" in Štúrovo, Slovakia as a pilot for other interactive performances which can be seen at the Czech and Polish National conferences and the day before the SKA conference in Slovakia – all in Slovakia! We have known David and Lenka Fisher for many years and have been talking about a joint cooperation for a long time. Now it is finally coming to fruition! Here is a picture from Štúrovo.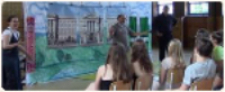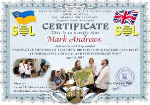 ---
COMING UP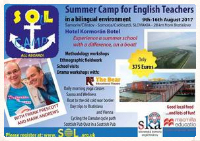 There is an additional performance of this BEAR - SOL performance at the second of our SO(u)L camps on the Danube, in early August! There is still room on these great camps …. so this is a wonderful chance for teachers if they still have not planned their summer!.
These unique and wonderful experiences cannot be described in words but everyone who attends can attest to something very special indeed and this year both of them are Danube based, with the Slovak one actually on the river itself at Čilistov, Šamorin, some 25km downstream from Bratislava.
---
WORK IN PROGRESS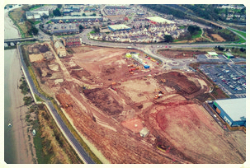 Opposite Bridge Chambers work is proceeding apace as both houses and shops are now being developed on the
previously industrial land. The Asda superstore has been open now for 6 months but the next year will see this site completely transformed.
The 'Oliver Buildings' which dominate the view from SOL's classrooms are being preserved and developed into mixed purpose use. There was a campaign to save them from being demolished as they represented a large part of Barnstaple's history having been home to the famous Shapland and Petter factory for 100 years and was one of the biggest employers in Devon.
A little bit of history: Henry Shapland had been apprenticed to a cabinet maker in Barnstaple, before travelling to America in 1851 and learning about a wave moulding machine. Back in England he was joined by Henry Petter. By 1888 the Raleigh Cabinet Works were employing hundreds of workers. After a fire, the factory was rebuilt at the new site on the River Taw, a former shipbuilding yard. They employed craftsmen but also used the most up-to-date machinery available for their products. Henry Shapland was a time-served cabinet maker and Henry Petter was an amazing salesman who found the market for their products across the World.
---
BITS AND PIECES
We are running our first TEFL taster weekend course at the end of September – this is for anyone interested in dipping their toes into finding out what it is like to teach English as a foreign language in a language school. Catherine and Kirsty will be running this course – all details on our website.
The long term forecast is for a good warm summer, but June has certainly matched that with temperatures reaching 33C in Braunton a week ago. Here is a picture of Westward Ho! beach a week or so ago.
Our groups will once again be taking part in the Barnstaple Diversity Festival on July 8th – singing (and dancing) on the main stage!
Uwe has withdrawn from the first Teacher Training course this summer, but we are very pleased to be able to use our own local trainers in Catherine, and also Kathy King, who ran our first ever SO(u)L camp in 2013 and who has worked with Mark on other training courses.
We are pleased to welcome Maria Muñoz Caraballo, a 17 year old student from near Barcelona, Spain who is with us on a 3 week work experience programme. Her first week is in Tiverton but then she will be joining the Barnstaple team.
The old £5 notes are not no longer legal tender and so students and teachers will find they cannot use them in the shops – but the office will change them. Next year the new £10 notes will be issued and so the old ones will also cease to be legal tender before next summer so if you are in England this year, make sure you spend them before you go – and also any old £1 coins because they become unacceptable in shops in October.
---
FINALLY
Just two other pictures to share with you!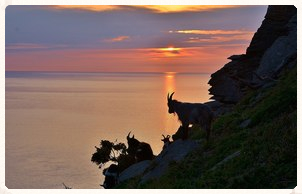 Rupert Kirby, who is one of the 'Hearts of Oak' folk group who reform every year to sing at our Teacher Course evenings is also a talented photographer and he lives in Lynton. He has wonderful pictures of wild life and being near the valley of Rocks, he has some great pictures of the controversial goats there.. They are controversial because of the way they roam into Lynton and destroy people's gardens, but for our students on the walk back to Lynmouth it is an amazing sight to see the way they balance and clamber on the most precipitous ledges, despite their hard pad feet which you would think could not grab anything securely!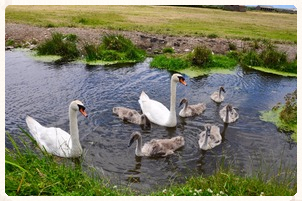 Braunton Great Field is one of only 3 ancient (Anglo-Saxon) Strip Field systems in the country and the
associated marshes have 26km network of drainage ditches. One of the attractions of these is the existence of swans and especially in the Spring and summer with their family of cygnets! More information is here: http://www.bbc.co.uk/history/domesday/dblock/GB-248000-135000/page/2