________________________________________________________
SEPTEMBER SEED SAVING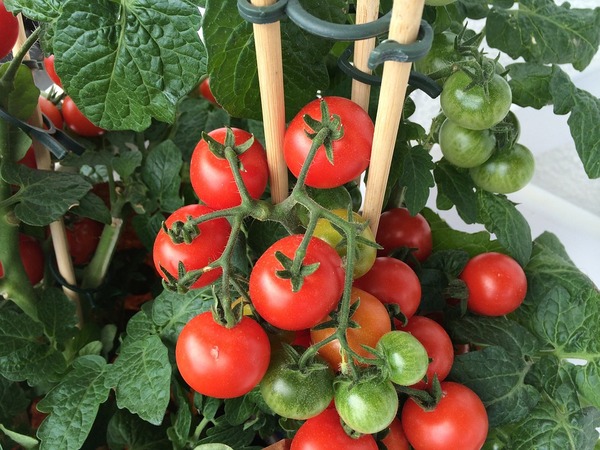 What do you know about saving seeds? Most gardeners purchase new vegetable and plant seeds for their flower and vegetable gardens every single year. But did you know that the plants you grew this year produced enough seed for you to harvest, process, store and use in future years? The cost of seeds can quickly add up, especially if you purchase heirloom or organic seeds. Harvesting can be a great alternative, and you can share or swap your seeds with friends and neighbors.
Check out our Seed Saving Guide for step by step instructions for both Wet Processing and Dry Processing. To properly save seeds, you will need to choose the processing method that is correct for your plant. Seeds that are found in damp, juicy flesh (tomato, pumpkin, melon and cucumber) require Wet Processing. Seeds that dry on the plant in husks or pods (beans, onions, corn, carrots and most flowers) require dry processing.

___________________________________________________________________
SEED LIBRARY AT MIDTOWN GLOBAL MARKET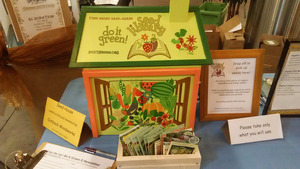 We're pleased to announce that the
Do It Green! Seed Library
has found a home at the Midtown Global Market, next to our resource kiosk.
Stop by to drop off your extra seeds or pick up new-to-you seeds as you begin making your garden plans for next year! The goal of our Seed Library program is to improve access to healthy, locally grown foods and to promote the use of native plants as a sustainable landscaping and gardening practice throughout the Twin Cities.
___________________________________________________________________
VOLUNTEERS NEEDED!
11TH ANNUAL GREEN GIFTS FAIR
SATURDAY, NOVEMBER 19TH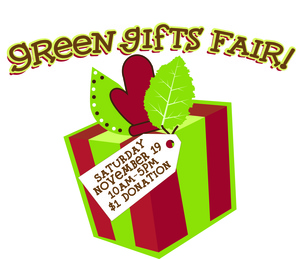 Save the date and start making plans to join us at
the 11th Annual Green Gifts Fair on Saturday, November 19th
at the Midtown Global Market. This popular fair offers recycled, organic, fair-trade, local, and environmentally-friendly gifts for sale, as well as live music and fun hands-on
eco activities for kids and adults.
Last year an estimated 6,000 people were in attendance and we expect this year's event to be even larger! A $1 donation will be collected at the door.
We are seeking volunteers to help make our event a success!
Set-Up Shift (7AM – 10:30AM)
Assist with vendor loading and unloading

Assist vendors with booth location and set-up

Put up signs, banners, directions and decorations

Monitor and run the volunteer check-in room

Escort volunteers to their assigned stations
Morning Shift (9:30AM – 12:30PM)
Midday Shift (12PM – 3PM)
Afternoon Shift (2:30PM – 5:30PM)
Greet visitors as they arrive

Monitor and run the volunteer check-in room

Escort volunteers to their assigned station

Interact with Fair visitors at a demo table

Staff the passport activity prize booth

Answer questions at our information booth

Monitor waste stations

Assist the stage manager
Take Down Shift (5PM-8PM)
The fair is made possible through the incredible work of over 50 volunteers. Volunteers will receive a copy of a Do It Green! Magazine edition and a Do It Green! Minnesota recycled t-shirt. Know someone who might like to volunteer? Please pass along this posting and encourage them to sign up!
If you are interested in volunteering, please email the Volunteer Coordinator, Crystal Erickson, at crystal@doitgreen.org with your availability.
____________________________________________
GREEN GIFTS FAIR INTERNS NEEDED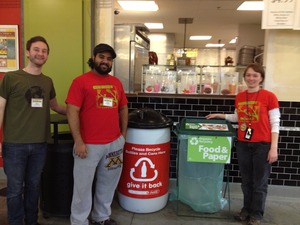 Be a part of our Green Gifts Fair Planning Team!
We're still looking for a few great people to help plan this year's fair. These internship opportunities will offer experience in planning and implementing a large, low-waste, green event. They requires individuals who are well organized, able to meet deadlines, possess excellent communication skills, and are self-directed.
We're looking to fill the following intern coordinator positions: Stage Coordinator and Assistant Demos Coordinator. These are unpaid internship positions requiring 5-10 hours /week September 15-November 30, 2016 and including: all day event set up on Friday, November 18th & assisting with the actual event on Saturday November 19th, 7am-7pm.
Please email your resume and a cover letter to Laurie Jones, Green Gifts Fair Coordinator at laurie@doitgreen.org. Applications will be reviewed on an on-going basis until filled.
__________________________________________________________________
LEFTOVER GIVEAWAYS?
Do you have leftover giveaways that are taking up room in storage? Consider giving them to our prize basket for those who complete the Educational Passport at our Green Gifts Fair this year! Items such as bike light blinkies, seed packets, and reusable bags would be great items to donate. Please contact Ami Voeltz at
ami@doitgreen.org
.
____________________________________________
GREEN EVENTS