Click to view this email in a browser

In March's Do It Green! Minnesota E-Newsletter:

* Spring into Green Cleaning
* Board Position Openings
* Green Tip of the Month
* Green Events
* Green Resources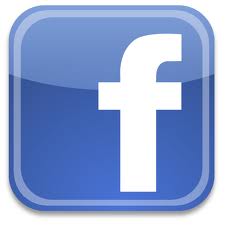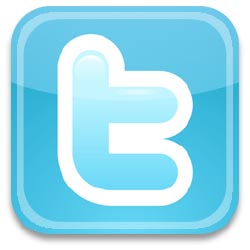 __________________________________________________________________
SPRING INTO GREEN CLEANING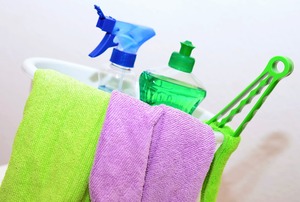 This is the time of year when spring fever hits hard. The days are getting longer and the weather is warming up. Suddenly you feel the urge to clean and declutter! If you're getting ready for spring cleaning, here are some tips and ideas for keeping it green!

First, make sure items you want to get rid of can't be reused, mended or repurposed in some way. Donate useable items to your local thrift store or to the Habitat for Humanity ReStore, or check the wishlists at places like Artstart. You can also sell or give away items on craigslist or freecycle.

Next, be sure to check your city or county's solid waste and recycling information to find out the best way to get rid of unuseable items in your home. Hennepin County provides a detailed disposal A to Z Green Disposal Guide online here.

Hazardous Waste
Always make sure to properly dispose of any hazardous waste such as paint and varnish, pesticides, and aerosols. These and other hazardous products require special handling during disposal. When disposed improperly with mixed municipal solid waste, these materials may pollute the water or air, release a hazardous substance to the environment, or negatively affect the safe or efficient operation of a solid waste facility.

Your city or county should have a detailed guide for disposing of hazardous waste at drop off sites or collection events. Hennepin County organizes collection events throughout the year to give residents convenient disposal options for household hazardous waste. Upcoming collection dates include Friday, May 11th and Saturday, May 12th in Minnetonka. More info…

Electronics Recycling
There are many places to recycle your old or broken electronics. Some retail stores and manufacturers accept electronics for recycling. Cities and counties sometimes accept electronics at special drop-off sites. A local nonprofit, Tech Dump, offers free electronics recycling at their sites in Golden Valley, Saint Paul and Bloomington.

Clothing and Other Textiles
Downsizing your closet this spring?
Be sure to keep textiles out of the landfill and the incinerator.
Donate your useable clothing to a thrift store or consider hosting a swap with friends!

Hennepin County now accepts non-useable clothing, linens and other textiles for recycling at their drop off locations in Bloomington and Brooklyn Park. Clean clothing, linens and other textiles (including rags, torn or dried-in stained clothing, shoes or accessories, bedding, curtains, pillows, towels, table cloths, and stuffed toys) are accepted. More info…

Plastic Bags
Many grocery stores have plastic bag receptacles at their entrances for recycling. Shopping bags, bread bags, produce bags, and plastic baggies with the seal cut off are all accepted.

Green Cleaning Recipes
Spring is a great time to make a green change, eliminate chemical use in your home and switch to non-toxic cleaners. Non-toxic cleaning products do the job safer and cheaper. You can make your own non-toxic cleaners using simple, ordinary ingredients you probably already have at home – baking soda, vinegar, and lemon juice. More info…
_____________________________________________________________________________________________
BOARD POSITION OPENINGS
Would you like to share your skills and connections with the sustainability community? Come join our board!

We have two board positions open and are hoping to find board members with any of the following:
Connected to a community we have not served to help us open up new relationships and connections for educating residents about green living.
Experience and skills with fundraising, sponsorship and/or membership to help us build and expand our financial support for our events and programs.
We are a small working board that offers a relaxed and fun atmosphere. We believe in supporting each other's ideas and passions while working towards the goal of educating all Minnesotans about reducing our impact on the environment and our communities.

If you are interested in learning more about our board positions or our organization, please e-mail Ami Voeltz at ami@doitgreen.org. Thank you!
__________________________________________________________________
GREEN TIP: START BACKYARD COMPOSTING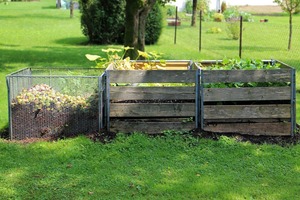 Did you know that the average Minnesota household throws 15 pounds of compostable materials into the trash every single week? Composting is an easy and simple way to have an immediate personal impact by diverting trash from the landfill or incinerator.

Backyard composting takes leaves, grass clippings, veggie scraps, coffee grounds, eggshells, and tissue and turns them into valuable compost that reduces the amount of water and fertilizer required for your yard and garden, improves soil quality and supplies essential nutrients for plant growth.

Get ready for spring by planning your backyard composting now!

Learn more...
__________________________________________________________________
GREEN EVENTS
Creating Your Resilient Yard
Unseasonably warm weather, long droughts and flooding rains are the new normal for spring and summer in Minnesota. Learn how your yard can adapt to and even help mitigate threats posed by these extreme weather events. Participants receive a brief overview of the importance of resilience, a walk-through of the different pieces that help make a yard resilient, and information on how to begin incorporating them on your property. Includes details on raingarden installation, stormwater management, and tree, shrub, flower and turf alternative recommendations. Partipants also receive 1 on 1 design assistance from Blue Thumb landscape designers, U of M Extension Master Gardeners from Hennepin County, and Master Water Stewards.
More info...
Thursday, March 29th, 6–8:30PM, Saint Louis Park
Wednesday, April 4th, 6:30-9PM, Champlin
Tuesday, April 10th, 6-8:30PM, Minneapolis

Film Screening: Food Chains
During National Farmworker Awareness Week (NFAW), March 24th–31st, Seward Co-op honors the contributions of farmworkers. Please join us at the Friendship store for a free evening screening of
Food Chains
, a documentary film about agricultural labor in the United States. In
Food Chains
, an intrepid group of Florida farmworkers battle to defeat the $4 trillion global supermarket industry through their ingenious Fair Food program, which partners with growers and retailers to improve working conditions for farm laborers in the United States.
Friday, March 30th, 6-7:30PM, Minneapolis.
Register here...
Beekeeping in Northern Climates
Interested in becoming a beekeeper? Dr. Marla Spivak and Gary Reuter from the University of Minnesota Bee Lab will help you get started in beekeeping. If you have had no prior experience keeping bees in our cold climate, Beekeeping in Northern Climates, Year 1 will teach you everything you need to know for a successful first year.
Saturday, March 31st, 8:30AM-5:30PM, Saint Paul.
More info…
Film Screening: Seed, The Untold Story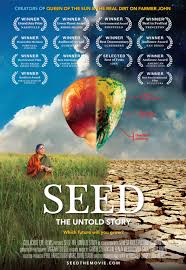 Learn about the amazing people around the world who are working to protect seeds and the challenges they face. After the show, we'll talk about what you can do to help and how you can get connected to the amazing groups working to save seeds locally.
Tuesday, April 3rd, 7PM, Minneapolis.
Purchase tickets…
Installing Turf Alternatives – Your Guide to a Low Maintenance Lawn
Learn about the advantages of using perennial ground covers to minimize the need for irrigation and chemical inputs while maximizing ecological benefits. Includes handy how-tos for replacing traditional turf by installing and maintaining two popular types of turf alternatives: Low Maintenance Lawns and Bee Lawns, which support pollinators and clean water. Participants learn the what, how & why of converting traditional lawn into low-input turf alternatives that support pollinators and clean water. Presentation followed by questions and a facilitated discussion on common barriers.
More info…
Wednesday, April 4th, 6:30–8PM, Minneapolis
Thursday, April 12th, 6:30-8PM, Saint Louis Park
Tuesday, April 17th, 6:30–8PM, Edina
Landscaping for Clean Water Workshops
These free events are open Dakota County residents. See examples of beautiful raingardens and shoreline restorations that help clean local ponds and lakes, and stabilize shoreline erosion problems. Learn about dozens of native plants that can enhance flowerbeds and provide habitat for butterflies.
Register here…
Wednesday, April 4th, 6:15PM, Inver Grove Heights
Monday, April 9th, 6:15PM, Lakeville
Tuesday, April 10th, 6:15PM, Burnsville
Wednesday, April 11th, 6:15PM, Apple Valley
Biodiversity In Your Backyard
Do you want to learn how to create a resilient, biodiverse wonderland in your neighborhood? Join us for an afternoon of hands-on booths and fun activities for the whole family! Local growers will share how to save, share and spread biodiverse flowers and foods through seed, scion and good growing techniques. If you need a good starting point or a refresher, check out the resource fair of local organizations and businesses that can answer questions or help you get started on a project. Event is free and open to all.
Sunday, April 15th, 11AM–2PM, Minneapolis.
More info…
__________________________________________________________________


GREEN RESOURCES
Compost Bins and Rain Barrels Available for Pre-Order
Every Spring, the Recycling Association of Minnesota partners with local governments, soil and watershed districts, nonprofits, and other organizations to provide rain barrels and compost bins at low cost to Minnesota residents. Compost Bins are $64 plus tax and Rain Barrels are $79 plus tax (*Discount may apply. Contact your local government to see available offers).
More info…
Become a Master Recycler/Composter - Hennepin County
Join fellow waste reduction enthusiasts and become an advocate for the three Rs. These trained volunteers plan and implement projects that prevent waste, improve recycling and increase public awareness of opportunities to recycle and compost. The spring course will be held on Wednesday evenings from 6:30 to 9 p.m. from April 11th to May 16th at Elim Lutheran Church in Robbinsdale. An optional field trip will be held on Friday, May 4th. Registration for the class will open on March 12th. For more information, contact Carolyn Collopy at
carolyn.collopy@hennepin.us
or
612-596-0993
.
Become a Master Recycler/Composter - Dakota County
Meet others who are excited about waste reduction and have the chance to inspire others to help reduce waste in Dakota County. Over a 6-week period with one class each week, participants hear presentations from local and regional experts on waste reduction, recycling, composting and solid waste and go on field trips to relevant sites. Upcoming classes are Tuesdays, April 3rd through May 8th, 6:30–9PM at Black Hawk Middle School, 1540 Deerwood Drive, Eagan.
Register here…
Become a Tree Steward
Learn the basics of tree care and help take care of the urban forest in your community by becoming a tree steward. Volunteer tree stewards take a one-day class that covers the basics of tree biology, health, planting, watering, and pruning through a combination of classroom instruction and hands-on, outdoor field experience. Volunteers will then have opportunities to practice their skills by helping with various tree planting and tree care projects in the community.
The next class will be held Saturday, March 31st from 8 a.m. to 4 p.m. at the Hopkins Fire Station.
Learn more and sign up
or for more information, contact Jen Kullgren at
jen.kullgren@hennepin.us
or
612-596-1175
.
Become a Friends of the Mississippi River "River Gaurdian"
Your voice is essential to our efforts to protect, restore and enhance the Mississippi River! From banning pollutants to passing strong rules to guide local riverfront development, many of FMR's victories are thanks to our strong base of advocates. More info…
__________________________________________________________________