Watch the new video series! Improved Lawn Maintenance: Good Choices for Clean Water!

Did you know that unhealthy lawns and poor lawn care practices can be bad for the environment?
Learn responsible practices to keep lawns healthy and attractive while preventing harm to our rivers, lakes, streams and groundwater!
For residents, homeowners, business owners and seasonal workers.

Watch the 3 part video series created by the Mississippi Watershed Management Organization now!
Part 1: Lawn Care Basics
Part 2: Fertilizing your Lawn
Part 3: Weed Control

Commerce, Minnesota Housing partner to create more energy efficiency loan opportunities

Minnesota consumers now have a new energy efficiency home improvement loan program that allows more people to access low-interest, unsecured loans and make important energy efficiency upgrades thank to a partnership between Commerce and Minnesota Housing.

Learn more in CERT's Energy Stories

Xcel's Solar*Rewards program opens to new applications

Xcel Energy's Solar*Rewards program opened to new applications on August 4. The five-year program will provide Xcel customers who install solar photovoltaic systems with performance-based incentives paid annually for 10 years, with the incentive for 2014 set at 8 cents per kWh.

Learn more here

---
GREEN EVENTS -
AUGUST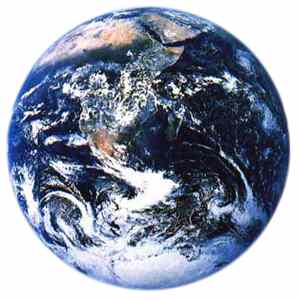 Project Art for Nature: Sheltering Nature
June 1-August 31
At: Bell Museum of Natural History, Minneapolis
This exhibit explores 21 artists' interpretation and expression of the beauty and biodiversity of nature.
For more information, click here
Low Waste Meals
Sunday, August 24, 2014 - 2:00pm to 3:00pm
Presented by Do It Green! Minnesota's Eva Lewandowski
Learn about the waste associated with food production, transportation, storage, and consumption. Get easy tips to eliminate food and packaging waste in your own life.
Find out about other great presentations here.
Eco Experience, Minnesota State Fair
Sustainability Stage
MN
Minneapolis Monarch Festival
Saturday, September 6, 2014 - 10:00am to 4:00pm
Family-friendly event featuring food, art, music, and education- all centered around the amazing monarch butterfly!
More details here
Lake Nokomis Naturescape Gardens
Minneapolis, MN
Check out our

Green Community Calendar

for more green events.
Visit the

Do It Green! Minnesota facebook page

or follow us on twitter for information on more green events.
---
JOIN THE DO IT GREEN! DIRECTORY BY AUGUST 29th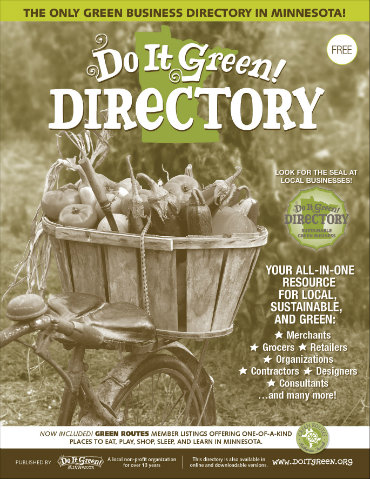 Your listing in the Do It Green! Directory shows your commitment to sustainability in Minnesota! There are thousands of Minnesotans seeking to do the right thing for the environment by choosing green and sustainable businesses like you for their products and services.
Green consumers find you through our directory of approved businesses and organizations through:
Print Directory
(20,000 distributed in 2014)
Online Directory
(Over 13,000 viewers daily)
Downloadable Directory
(Thousands download and print the PDF directory)
Monthly Enewsletter
(Member features sent to 5,000+)
Facebook Posts
(Member posts and reposts with 1,200 reached/week)
Tweets
(Member retweets with 2,000 Twitter followers)
The deadline for applying for the Do It Green! Directory membership and be listed in the 2015 Directory is August 29, 2014.
---
THE DO IT GREEN! DIRECTORY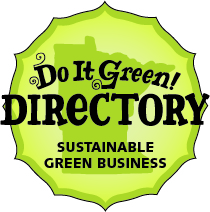 Do you want to support local, green businesses?
Then check out the Do It Green! Directory – it's bigger and better than ever!

This is your All-In-One resource for local sustainable and green businesses, nonprofit organizations and environmental government agencies.
Click here to see all the member listings in the Do It Green! Directory.
Shop Green! Shop Local!
Work for or own a green business or organization?
Apply to become a Do It Green! Directory member!