Click to view this email in a browser

In November's Do It Green! Minnesota E-Newsletter:


* 13th Annual Green Gifts Fair - Saturday, November 17th
* Give to the Max Day - Thursday, November 15th
* Green Gifts Fair Volunteers Needed
* November Green Coffee Talks
* Office Space For Rent
* Green Events


* Green Resources



_________________________________________________________________________________
13TH ANNUAL GREEN GIFTS FAIR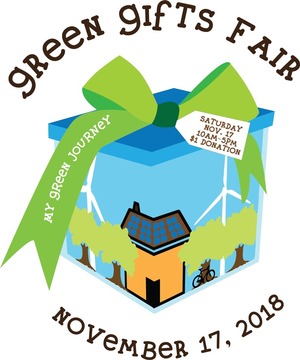 13th Annual Green Gifts Fair: My Green Journey
Saturday, November 17th, 9AM - 5PM
Midtown Global Market
920 East Lake Street, Minneapolis

$1 Donation at the Door



Join Do It Green! Minnesota for our

13th Annual Green Gifts Fair! Shop among 85+ Green Vendors for the perfect gift and visit our unique and educational Green Living Demonstrations, located throughout the fair.

The theme this year is My Green Journey. We encourage the participation of people from all diversities, backgrounds, and identities to come together, celebrate, and share our green journey together!

Green Gifts Fair Highlights

Celebrate our Green Journey theme by participating in the graphic recording by Lisa of Drawn Well LLC (noon-2PM).

Learn about healthy home living with City Pages and make a non-toxic cleaner to take home with you!

Bid on one of our many Silent Auction items from fair vendors, local restaurants, and businesses, including Patagonia, Chanhassen Dinner Theatre, and Minnesota Orchestra.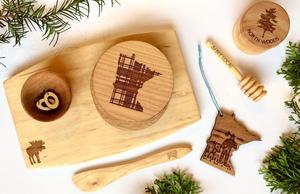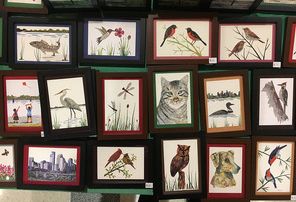 Visit our lower level Family Zone to plant basil in a thrifted mug with Project Sweetie Pie and participate in the Bike Challenge with the Loppet Foundation.
Enjoy live music on the main stage from Light of the Moon Duo and Jeffrey Lackman, and Mollie Moen!

The first 100 attendees to the fair will receive a free Chinook Book Mobile App subscription courtesy of Minnesota Grown.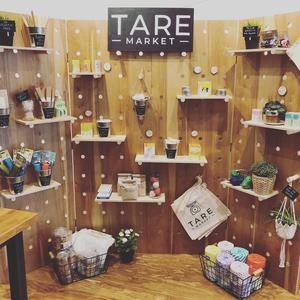 Check out the pollinator display provided by Minnesota Pollution Control Agency!



Make your holiday wrapping low waste with furoshiki wrapping from

Do It Green! Minnesota

and recycled gift tags with

ReUse MN

!



Save money and learn to reduce food waste by visiting the Food Waste Fridge.
Enjoy lunch or dinner at one of the many global restaurants or food vendors at Midtown Global Market.



Complete the passport activity to get great prizes from

East Lake Brewing

,

Bryant Lake Bowl

,

Red Cow

,

Aveda Institute Minneapolis

, and more!
Check out our 2018 list of vendors! Make plans to visit old favorites and shop among our many new and unique vendors, including Creations by Cglass. Carol Segersin started Creations by Cglass as a part of her Green Journey when she began collecting sea glass in 2008. She uses the sea glass to make jewelry (pendants, earrings, necklaces) and home decor items (ornaments, sun catchers, book marks). Carol describes her products as "trash to treasure," helping to clean up beaches along the way. Be sure to stop by and see these beautiful creations!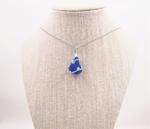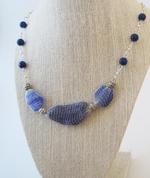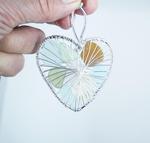 Don't miss out on all the fun! We will see you there!
Also, don't forget...

RSVP to our Facebook event page, invite your friends and family to attend, and stay up to date with all the latest fair news!

Follow our 30-Day Countdown on Facebook, Instagram, or Twitter for sneak peaks of our demos, vendors and Silent Auction items!
___________
_____________________________________________________________________
GIVE TO THE MAX 2018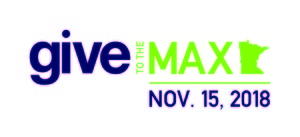 Each year, generous Minnesotans like you celebrate Give to the Max Day by making online donations to their favorite local charities and causes on GiveMN.org. Please join Do It Green! Minnesota on November 15th, 2018, for Give to the Max Day and help us continue our mission is to educate and engage Minnesotans about sustainable, green choices.

All gifts you make to Do It Green! Minnesota on November 15th will increase our impact by allowing us to give sustainability presentations, host free clothing swaps, enhance our annual Green Gifts Fair celebration, and continue to add to our online resources.

Your donation on Give to the Max Day may help us win additional prizes! How? On November 15th, every gift made on GiveMN.org will be entered into additional prize drawings for GiveMN Golden Ticket which will be awarded as often as every 10 minutes. Your gift of $10 or more could instantly turn into an extra $500 or $1,000 for us!

We need your help to continue our work! Be sure to mark your calendar and make your gift on November 15th by visiting our GiveMN.org page.

You can also choose to make a gift today by visting our page or by donating to us directly on our website.

Thank you for your continued support!
________________________________________________________________________________
GREEN GIFTS FAIR VOLUNTEERS NEEDED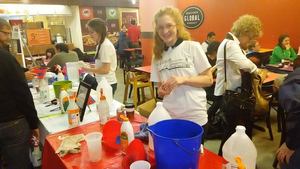 It's not too late to sign up to volunteer with Do It Green! Minnesota at the 2018 Green Gifts Fair! The fair is made possible through the incredible work of our volunteers. All volunteers will receive a Do It Green! Minnesota recycled t-shirt and an appreciation gift. A list of available shifts and roles can be found below. Can you help us out by taking a shift? Do you know someone who might like to volunteer? Please pass along this posting and encourage them to sign up!
Available Shifts and Roles
Saturday, November 17th
Set-Up Shift (7AM-10AM)
- Assist with vendor unloading and set-up
- Put up signs, banners, directions and decorations
Morning Shift (9:30AM-12:30PM)
- Greet visitors as they arrive
- Monitor low-waste stations
- Assist vendors with breaks and run errands
Midday Shift (12PM-3PM)
- Monitor low-waste stations
- Assist vendors with breaks and run errands
Afternoon Shift (2:30PM-5:30PM)
- Greet visitors as they arrive
- Help distribute silent auction items to winning bidders
- Assist vendors with breaks and run errands
Take Down Shift (5PM-8PM)
- Help with take-down and cleaning at the end of the Fair including demo booths, vendor booths, silent auction items, and low-waste stations
If you would like to volunteer or have questions about volunteering, please contact Crystal Erickson at
crystal@doitgreen.org
with your interest and availability.
______________________________________________________________________________
NOVEMBER GREEN COFFEE TALKS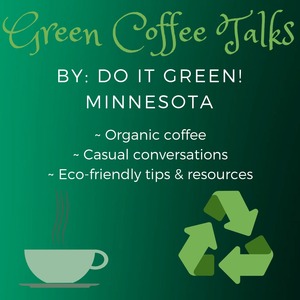 Green Coffee Talks with Do It Green!
Tuesday, November 13th and Thursday, November 29th
6:30-8PM
Peace Coffee
3262 Minnehaha Avenue, Minneapolis

Are you looking to "Go Green" or need help along your Green Journey? Meet/collaborate with other like-minded, eco-friendly people. We'll discuss how to start making Green choices, how to overcome the challenges of staying green and share tips and resources! All are welcome!
______________________________________________________________________________
OFFICE SPACE FOR RENT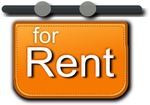 Do It Green! Minnesota is seeking an organization to share a two desk office space through a one year lease. Office space is very affordable with great amenities such as access printer, mailbox, FedEx, meeting spaces, event space, and restaurants. It is conveniently located inside the Midtown Global Market in Minneapolis with convenient bus routes, the Greenway bike trail and a parking ramp.

Please contact Ami Voeltz at ami@doitgreen.org if interested.
______________________________________________________________________________
GREEN EVENTS
Metro CERT Annual Resource & Networking Event
Join Metro CERT to celebrate their 11th year of connecting communities to resources! Learn about areas of clean energy action happening in our region, connect with leaders in renewable energy and energy efficiency, and join with us to take action. Food will be provided during this free event. Monday, November 12th, 4-7:30PM, Saint Paul. Register here…

Fix-It Clinics
Get household items fixed for free and learn valuable repair skills at an upcoming Fix-It Clinic. Residents can bring small household appliances, clothing, electronics, mobile devices and more to receive free guided assistance from volunteers with repair skills to disassemble, troubleshoot and fix their items. Fix-It Clinics teach troubleshooting and basic repair skills, build community connections and reduce the number of repairable objects that are thrown in the trash.

Anoka County Fix-It Clinic, Saturday, December 1st, 10AM-1PM, East Bethel
Dakota and Ramsey County Fix-It Clinic, Saturday, December 8th, 11AM-2PM, St. Paul
Hennepin County Fix-It Clinic, Sunday, December 16th, 12-4PM, Golden Valley
__________

____________________________________________________________________


GREEN RESOURCES
University of Wisconsin Sustainable Management


The University of Wisconsin Sustainable Management degree provides a way for individuals with an associate's degree or some transferable college credits to complete a bachelor's degree. Students take classes 100% online, pay the same tuition regardless of location and acquire the business skills and knowledge needed to become a sustainability leader. More info…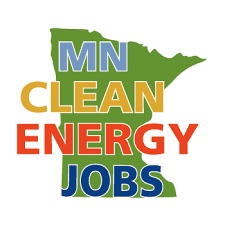 MN Clean Energy Job Board
The MN Clean Energy Job Board is a tool that job seekers can use to find jobs in the energy efficiency and renewable energy fields, and that employers can use to post their latest openings. All jobs are focused on the implementation of clean energy in Minnesota. More info…

Hennepin County Medicine Drop Boxes
Unwanted or unused medicines should be brought to a medicine drop box for safe and proper disposal. Properly disposing of unwanted medicines is important to prevent abuse or poisoning and protect the environment. Prescription drug abuse and accidental poisonings from medicines are a problem, and medicines flushed down the drain or disposed of in the trash can contaminate bodies of water, harm wildlife and end up in drinking water supplies. NorthPoint Health and Wellness Center in north Minneapolis recently opened a medicine drop box in partnership with Hennepin County. Additionally, independent pharmacies including CVS, Health Partners, Park Nicollet and Walgreens have recently added medicine drop boxes at select locations. There are now 30 medicine drop boxes throughout the county. See a map and listing of the drop boxes. For more information, contact Ryan Gastecki at ryan.gastecki@hennepin.us or 612-348-8994.
________________________________________________________________________________