_____________________________________________________
EARTH FRIENDLY FALL YARD MAINTENANCE
Fall in Minnesota is brief and beautiful, bringing with it cooler temps and more rainy, windy days. The rain water that falls on your house, lawn or driveway runs directly into the storm sewer and to a nearby lake, river or stream. This water flows to the Mississippi River and eventually all the way to the Gulf of Mexico. Actions we take as homeowners to protect our water will impact the quality of our own lakes, rivers or wetlands, as well as those downstream.
Keep grass clippings, leaves, seeds and other yard debris off the sidewalk and streets.
Do not blow or rake your grass clippings into the street. Leave them on your lawn, use them for compost or bag them for city pick up. Rake leaves into garden beds for winter cover, use for compost or bag them for city pick-up. Yard debris (grass, leaves, and seeds) contains phosphorus and other nutrients. When this debris is carried by rain water to our lakes, it causes algae blooms that stress fish and wildlife and make it unpleasant for swimming or fishing.
Seed bare patches to prevent erosion and soil loss
If you have trouble growing grass in a certain area of your yard, consider replacing that section of the lawn with other plants. Perennial plants, especially natives, are better than grass for infiltrating rain water and preventing nutrient runoff into the sewer system.
Fertilize smart
If you choose to fertilize your lawn, be sure any fertilizer you use is phosphorus-free. Soils in our area are naturally high in phosphorus. Fertilization should be done in the fall, no more than once per year. Sweep up any fertilizer that spills onto hard surfaces to keep it from washing away into the storm sewer.
Aerate your lawn
Aeration improves the health of your lawn, as well as improving water infiltration. It allows water and nutrients to sink deeper into the soil, encourages roots to grow deeper and discourages weeds (which flourish in hard, compacted soils).
Scoop the poop
Always pick up after your pets, both on your own property or on the go. Rainwater washes pet waste into lakes and streams. Pet waste contains bacteria that can cause illness and nutrients that can cause excessive algae blooms.
This information is available on the
Hennepin County website
or for more ideas, check out the following Green Living Articles:
Achieving a Sustainable Lawn
,
Organic Lawn Care
,
Natural Lawn and Garden Care
,
Life in a Watershed
, and
Rain Gardens are Growing in Minnesota
.
______________________________________________________________
VOLUNTEER AT OUR GREEN GIFTS FAIR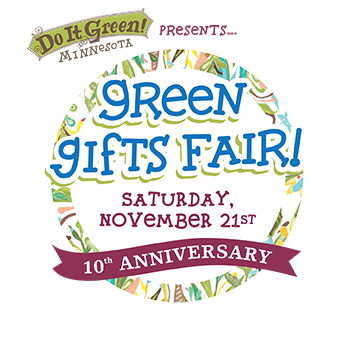 Do It Green! Minnesota will be hosting its annual Green Gifts Fair on Saturday, November 21st. A showcase of local art and sustainable living, the Green Gifts Fair brings together artists, retailers, music and fashion at the Midtown Global Market in Minneapolis. This year is extra special as we are celebrating the 10
th
anniversary of the Fair!
What better way to celebrate than to volunteer? The fair is made possible through the incredible work of over 50 volunteers. All volunteers will receive a copy of a Do It Green! Magazine edition and a Do It Green! Minnesota recycled t-shirt. A list of available shifts and roles can be found below. Know someone who might like to volunteer? Please pass along this posting!
If you would like to volunteer or have any questions about volunteering, please contact Chelsea Nutting at
chelsea@doitgreen.org
or submit a
volunteer form
via the website.
AVAILABLE SHIFTS AND ROLES
Saturday, November 21: set-up shift (
7AM – 10:30AM
)