Click to view this email in a browser

In April's Do It Green! Minnesota E-Newsletter:
* Become a Member in Honor of Earth Day!
* Earth Day 2015
* Brew It Green Fundraising Event - April 30th
* Earth Month Events
* Do It Green! Minnesota Directory
* Position Available - Join our Team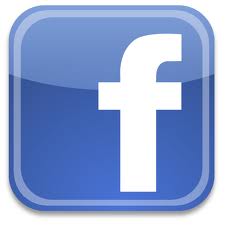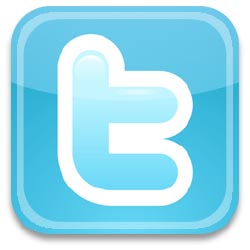 ---
BECOME A MEMBER OF DO IT GREEN! MINNESOTA IN HONOR OF EARTH DAY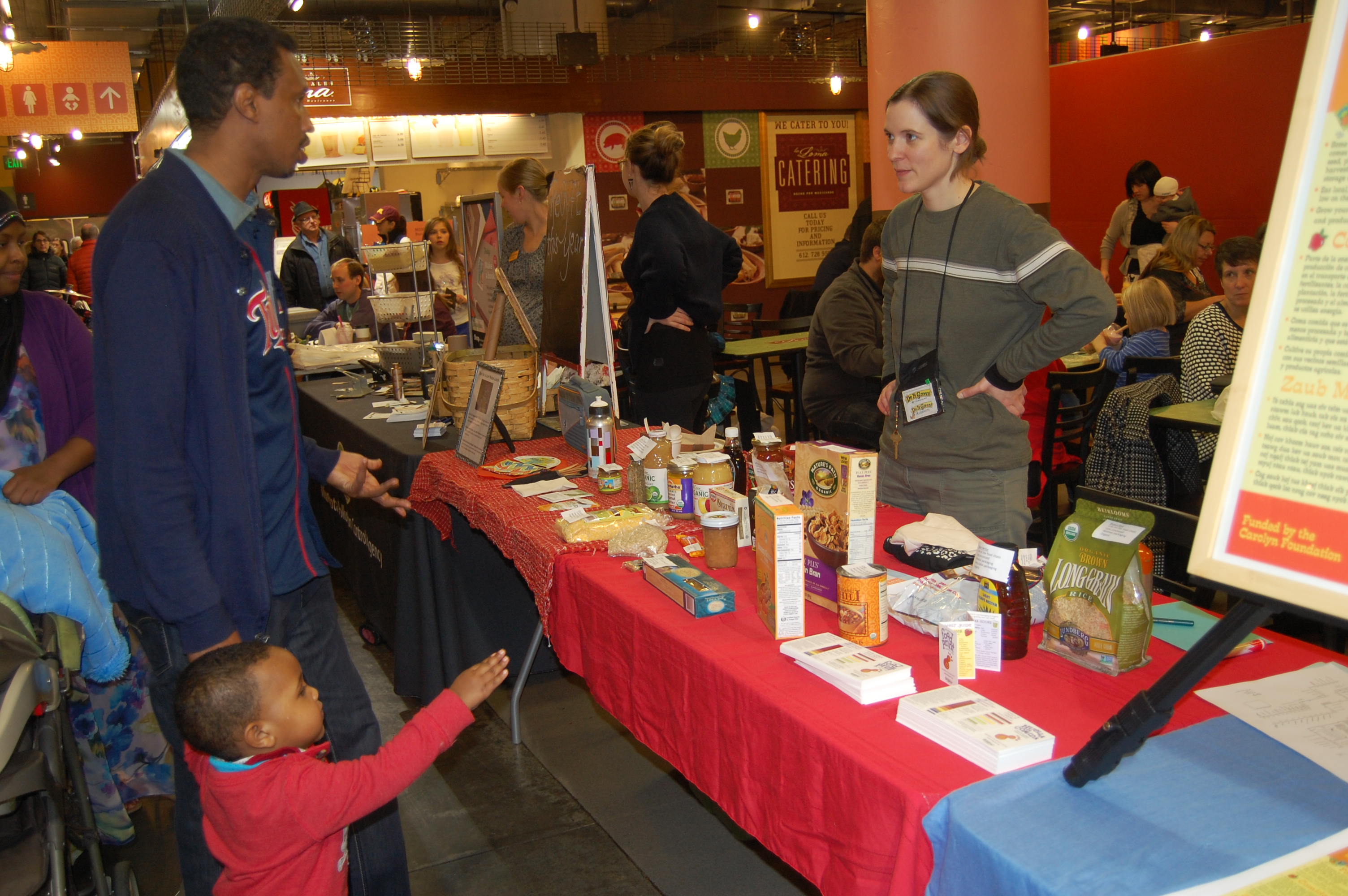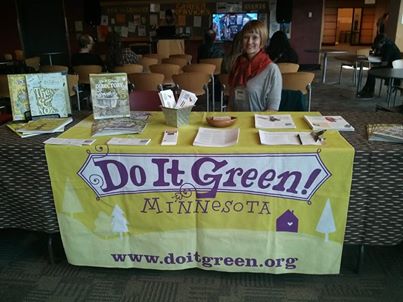 Our annual membership is truly a gift to Do It Green! Minnesota and will help keep our mostly all volunteer organization running for another 15 years.
We invite you to consider a membership for you or a loved one in honor of Earth Day!
---
EARTH DAY 2015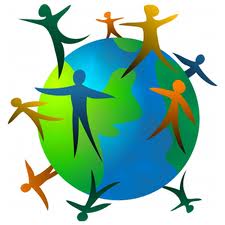 Celebrate Earth Day by starting a new earth-friendly habit! Plant bee friendly natives in your garden, eat local fruits and veggies, switch to non-toxic DIY cleaners, start a backyard composting bin or organize your neighborhood around a raingarden project. Spread the word about sustainability. The more people who are kind to the earth, the better life will be for all its inhabitants.
Environmental Education in the City
In the heart of the sprawling Twin Cities metro area, there exist many well-hidden green spaces where you can join other area residents on a full moon canoeing excursion, feed wildlife, help biologists with animal field studies, take a class on Giant Cecropia Moths, or learn about gardening with native plants. These activities comprise just a brief sample of the environmental education events going on around the Twin Cities in a single month. Along with a dynamic science museum, our area boasts over seventeen Environmental Learning Centers (ELCs), where staff and volunteer naturalists lead excursions and teach classes.
Continue to full article…
Healthy Home, Healthy Bodies, Healthy Planet
Many of us are aware of the devastation of rainforests, the effect of pesticides on ground-water and soil or toxic emissions from manufacturing plants. So maybe we eat lower on the food chain, buy organic food at the co-op and sign petitions to stop companies with regressive environmental policies.
If we want to effect progressive environmental changes that will promote world health, we may be missing a major area of focus. Environmental scientists claim that the real risks to our health and the environment are much closer than outdoor pollution. In fact, your greatest exposure to toxic chemicals is in your own home.
Continue to full article...
---
BREW IT GREEN MINNESOTA
Do It Green! Minnesota Fundraiser Event

Hosted by the Do It Green! Minnesota Board
---
EARTH MONTH EVENTS

Concious Living Expo
The Lake Harriet Spiritual Community's expo will include a variety of exhibitors, free workshops and demonstrations in the areas of holistic health, green products, alternative energy and nutrition. Saturday, April 4th, 10AM-5PM, 4401 Upton Avenue, Minneapolis. Free.

Clean Water Rules! Understanding the EPA's Clean Water Act Update
Enjoy a presentation from a national expert, followed by a panel discussion on the Clean Water Rule. Tuesday, April 7th, 6:30PM-8:30PM, 2017 Buford Avenue, St. Paul. Free.
Learn more...

Here Comes the Sun: Clean, Carbon-Free Energy Independence
A forum and resource fair on emerging community solar initiatives sponsored by the City of Edina Energy & Environment Commission. Wednesday, April 8th, 6PM-8:30PM, 6754 Valley View Road, Edina. Free.
Learn more...

Foods with Super Powers!
What's the connection between food and climate? Which foods work best for us and the planet? Resolve your confusion with practical tips from Jesse Haas, popular nutrition educator and coach. Thursday, April 9th, 7-8 PM, 1430 West 28th Street, Minneapolis. Free.
Learn more...

Community Solar Gardens: How to Invest in Local, Clean Energy
Want to get a piece of the solar power action, but don't have enough sun or funding to set up an entire system on your own? A Community Solar Garden might be just what you, your neighborhood, church or city may be looking for. Thursday, April 9th, 6:30PM-9:00PM, White Bear Unitarian Universalist Church, 328 Maple Street, Mahtomedi.
Learn more...

Tangletown Neighborhood Green Day
Learn about organics composting, home energy improvements, bee friendly gardening, aquaponics, raingardens, protecting our watershed and more! Saturday, April 11th, 11AM-2PM, Fuller Park, 4800 Grand Avenue, Minneapolis. Free.

Seward Neighborhood Sustainability Fair
A casual drop-in event to provide education on local environmental issues, projects and practical skills needed to further sustainability. Saturday, April 11th, 11AM-3:30PM at Faith Mennonite Church 2720 E. 22nd Street, Minneapolis. Free.

Minnesota's Clean Power Plan Forum
A community forum with local leaders about the Clean Power Plan and how Minnesota can continue on its clean energy path, cutting dangerous carbon pollution and improving human health. Saturday, April 11th, 1:30-3:00pm, 3003 Snelling Avenue North, St Paul. Free.
Learn more...

Invasive Plant Patrol Training
Learn how to stop new invasive plant in their tracks! Saturday, April 11th, 10AM-2PM, Maplewood Nature Center, 2659 E. 7th Street, Maplewood. Free.
Register here by April 8th...

Challenging Our Consumption - Zero Waste Design
Our environmental impact is pressing deeper into the ground and we must challenge ourselves to think of designing our livelihoods with zero waste. This challenge is heavy for one person, but as a community, we can carry it forward together. In this participatory, hands-on workshop, we'll explore ways in which we can reduce, re-use, re-cycle and regenerate the available resources we have while keeping in mind our consumption practices. Saturday, April 11th, 1:30PM-4:30PM, 3957 42nd Ave South, Minneapolis. Free.
Register here...

Watershed & Energy Stewardship Workshops for Congregations
Find out how congregations can protect the watershed by installing rain gardens and using watershed friendly summer and winter maintenance. Learn how to engage members to take action at home, how to save money with free energy audits and how to buy affordable solar power for your congregation. Monday, April 13th, 6PM-9PM, St. Luke Presbyterian, 3121 Groeveland School Road, Wayzata. Free.
Learn more...

Climate Minnesota Bemidji Convening
The Will Steger Foundation presents an event exploring local impacts of climate change and innovative community solutions. Hear from experts, community leaders, and storytellers about how climate change is affecting your local community. Tuesday April 14th, 5PM-8PM, 1500 Birchmont Drive NE, Bemidji. Free.
Learn more...

St. Louis Park Organic Living Workshop
For the property owner who wants to reduce their household impact on the environment, this workshop offers sessions covering composting and organics recycling, native landscaping/plants, pollinators, tree planting/care, energy conservation at home and other related areas. Exhibitors will also be available with services, information and resources to help residents improve their efforts to live sustainably! Saturday, April 18th, 9AM-2PM, The Rec Center, 3700 Monterey Drive. Free.
Learn more...

CSA Fair at Seward Co-op
Meet local farmers, learn about different CSA programs and sign up for the share that's right for you. Purchasing a CSA share connects us to both the bounty and risk that local farmers balance in growing healthful, fresh food. Each grower offers a different CSA package depending on the farm's length of season, items offered, cost and drop-off locations. Saturday, April 18th, 11AM-2PM, 2823 East Franklin, Minneapolis. Free.

Maplewood Outdoor Family Expo
Get connected with resources for enjoying the outdoors and discovering all that Minnesota has to offer. Saturday, April 18th, 10AM-1PM, Maplewood Community Center, 2100 White Bear Ave N, Maplewood. Free.
Learn more...

St. Paul Citywide Spring Cleanup
Come together with family, friends and neighbors to clean up garbage that has recently been exposed by melting snow. Saturday, April 18th, 9AM-11:30AM.
Register here...

Earth Day Climate Rally
Speakers from a variety of Minnesota organizations will focus on positive efforts and programs addressing climate change. Wednesday, April 22nd, 12:30-3PM, Minnesota State Capital – Upper Mall, St. Paul.
Learn more...

Plant Trees with Great River Greening
Help plant 3,000 oak trees in the South Washington Conservation Corridor, an 80-acre parcel in the watershed providing critical native habitat and stormwater management. Friday, April 24th, 12PM-4PM, 5900 Woodbury Drive, Woodbury.
Register here...

Blaine/Coon Rapids Green Expo
Booths, displays and activities from local and regional sustainability-focused businesses. Educate and empower you and your family to live eco-friendly! Saturday, April 25th, 9AM-2PM, National Sports Center, Blaine. Free.
Learn more...

Lakeville South Creek Earth Day Clean Up
Help clean up South Creek, which feeds the Vermillion River, a cold prairie river flowing through the heart of Dakota County and an important tributary of the Mississippi River. Saturday, April 25th, 9AM-11:30AM, followed by an Earth Day Celebration. Cross of Christ Community Church, 8748 210th Street West, Lakeville.
Learn more...

Earth Day in the City: Minneapolis River Gorge Cleanup
This cleanup is an Earth Day tradition in the Minneapolis River Gorge. People come from throughout the local river corridor neighborhoods and metro area to celebrate Earth Day and contribute to the health and vitality of this national treasure in our midst, the Mississippi River. Saturday, April 25th, 9:30AM-12PM, East 36th Street and West River Parkway, Minneapolis.
Learn more...

St. Cloud Sustainability Expo
A one-day exposition of solution-based, interactive exhibits and family-friendly activities, the Expo attracts enthusiastic community members, businesses, families and students of all ages seeking sustainability information and looking to buy local, sustainable products and services. April 25th, 9AM-1PM, River's Edge Convention Center, St. Cloud. Free.
Learn more...

Lecture: The Outsized Role of Earth's Largest Lakes
Roughly two thirds of the planet's available surface freshwater is contained in just twenty lakes. Their value continues to grow as freshwater scarcity increases. This talk will explore Earth's largest lakes, some of which are in our backyard, from the standpoints of hydrology, biogeochemistry, biodiversity, and geopolitics, using these approaches ultimately to ask what role these twenty places play in our lives. Wednesday, April 29th, 3:30PM, DECC Duluth or Thursday, April 30th, 7PM, University of Minnesota St. Paul Student Center.
Learn more...
---
DO IT GREEN! DIRECTORY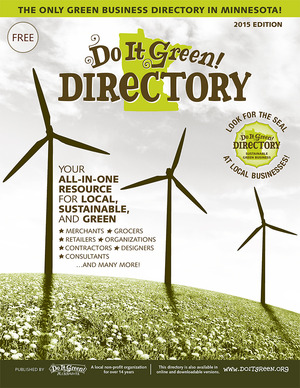 Do you want to support local, green businesses?

Then check out the Do It Green! Directory online or in print.

Pick up your copy at your favorite food coop, coffee shop, library or green retail store.

If you would like to distribute the free directory at your retail or office location, please contact Ami Voeltz to set up a delivery at ami@doitgreen.org.

Shop Green! Shop Local!

Work for or own a green business or organization?
Apply to become a Do It Green! Directory member!
---
DO IT GREEN! MINNESOTA POSITION AVAILABLE

Join Our Team!

Green Gifts Fair Event Coordinator
The Green Gifts Fair Event Coordinator, along with a team of volunteers, will plan our 10th Annual Green Gifts Fair hosting 6,000+ attendees, 15 educational and activity tables and 80+ green vendors and local artists. This position is an internship with a stipend offered for 7 hours/week April-July and 15 hours/week August-December.
Please apply by submitting a cover letter and resume no later than Wednesday, April 15th, to Heidi Meyer, at heidi@doitgreen.org.