Click to view this email in a browser

In December's Do It Green! Minnesota E-Newsletter:
* Simplify the Holidays
*
Green Gifts Fair Recap
* Clothing & Seed Swap - Save the Date!
* Green Resources


*
Green Events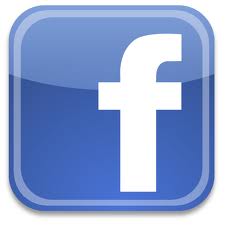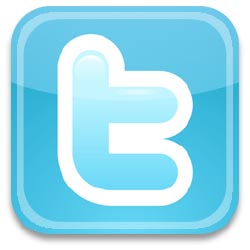 _____________________________________________________
SIMPLIFY THE HOLIDAYS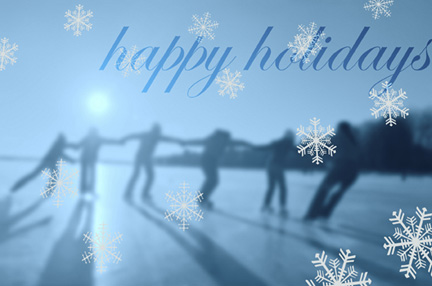 The holiday season is here! A time for family, friends, fellowship and, of course, stress. Time commitments, to-do lists, shopping lists and money worries can overwhelm us, sap our energy and keep us from experiencing the joys of the season. Consider letting go of some of that stress by simplifying your holidays. From Thanksgiving to New Year's Day, household waste increases by more than 25% due to extra food, shopping bags, packaging, and wrapping paper. Simplifying your holidays can also green your holidays. Less waste and less stuff = less stress.
Be more mindful of your time as a family
Turn off the TV and put down your cell phones
Read a book out loud together or hold a game night
Get outdoors: go ice skating or cross country skiing or take a walk in the woods
Cook a healthy meal together
Avoid excess packaging by giving the gift of an experience such as music or cooking lessons or tickets to a play or a sporting event.
Wrap presents in eco-friendly alternative wrapping like scarves, bandanas, or newspaper
Avoid holiday food waste by planning ahead, rethinking portion sizes and using leftovers creatively
______________________________________________________________
10th ANNUAL GREEN GIFTS FAIR
Our 10th Annual Green Gifts Fair on Saturday, November 21st was a huge success with over 6,000 attendees! In addition to shopping 83 eco-friendly vendors, guests visited education booths throughout the fair to learn about composting, water conservation, planting milkweed for butterflies, using non-toxic cleaners, alternative gift wrap and more. Around 200 individuals or families participated in our Passport Learning activity and many people committed to a greener holiday season and to making more green changes throughout the year! Pledges included walking, biking and using public transportation, buying less, using reusable items, signing up for curbside organics recycling programs, and using non-toxic cleaners.
Special thanks to our Green Gifts Fair planning team and to the volunteers who made this wonderful event possible!
____________________________________________
CLOTHING & SEED SWAP
Saturday, January 30th, 2-4PM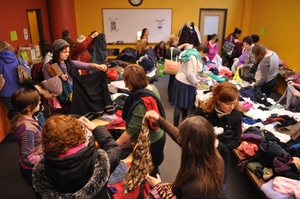 Mount Olive Lutheran Church
3045 Chicago Avenue South
Minneapolis, MN 55407
Save the date for our upcoming Clothing & Seed Swap! Bring your unwanted clothing items (any size or gender) and trade them for "new to you" treasures. All styles and types of clean clothing, shoes and accessories are welcome. As an added bonus, bring your flower and veggie seeds to swap or pick up free seeds and get a head start on your spring garden planning!
_________________________________________________________________
GREEN
RESOURCES
Recycle Your Holiday Lights

Don't know what to do with those old or no longer-working strings of holiday lights? Making the switch to energy efficient LED holiday lights? Recycle Your Holidays™ is a one-of-a-kind statewide holiday light recycling program in Minnesota created and managed by the Recycling Association of Minnesota (RAM). Drop off unwanted light strings at any of 450+ participating locations during the holiday season (November 15th through the end of January).
More information here…
Fix-It Clinics
Get household items fixed for free and learn valuable repair skills at an upcoming Fix-It Clinic. Residents can bring small household appliances, clothing, electronics, mobile devices and more to receive free guided assistance from volunteers with repair skills to disassemble, troubleshoot and fix their items. Fix-It Clinics teach troubleshooting and basic repair skills, build community connections and reduce the number of repairable objects that are thrown in the trash.
Hennepin County Fix-It Clinic
Saturday, December 12th, 12-4PM,
Maple Grove Community Center, Maple Grove.
Ramsey County Fix-It Clinic
Saturday, December 19th, 10AM-1PM,
Mounds View Library, Mounds View.
Free Educational Classes
The Natural Built Home Store will offer a series of free classes in 2016. These classes feature some of the most common remodeling projects and are designed to be informative and educational. Upcoming topics include Incorporating Energy Upgrades into Your Remodel, and Planning a Green Kitchen Remodel.
Learn more...
---
GREEN EVENTS

Can We Meet Our City's Climate Action Goals
"Sustainable We" panel conversation with an interesting, informed group of sustainably minded building designers. Several local designers currently have little faith that Minneapolis will reach its 2030 Climate Action Plan goals given current city structure and policy. What is sustainable -- energy-wise, health-wise, structure-wise -- in our city and housing stock? How do we make a deeper impact? What stands in our way? Monday, December 14th, 6:30-9PM, Fulton Brewery, Minneapolis. Register here…

Reflections from the Paris Climate Talks
Join Climate Generation for a Panel Discussion and Live Webinar of students, business leaders, educators and policymakers. We will discuss and reflect on what happened at COP21 and what we can do next in Minnesota. Wednesday, December 16th, 6-8PM, University of Minnesota, St. Paul. Event is free. Register here…

Check out our Community Calendar for more green events!
_________________________________________________________________