Happy Fall Equinox from Sun Plans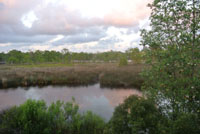 Enjoy the equal lengths of days and nights as well as the sun rising due east and setting due west. This can be from a favorite spot whether it be from an east or west-facing porch or deck, through an east or west-facing windows (hopefully protected from the early morning or late afternoon sun by a porch), or from a lawn chair or tailgate while camped on the house site of your soon-to-be sun-inspired home!

Watching the sun as it interplays with the views of bayous, ponds, rivers, mountains, fields, hill and valleys around a home makes a nature-inspired home as important as a sun-inspired home. Sun Plans' architectural design process incorporates a variety of features that are important to each client.

In this Fall 2013 E-newsletter you will find:

---
Back for a Second Sun Plan - Adapting Midnight Sun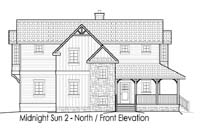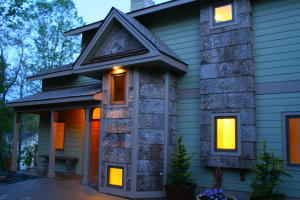 After living in a Moorhaus Cottage for years, Jennifer and Alan are ready to build a second Sun Plan on another piece of land. Sun Plans is adapting the Midnight Sun for them. They are working with the same builder. Joe Dellinger near Charlotte, NC to be construct their second Sun Plans home too.
---
Summer Shade Lines in New Brunswick, Canada
The back photo of Don and Sheila's house under construction in New Brunswick, Canada shows the summer overhang shade line just covering the south-facing windows. (Sun Plans was able to expedite the Create-A-SunPlans custom design process this past winter to meet their tight schedule and now they are nearing completion of construction.)
---
Chattahoochee morphs into Shale Acres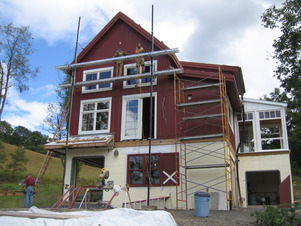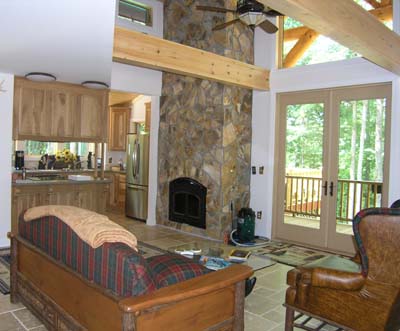 Andy and Chris regularly send updates on their custom home being constructed in eastern Pennsylvania. Their Shale Acres home reflects the barn styles seen in Pennsylvania. The home was inspired by the
Chattahoochee
design, but became a completely different home after many rounds of customized changes.
---
New Mexico Builder to construct third Sun Plans Home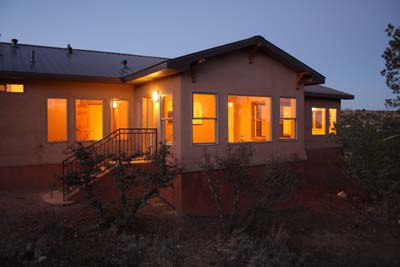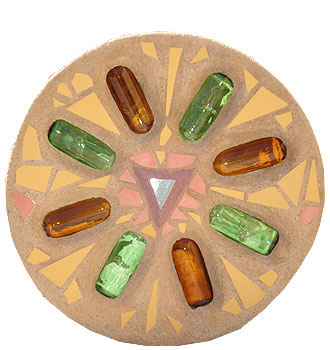 It's rare that a new customer is building near a recommended builder, but Michelle and Stanton were very fortunate! Early in the Adapt-A-SunPlans process it was discovered that their land was very close to
Bighley Construction
who had already constructed two Sun Plans homes. Rachel's architectural sculpture adds wonderful customized touches to the homes they build.
---
The Sun-Inspired House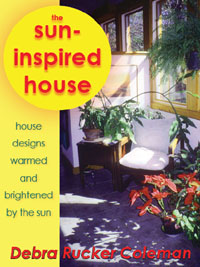 The book is complimentary with orders of any house plan or service from Sun Plans. Purchasing it from Sun Plans entitles you to our Create-A-SunPlans questionnaire.
In addition to over 50 house plans (over 100 with the E-book version), it has 150 pages of energy and passive solar information based on the dozens of questions that have been asked of the architect over the years.
"The Sun-Inspired House, a 247-page book by architect Debra Rucker Coleman, may be the best available introduction to passive solar design. Coleman's book is much more useful than three better-known books on the topic:..." - Energy Design Update, July 2008
Shop Now if you want to buy it from Sun Plans
(The E-book version is also available, buts only directly from Sun Plans.)
---
Upcoming Sun-Inspired Designs

As has happened previously during busy times, adding new plans to the Sun Plans web site takes a back seat to meeting the deadlines of clients for whom new homes are being designed. Meanwhile, know that once the initial Consulting and Review stage of the Create-A-SunPlan process is started that you will be advised if your ideas are similar to a home for which similar ideas have been incorporated even if that home design is not on the web site. Complimentary Study Plans can then be sent!
Here are a few samples of homes that are not on the Sun Plans web site, but may be in the future: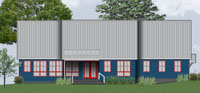 Brunswick South
This south-facing clean-lined farmhouse design was created for a challenging site with both an inspiring north water view and land that sloped down on the north. On the main floor it features 2 bedrooms and an art studio within 2092 s.f. Windows in the main living areas and a large north balcony capture the north view. Other bedrooms and spaces in the walkout north-facing basement also take advantage of the water view. Passive solar gain is obtained through windows on the south side front of the home. Extra insulation makes up for the additional heat loss through the north windows.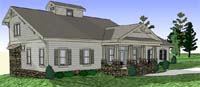 Carolina Lakeside
The Carolina Lakeside evolved from the popular 1.5 story plans with a central atrium yet this one has some energy advantages since the long wall is designed to face true south. (Similar plans such as the Fairy Tale, Hemlock Haven,and Lakeside Sunrise had to be oriented 45 degrees off of south with two sides facing south due to the lots of the original home owners for whom the designs were created.) Carolina Lakeside has an attached garage on the west end, a screened porch on the southwest, over 2700 s.f. of living area, three bedrooms and the featured second floor siting area directly under the atrium! Look for it on soon!

(Because others have wondered....Sun Plans does not make a "killing" off of reselling plans that others have paid to have designed. Sun Plans is a small architectural firm that sells very few house plans unaltered. It takes a lot of time to add a design to the web site then provide customer service for it for the entire time that it is on the web site. There are some designs that have been posted to the web site or placed in "The Sun-Inspired House" that have never sold except to the original customer typically because they are so custom and unique to their needs. If a design does not resell in about 7 years, it is often removed from the website. It still remains in our in-house database of plans.)
---
Notes from the Sun Plans' Architect
Feeling frustrated that you can't find a Sun Plans home design that fits your needs? You are definitely not alone! Less than 10% of Sun Plans income results from the sales of pre-designed plans.

While I can definitely understand the desire to first browse existing house plans (we now have more than 100), in reality, few home owners find a pre-designed house plan that works for them.

It is not uncommon for home owners to start out selecting a design on their own that ends up being not the best choice. It might be too big or complex for the budget for instance. If the home owner has narrowed down the choice of a Sun Plans themselves, I don't know the reasons behind the selection and therefore advising on the changes can be difficult especially if the changes are complex. Complex changes can be expensive in terms of the architectural fees often to the point of exceeding the fees of creating a new design.

It can be a less expensive and more enjoyable process to start out creating a customized home rather than making extensive adaptations to an existing design.

I'd therefore like to recommend that unless you are absolutely certain that one house is for you, that you begin the Create-A-SunPlan process and let me assist in you in choosing, adapting or creating a design that is right-sized and right-budgeted for you. For 2013, the initial consulting fee is only $100 more than the Adapt-A-SunPlans consulting and review yet the information that I evaluate about your house needs is much more extensive. The Create-A-SunPlan questionnaire (complimentary if you have ordered our book, a Study Plan or Review Set) is much longer and more involved than the Adapt-A-SunPlan questionnaire. When you provide the extensive information about your house needs, I can then do a better job at helping you plan, select, adapt or create your home.

I'd like to request that you trust me to point out an appropriate existing design after the initial consulting stage is completed. In the event that one is not available, you can at that time decide if you want to continue with the Create-A-SunPlans process.

Thank you for your consideration! Debbie

---
Summer Solstice E-Newsletter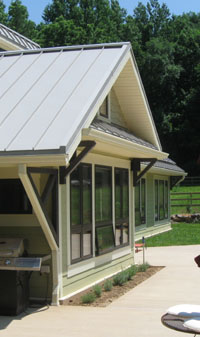 If you missed the last Sun Plans E-Newsletter,
you can read still read it here.
---
Thanks for reading our E-Newsletter!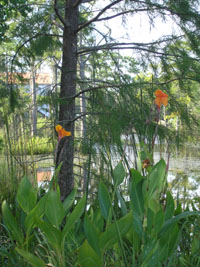 We hope that you enjoyed reading about our newsletter focusing on how nature inspires the architectural design process of Sun Plans as much as as the sun inspires the design of the home.
We looking forward to assisting you with the design of your sun-inspired, nature-inspired home!
Debbie Coleman, Architect, Sun Plans
www.sunplans.com